A Arrangement Florist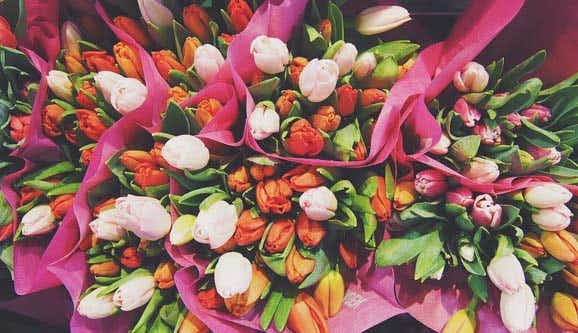 A. Arrangement offers flower delivery in the Spartanburg SC area. One of the leading flower shops in Spartanburg SC, A. Arrangement is fast to deliver and creates beautiful arrangements, bouquets, and baskets.  With your reliable local Spartanburg florist, it's easy to send birthday, anniversary, wedding, funeral, sympathy, and just because flowers. Send flowers for mom on her birthday and treat her to a day at the Revive Bodyworks spa, or send a gift basket for dad and then celebrate game day at RJ Rockers Brewing Company. Your local Spartanburg SC flower shop allows you to pick from numerous flower arrangement deliveries, and it's all online. No trip to the shop or phone call required! For same day Spartanburg gift delivery, by sure to order online in the delivery zip before 3 PM.
What Our Customers Are Saying:
5 Stars "Friendly, Helpful,Totally Unpretentious! These Ladies were so sweet and did not mind I was only spending a little money on a Wrapped Bouquet! Hot Pink Longstem Roses(Looked and Smelled like "Attache"), some Stargazer Lillies with Itailian Ruscuss - Tied with Pretty Ribbon!" - Messer
5 Stars "Best flower shop in town. Super friendly people that are willing to help you find the perfect arrangement for any occasion. Gentlemen, the wife will be pleased." - Jeff
5 Stars "So I've been living in the Spartanburg area for 20+ years and I used An Arrangement several times. Always great service, fresh flowers that last, great looking work and fair prices. Wife and I very happy." - W. Clark
Shop Our Best Sellers:
Spartanburg Flowers Delivery
Locals choose Spartanburg flower delivery from A. Arrangement for different occasions. For those looking for flower delivery in Inman SC, A. Arrangement delivers to your area too. Whether you're sending birthday flowers to Woodfin Ridge Golf Club, or sending a roses delivery to invite your sweetheart to Scotsgrove Stables, A. Arrangement will ensure your gift gets to its proper destination. For flowers delivery in Boiling Springs, you may want to send flowers to Wofford College or the University of South Carolina Upstate to a student or your children. For flowers delivery in Duncan, why not send your kids flowers the day before to let them know that tomorrow you're taking them to Shipwreck Cove Water Park! From East Main Street to State Rd S-42, A. Arrangement can deliver flowers in Duncan SC wherever you need. For an Inman SC flower delivery, send birthday flowers to TE Mabry Middle School, and show your children you love them. If you love holiday bouquets and Christmas flowers, a Christmas flower centerpiece delivery with an invitation to the Pacolet Christmas Lights invent would be a great evening for you and your sweetheart. No matter your occasion or what type of arrangement you need, A. Arrangement can take care of your Spartanburg flowers delivery and gift baskets. "