Jones the Florist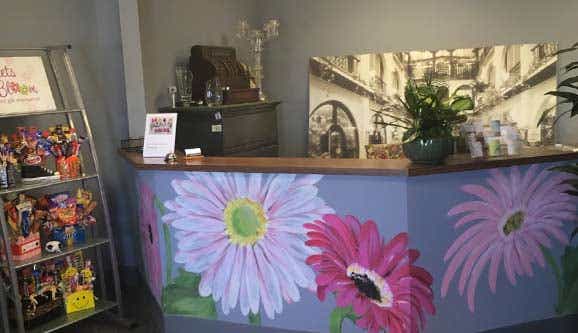 Get quality flower delivery in Cincinnati from your very own local Jones the Florist! Home to one of the the most unique flower events in the world, the "Cincinnati Flower Show", your Cincinnati flowers delivery will feature truly unique and freshly cut blooms. Send congratulatory flowers to someone participating in the Cincinnati music festival, or send Cinco de Mayo flowers in Cincinnati for the Cincy-Cinco party! With Cincinnati gift baskets delivery from your local Cincinnati florist, you can celebrate every event in Ohio with hand delivered specialty gifts!
What Our Customers Are Saying:
5 Stars "Jones has the best quality products and services! They always have great suggestions and send out a quality arrangement for me every time that I call. Highly recommend Jones!" - Samantha
5 Stars "Buying flowers online is risky business, but I took a chance on the "free delivery" and "same day" delivery promises of FROMYOUFLOWERS.COM. They delivered what was promised on time. The recipient was happy and posted a photo of the flowers on FB. I will definitely use them again when I need to send flowers." - Ethan Columbus, OH - 1/16/16
5 Stars "You can always be sure that you arrangements are beautiful and done to your specifications. Fast delivery to Northern Kentucky, too." - Kim
5 Stars "I ordered an arrangement for my daughter as a congrats on the birth of my granddaughter. I was fortunate enough to get an arrangement from Jones the Florist in Cincy. 4 days later and the arrangement still looks amazing. I will make sure to order directly from Jones for future orders. Thank you so much!" - Bobbie
Shop Our Best Sellers:
Cincinnati Flower Delivery
Stop by the Jones the Florist local Cincinnati florist shop and pick up a plant for Loveland Ohio's yearly "Planting Day in Loveland" event and help the Beautification Committee make Loveland even more lovely. You could also send Valentine flowers delivery to your sweetheart at the annual Valentine Breakfast that's held every year. Surprise her with locally delivered Valentine flowers in Cincinnati Ohio that are fragrant and richly colored. If you live in the community of Delhi, attend the Annual Sweetest Day Romantic Comedy Show and send anniversary flowers to be delivered to your table with fresh roses in a romantic flower bouquet. Surprising her with 24 red roses is sure to put a smile at her face, if the comedy show doesn't do it first! With Cincinnati Ohio rose delivery from Jones the Florist, you can even send flowers locally to the annual Renaissance Festival. Delhi is nicknamed the "Floral Paradise" due to its wide array of top notch greenhouses and unusual high quality flowers. This is why a local flower bouquet delivery from a Cincinnati florist like Jones the Florist is so extraordinary. This local florist shop is happy to send flowers in Cincinnati wherever you need, even delivering flowers in Hamilton County. As your best florist in Cincinnati, all Jones the Florist Ohio flower deliveries will be beautiful and timely, to create a lifetime memory for that someone special.