Joy's Flowers Nashville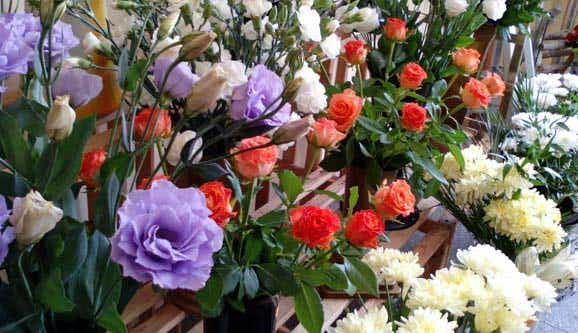 Entrust your Nashville flowers delivery and gift baskets to Joy's Flowers! Local Nashville flower delivery is perfect for rewarding someone for their participation in the St. Jude Country Music Marathon, or surprising someone with birthday flowers and a trip to the Tennessee Renaissance Festival. Your local Nashville Tennessee florist shop, Joys Flowers, has every occasion flowers for birthdays, to say thank you, for funerals, anniversaries, holidays, and even a plethora of just because flowers. One of the best flower shops in Nashville TN, they even have same day Nashville flower delivery available before 3 PM. This flower shop in Nashville TN strives for excellence with fresh flowers, timely delivery, and top notch quality standards. For a great flowers delivery in Nashville no matter the occasion, let Joy's Flowers handle your gift delivery for you. No car trip, phone call, or personal visit required! Joy's Flowers Nashville shop will take care fo the rest.
What Our Customers Are Saying:
5 Stars "Great place, super friendly - worked with me on same day delivery without price gauging." - Nadia
5 Stars "I have never used Joy's before but am so glad we went with them. I spoke with Tonya and her customer service was AMAZING. They offered to replace an arrangement that had started to wilt on the same day it was delivered. Wonderful and sincere customer service. We will be glad to use them in the future." - Heather
5 Stars "I just wanted to share that I did purchase flowers from Joy's and was helped by Lisa. My finacee works about a mile and half away as well. I called in about 1:30pm and wanted to get a cute Halloween arrangement delivered by 3:30pm (he was leaving early that day). The flowers were delivered as promised and he thought they were perfect! Thanks for the great service!" - Jessica
Shop Our Best Sellers:
Flowers Delivery Nashville TN
Many locals visit Joy's Flowers Nashville TN storefront. When are some great times for Tennessee locals to send flowers? If you're lucky enough to be located in the zip code 37211, this is a great chance to send kids flowers to let them know that tomorrow you're taking them to the Nashville Zoo at Grassmere, or even the full-scale replica of the Athenian Parthenon. If you can't choose a favorite bouquet delivery, then walk the Nashville Greenways trails for some outdoor inspiration. The Nashville TN flowers delivery that's perfect for you will soon come to mind. For a calm yet romantic flower occasion, send your love white roses with a notecard for her to join you for a viewing at the Brentwood Tennessee White Rose gallery. For a child's birthday flower delivery, use a multi-colored floral centerpiece to set the mood at the Brentwood Skate Center. Joy's Flowers also offers flower delivery in Rural Hill and Hermitage. From Long Hunter State Park up to The Hermitage Farm, your local Nashville florist shop can get your flowers and gifts to that special someone with ease and care. Hermitage TN flower delivery is a local area Joy's Florist is happy to be a supplier of for gorgeous flowers and special gifts. Regardless of your county, road, or flower arrangement delivery in Nashville Tennessee, Joy's Flowers will provide you with quality products and customer service.