Norfolk Florist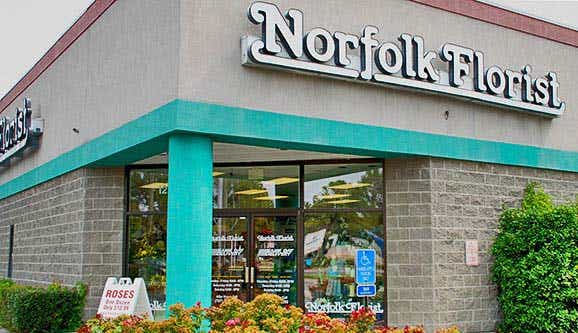 Serving a large part of the state of Virginia, for a quality flower delivery in Virginia Beach and surrounding areas you can trust Norfolk Florist to provide you with fresh flowers, beautiful arrangements, and a timely delivery. One of the best flower shops in Virginia Beach, your could send anniversary flowers to your sweetheart to celebrate before heading to the local Neptune Wine Festival, or even send your family flowers to excite them before attending the annual Holiday Parade at the beach. Norfolk Florist' flower shop in Virginia Beach carries everything from birthday, holiday, wedding, sympathy, and more flowers. Getting delivered flowers in Virginia Beach is easy! You don't even have to go to the store or call anyone, just order from your Virginia Beach local florist at Norfolk Florist to save time, money, and effort.
What Our Customers Are Saying:
5 Stars "What a wonderful company! Every time I visit the staff are extremely friendly and knowledgeable. The flowers are beautiful and there is always a great selection." - Karen
5 Stars "Ms. Tori is a breath of fresh air! Such customer service is rare, she knows how to be of service and has a wonderful personality!" - M. Thomas
5 Stars "I've purchased from Norfolk Florist for years and they have not disappointed me yet. Great place to purchase any types of flowers." - Angelo
Shop Our Best Sellers:
Flower Delivery Virginia Beach
Norfolk with it's Downtown Norfolk Restaurant Week and Summer Concert Series events, is filled with great opportunities to take someone out and surprise them with flowers from your local Norfolk florist. Why not send flowers in Norfolk as a per-party favor to celebrate what's going to be an amazing night out? We recommend you send gift baskets for dad in a great birthday gift delivery, and then take him to the Norfolk Brews on the Bay event. There are various really unique local events where you can send a flower delivery in Norfolk VA to make someone's day. If you're looking for flower shops in Chesapeake VA to make arrangements for the annual Boating Party Fundraising gala, your local Chesapeake florist is the best option. Norfolk Florist provides delivered Chesapeake flowers anywhere in your area. Every day different flower arrangements are made for flower delivery in Chesapeake. From Virginia's 23452 zip code near Mt Trashmore Park, to the Stumpy Lake Country Club in 23464, to Hickory Road in the 23322 area code, Norfolk Florist serves a wide area with gifts, even offering same day Virginia flower delivery.