When thinking about the type of flower associated with Easter, obviously the Easter cactus plant and white lily plant are the first things that come to mind. Those types of Easter plants are definitely the most common, but did you know that an equal amount of Easter gift buyers will look for purple Easter flower bouquets too? Easter purple flowers bouquets are sent ever year to friends, family, and loved ones. Pastel flower arrangements are commonly considered the "Easter flower color theme", but even with beautiful shopping pages of pastel bouquets and street display windows full of pastel bouquets of flowers, it never fails that every year people are searching in desperation for purple colored Easter flowers. The only other Easter flower delivery that requested almost as much as purple Easter flower arrangements, are yellow flower bouquets. Even then the amount requested pales in comparison to the purple arrangements. The below purple flower bouquet deliveries are some of the most requested Easter flower deliveries, including a few Easter bouquets that we have recently added. Let us know what you like, love, dislike, or hope you receive this year for Easter!
Purple Easter Spring Bouquet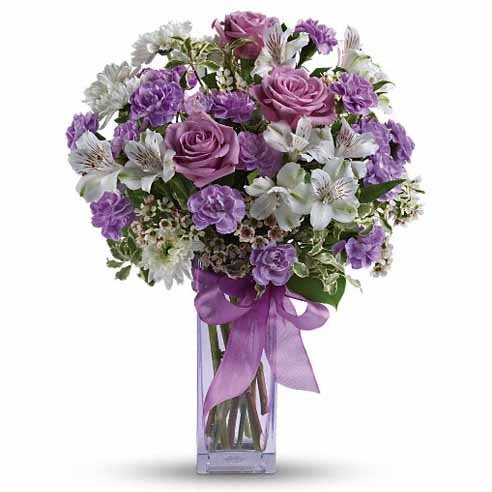 Purple Easter flowers come in a wide variety of flower breeds and in dark purple bouquets and lavender flower bouquets. This mixed bouquet of lavender roses looks even more lovely when placed inside a tall lavender glass vase and finished with a big lavender bow for decoration. White alstroemeria inside the Easter bouquet still gives that feel of a crisp and clean holiday with girls in white dresses and bows with clean bow ties. It's beautiful purple Easter flower delivery for anyone on your list.
Purple Easter Daisy Bouquet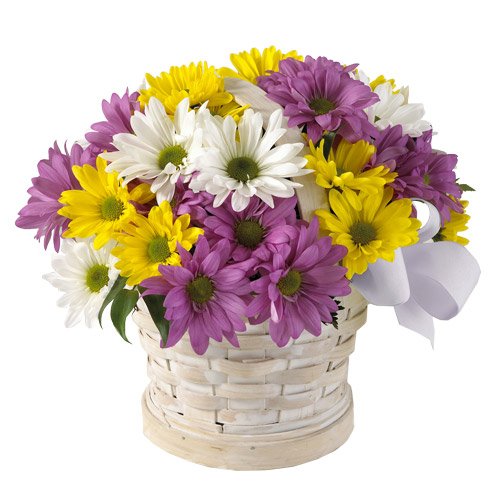 Bouquets of daisy flowers never seem to go out of fashion. This is one of the cheapest flower deliveries available online, and everyone loves it. It just goes to show that when it comes to Easter flower delivery, or quite frankly any flowers delivery, you don't have to spend a lot of money to get high quality flowers that are beautiful. This daisy bouquet features traditional purple daisies in a mixed bouquet and whicker basket for a lovely purple Easter flower delivery. Use the basket afterwards to hold kitchen items, candy, or whatever small household items you keep around.
Purple Easter Rose Bouquet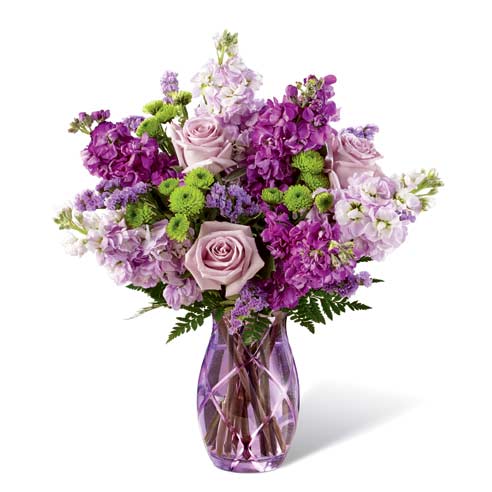 This Easter purple flower bouquet comes with an intricate purple vase with beautiful etching details and features exotic purple flowers. A truly stunning purple flower arrangement, this floral delivery uses predominantly light lavender roses mixed with tall dark purple stock and light purple stock. Almost neon green mums jump out for a surprising pop of color in this otherwise lovely pastel flower bouquet. This particular purple floral centerpiece is a wonderful arrangement for family dinners, or the living room while you hang out playing games together on Easter Day.
Purple Easter Roses Basket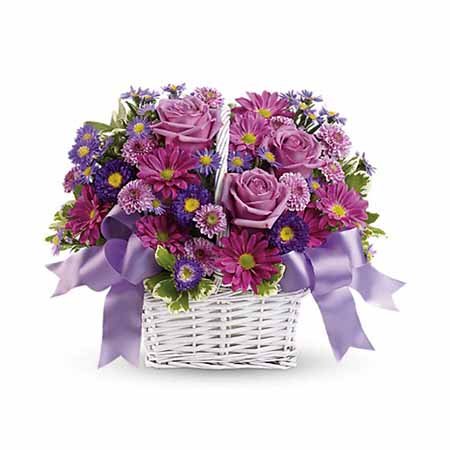 This purple basket bouquet is filled to the brim with a darker shade of purple roses, rich purple daisies, and an assorted of other purple Easter flowers. The white basket of flowers is an excellent floral basket for church get-togethers, or to send to family and friends. Use the white basket afterwards to hold fruit on your kitchen table for the family. A twin set of lovely light lavender bows decorates both sides of the purple flower centerpiece for a fun spring flower look that's absolutely charming. If you want to send a purple Easter bouquet, this is by far one of our favorites.
Purple Easter Carnations Mixed Bouquet
When it comes to spring flowers this bouquet isn't just beautiful, it's totally fun! With a pretty light lavender vase and mixed purple flower hues, its eye-catching beauty will lift their spirit of whomever lays eyes upon it. Purple carnations, lilac daisies, and purple mums mixed with lavender bupleurum will light up their room, office, or dinner table. Sending purple Easter flowers like these says "Happy Easter!", even if you don't write a customized message card. Send a message of love, happiness, and joy with purple Easter flowers that look magically and are fully blooming.
Purple Easter Oriental Lily Bouquet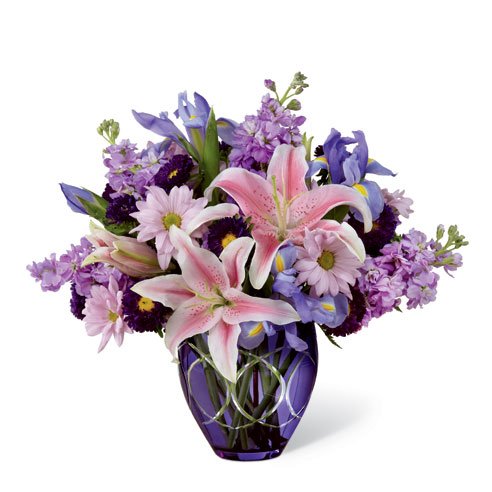 If you want everything to be beautiful from head to toe, this purple Easter bouquet should easily meet your standards. A deep purple flower vase with decorative etchings leads to a full purple flower bouquet featuring four different colors of flowers. Lavender, lilac, deep purple, blue and pink flowers create a very alluring floral display and centerpiece for Easter Day delivery. Though pink lilies are at the heart of this Easter flower bouquet, the majority of its florals are varied purple shades that look lovely anywhere their placed. Send this purple flower arrangement and simply sit back to wait for the thank you card.