Flowers For Grandma
This is our list of the best flowers for grandma under 50! You should send grandma flowers not just for the holidays or special occasions, but also just because she's one of the coolest people in your life. Mom made you eat healthy meals, but grandma's over it. She already raised her kids. You had ice cream for breakfast at her house, got to stay up late(ok not late, but later) watching cartoons, and didn't have to finish your greens if you didn't feel like it. Grandma's house was the most epic stay-cation of your young life. She deserves something nice, like a grand flower delivery that's just as unforgettable as she made your childhood. What you'll find here are the grandmother flowers we like best. Each gift comes with a vase and a message card unless stated otherwise. Pick your favorite flower bouquet for grandma and show her how much you care.
Grandma Flowers
Pick a great grandmother gift by occasion!
Best Flowers For Grandma On Her Birthday
Grandma is last to pick on you for forgetting someone else's birthday, and the first to fuss if you forget hers. If she doesn't receive a flower delivery on her birthday, it better be because you are hand delivering it yourself. Otherwise, be ready for the guilt trip of a lifetime from a pro', and trust us, you won't leave that house feeling good about yourself. Sending your grandmother gifts is important to her because it's a symbol of your affection for her. She's your grandmother, and she has the right to fuss a little. After all she did spoil you rotten, and probably watched you all the time for your parents too. She handled all of your needs while giving your parents the occasional break. Grandma flowers aren't just deserved at this point, they were earned through blood, sweat, and tears(mostly yours). Without further ado, these are our top recommended flowers for grandma's birthday. Each grandma bouquet has a different theme, color, and overall feel to it. Instead of wondering what to get a grandma for her birthday, let us help you out. Which grandmother flower fits your special lady?
Flowers for Grandma's Birthday
Best Flowers For Grandma For No Reason
Why send grandma flowers for no reason at all? Don't let your dear grandmother catch you saying that. Sending grandma just because flowers is perhaps the most touching delivery that you can give her. If you're close to your grandmother but you live far apart, it can be a quick way to say "I'm thinking of you". Sending her flowers just because will let her know that you love her and that she's on your mind. With just because grandma flowers you can really send any kind of flower arrangement that you think she'd like. Since it's not seasonal or designed for a specific holiday, it's a good time to maybe send her unique flowers that you wouldn't normally. If you always send grandma roses a just because flower delivery is your chance to broaden her horizons. Why not surprise her with a modern flower arrangement or maybe even a flower topiary or a birds of paradise bouquet? Admittedly, grandmother may be set in her ways, but she still appreciates a small adventure that she can handle every now and then. A unique grandma flower delivery is just the pint-sized amount of adventure that she'd love to handle, don't you think? Don't forget, when it comes to roses for grandma, you also can't go wrong.
Popular Just Because Grandma Flowers
Adventurous Just Because Grandma Flowers
Best Flowers For Grandma To Say I Miss You
A sure fire way to grandma's heart, the I miss you flower delivery. There are particular flowers to send to grandma that mean I miss you in flower language. Send grandma orchids to say I miss you or colorful stargazer lily bouquets. If you're a hopeless romantic you probably spend quite some time star gazing while missing someone. Also in general there are blue flowers because, you know, "I'm blue without you". Yes it may be slightly corny, but people love receiving flower arrangements with touching little messages like this. Blue flower bouquets are great missing you flowers to send and usually very beautiful flower bouquets to boot. Grandma will love an "I'm missing you" gift delivery of blue flowers, missing you orchids, or bright red stargazer lily flowers. Each of these "missing you" flower deliveries looks vastly different, so just pick the one that you think she would like the best. Don't stress over your choice of flowers for grandmother though, and keep in mind she's going to be ecstatic to receive a flower delivery from you regardless. You're her grandchild and she loves you, so say I'm missing you grandma with these gorgeous options.
Best Flowers For Grandma That Say I Love You
Technically any flowers sent for grandma are going to tell her that you love her, but if you specifically want to convey love, what better love flower is there than roses? A special grandma rose delivery can symbolize the mutual love you share with each other. Roses are the flower of love, and roses are a symbol of love. Send an I love you flower delivery to grandma with a two dozen roses delivery. The pink rose and lily bouquet comes with a mylar balloon that clearly states I Love You. You can also add on chocolate delivery for grandma, teddy bears to send a hug, or add full on balloon bouquets to your gift delivery for grandmama. I love you gift delivery is just what grandmother needs to put some spring in her step and a smile on her face. We like adding teddy bear delivery to these roses in particular. It's touching when you think about it. Your grandmother spends your childhood protecting your teddy bear from stains, rips, tears and well - you. It's nice when you're older to send a teddy bear to grandma to rekindle all those memories. It's also convenient for her that she won't have to chase after this one.
Best Flowers For Grandma With Chocolates
Granted, all of these floral bouquets can be sent with a chocolate delivery, but in case you prefer the pre-paired options, these are great chocolate deliveries for grandma. When it comes to the best things to get your grandma for her birthday, or just any day, who doesn't like candy? Send mama flowers with delicious hand delivered chocolate candy, or pair your grandmother flower bouquet with these hand delivered strawberries for something really spectacular. Under grandma's guiding light and endless spoon hand-hitting, you've developed a palette for the better quality things in life. So let her sit back and relax with something she didn't have to make for once of the same caliber. Grandma's luxury chocolate covered strawberries delivery will satisfy her sweet tooth, and the delivered flowers with chocolates will also satisfy her desire for something beautiful in the house. With gifts for grandmother designed to make her mouth water, she's sure to enjoy the experience.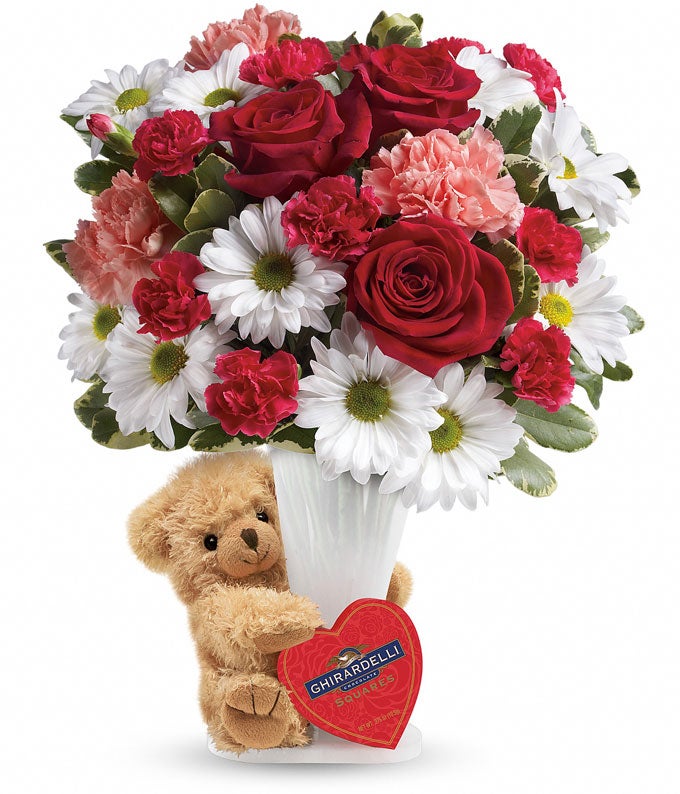 Bear Your Heart Bouquet
Best Flowers For Grandma Because We Said So
Yay! Best flowers because we said so, and perhaps our favorite grandma flower section. We picked these bouquets for two reasons. Firstly, they're priced under 50 dollars as we promised they would be, and secondly, we just want them ourselves! If all of the women in our office collectively adore these particular bouquets for grandma, then we figure it's safe to say that grandma, grandmothers, or mama, whatever endearment you use, is sure to love them too. So literally send these flowers to your grandmother because we said so. Don't forget that grandma deserves a treat every now and then too. Some of the gifts that forever remain the most memorable to us are the ones that we receive for absolutely no reason. Whether you order grandma flowers for Mother's Day, Valentine's Day, her birthday, or for absolutely no reason at all, your grandmother is a special person in your life. Show her as often as you can how special she is, enrich her life with the love of a grandchild, which is unlike anyone else's.