Best Flowers For Grandma
This is our list of best flowers for grandma under 50! you should send grandma flowers not just for the holidays or special occasions, but also just because she's one of the coolest people in your life. Mom made you eat healthy meals, but grandma's over it. She already raised her kids. You had ice cream for breakfast at her house, got to stay up late(ok not late, but late-r) watching cartoons, and didn't have to finish your greens if you didn't feel like it. Grandmas house was the most epic stay-cation of your young life, and she deserves some backscratching for that in the form of a grand flower delivery that's just as unforgettable as she made your childhood. Not only are these high quality cheap grandma flowers under 50, they also come with free flower delivery when you use the coupon featured here. Grandma would be proud! Apparently that piggy bank she got you paid off in some way.
Best Flowers For Grandma On Her Birthday
Best Flowers For Grandma For No Reason
Why send grandma flowers for no reason at all? Don't let her catch you saying that. Sending grandma just because flowers is perhaps the most touching flower delivery that you can give her. Especially if you're close to your grandmother but you live far apart. Just sending her flowers just because every now and then, will let her know that you love her and that she's on your mind. With just because grandma flowers you can really send any kind of flower arrangement that you think she'd like. Since it's not seasonal or designed for a specific holiday, it's a good time to maybe send her unique flowers that you wouldn't normally. If you always send grandma roses, then a just because flower delivery is your chance to broaden her horizons. Why not surprise her with a modern flower arrangement or maybe even a flower topiary or a birds of paradise bouquet? Admittedly, grandmother may be set in her ways, but she still appreciates a small adventure that she can handle every now and then. A unique grandma flower delivery is just the pint-sized amount of adventure that she'd love to handle, don't you think?
Popular Just Because Grandma Flowers
Adventurous Just Because Grandma Flowers
Best Flowers For Grandma To Say I Miss You
A sure fire way to grandma's heart, the I miss you flower delivery. There are particular flowers to send to grandma that mean I miss you in flower language. Send grandma orchids to say I miss you or colorful stargazer lily bouquets. If you're a hopeless romantic you probably spend quite some time star gazing while missing someone. Also in general there are blue flowers because, you know, "I'm blue without you". Yes it may be slightly corny, but people love receiving flower arrangements with touching little messages like this. Blue flower bouquets are great missing you flowers to send and usually very beautiful flower bouquets to boot. Grandma will love an I'm missing you gift delivery of blue flowers, missing you orchids, or bright red stargazer lily flowers. Each of these missing you flower deliveries looks vastly different, so just pick the one that you think she would like the best. Don't stress over your choice of flowers for grandmother though, and keep in mind she's going to be ecstatic to receive a flower delivery from you regardless. You're her grandchild and she loves you.
Best Flowers For Grandma That Say I Love You
Best Flowers For Grandma With Chocolates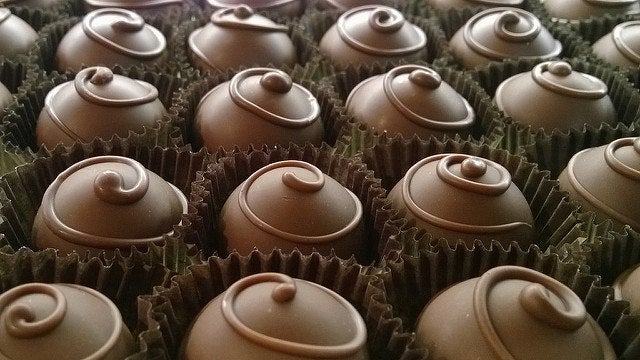 Flickr Creative Commons by LongitudeLatitude
Granted, all of these floral bouquets can be sent with a chocolate delivery, but in case you prefer the pre-paired options, these are great chocolate deliveries for grandma. Send mama flowers with delicious hand delivered chocolate candy, or pair your grandmother flower bouquet with these hand delivered strawberries for something really spectacular. Under grandma's guiding light and endless spoon hand-hitting, you've developed a palette for the better quality things in life. So let her sit back and relax with something she didn't have to make for once of the same caliber. Grandmas luxury chocolate covered strawberries delivery will satisfy her sweet tooth, and the delivered flowers with chocolates will also satisfy her desire for something beautiful in the house. You are such a grade A grandchild, honestly! Ok so you lose points on not being humble, no biggie.
Best Flowers For Grandma Because We Said So