Best Holiday Gift Baskets
Gift basket delivery and holiday gift baskets have only increased in popularity over the years. The increase in orders for gift baskets that the delivery industry has seen in the last three years has been staggering. This Christmas 2017 online gift basket delivery is expected to spike during the month of December in a way it never has before. With that in mind, these are some of the most ordered gift baskets online and best holiday baskets. Most of these are gift baskets delivered to friends, coworkers, and family. Though most gift basket deliveries are purchased as gifts, there's a small percentage of outliers in which customers purchase them for their own homes or offices.
Popular Holiday Gift Baskets
These popular holiday baskets starting at prices as low as $31.00, all have a story and special purpose. From stories of Frosty and Santa, to delicious candy cane bouquets, and baskets filled of the snacks you and your siblings used to fight over; you'll see it all here. These holiday baskets are all available for same day holiday basket delivery, which is excellent if you need it quickly, and they all come with a free delivery coupon when you enter "DELVFREE" at the checkout. There's a variety featured from chocolate delivery baskets, baskets of fruits, and gourmet cheese and sausage baskets too.

Mixed Tropical Fruits Basket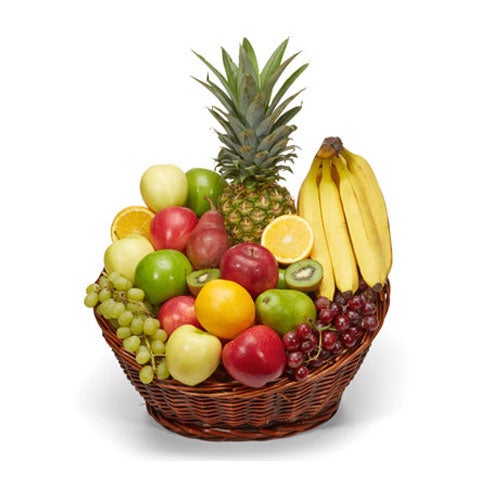 Assorted Premium Fruits Basket
$43.99
Shop
Why did we feature this mixed tropical fruit basket first? This is this most accessible gift basket for everyone. With a great price point of 43.99, this inexpensive gift basket is easy on everyone's pocket book. This is a great same day basket delivery because it also features the most popular fruits. A pineapple, apples oranges, grapes, kiwis, and pears make up an abundant and large gift basket. Have a gift delivered like this, and it looks like you spent easily $100. They don't need to know that you didn't.

• Mixed Seasonal Fruits
• Hand-Delivery
• Dark Brown Whicker Basket
• Same Day Gift Basket Delivery Available
Mixed Candy Gift Basket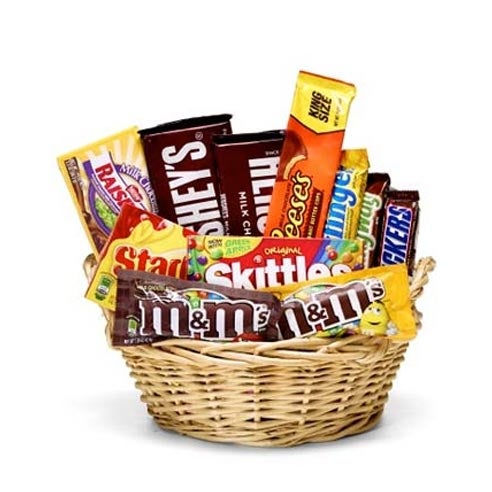 Sugar Rush Holiday Gift Basket
$31.99
Shop
The second most popular gift basket, filled to the brim and beyond with home candy favorites, this candy basket delivery isn't just a sweet treat; it's also a look into your childhood. Customers are always saying that they enjoy eating the chocolate and also appreciate the memories it brings up for them. Christmas mornings when they found their stockings full of candy, or for some, even fighting their siblings for the last Reese's cup. A universal holiday basket delivery for friends, family, and colleagues. You could also send a gift basket to your brother or sister and apologize for years of stealing their candy! After they've enjoyed their candy, there's a lovely basket for kitchen items, flowers, or magazines that will stay as a memory of this Christmas gift from you. The only thing better than enjoying past memories, is making new ones together.

• Popular Chocolate Candy
• Popular Fruit Candy
• Hand-Delivery
• Free Card Message
• Same Day Candy Basket Available
Large Fruit & Candy Holiday Basket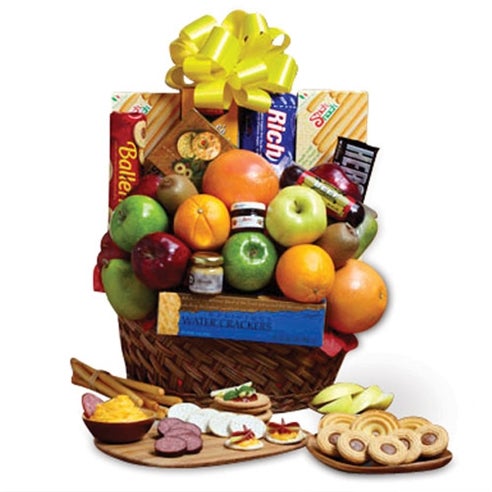 Epic Snacks Gift Basket
$43.99
Shop
The mother load basket of everything. This delivered gift basket for the holidays comes with everything. Savory snacks, fruits, sweets and candy, sausage, cheese, spreads, and crackers. This smorgasbord gift basket has it all. When you "just can't", decide that is! Send gift baskets featuring all of the things and be satisfied that beyond a doubt, they'll be quite a few things to entice your recipient in this same day basket delivery.
• Fresh Seasonal Fruits
• Popular Sweet Snacks
• Various Savory Snacks
• Woven Basket Container
• Big Ribbon Topping
• Free Message Card Delivery
Supersonic Sweetness Candy Gift Basket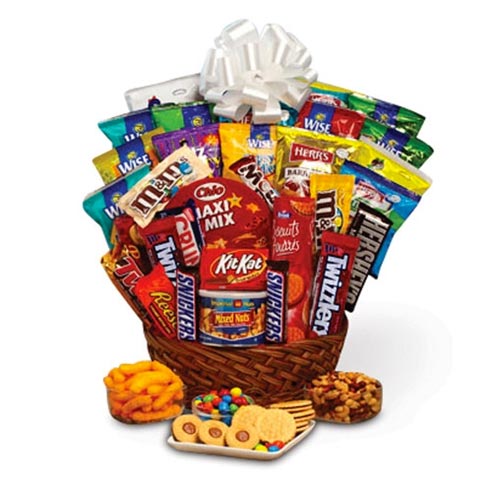 Savory Sweets Holiday Basket
$39.99
Shop
Just candy, and then more candy, and a tad more candy. You know what? Just put it all in there. It's like going trick or treating, without any walking...while staying your sweatpants. Frequently gifted to friends and colleagues for Christmas, but also ordered for ones self. We don't judge, we understand that the grocery store just seems super far away sometimes. Plus pants. Gross. A great gift basket for the sweets lover of the family or just for the best lazy saturdays, however you partake of this candy basket delivery is between you and yours. You're in our dojo, and this is a safe place. Are those Cheetos? Actually we want bribery. Yes, all of the Cheetos. Pass em'. Now.

• Savory Snacks Delivered
• Sweet Candies Delivered
• Woven Basket Container
• Free Message Card
• Same Day Delivery Available
Gourmet Fruit Holiday Basket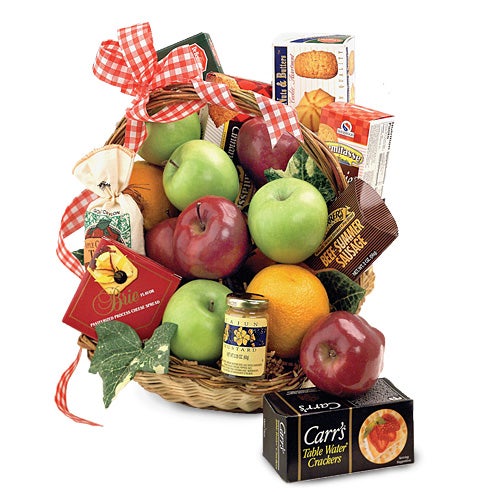 Gourmet Fruit Gift Basket
$47.99
Shop
The gourmet fruit options in this hand delivered basket are delicious, but it's one of our favorites because of it's A+ on presentation. There's something about holiday red apples and green apples with a plaid holiday bow that just makes us feel happy. Obviously the cookies, spreads, and crackers add to that happiness; but what a beautiful apple basket delivery. This is the perfect gift delivery for teachers if you want to show your appreciation! A stunning apple centerpiece, it almost seems a pity to eat it, but of course we will. Oh, the things we do for our loved ones. Could you pass the sausages first pleeeease?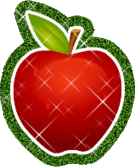 • Seasonally Fresh Fruit Varieties
• Tasty Crackers
• Delicious Sausages
• Red Ribbon Decoration
• Handled Whicker Basket Container
• Various Additional Gifts & Surprise Contents
Luxury Chocolate Holiday Basket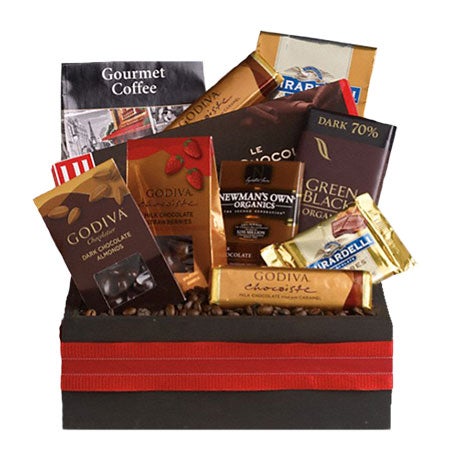 Luxury Chocolate Gift Basket
$86.39
Shop
It's our favorite holiday gift basket, drool...Everyone orders the gourmet candy basket delivery. Ordered for friends and family, this superior chocolate basket is also an employee gift favorite for businesses, and a favorite amongst couples. Send a gift basket to your sweetheart full of holiday cheer and sugary sweetness. If mom or dad is a lover of everything chocolate, start their holiday season out in the most delicious of ways. Gooodddiiivvvaaaaa. We were singing that just now, thought you should know. Everyone at Send Flowers gets that excited about chocolate. (Sometimes we get them delivered here too!) They learned the hard way that one of these chocolate deliveries just isn't enough. After experiencing the office version of the Games of Thrones battle, we always get gifted more than one now.

• Gourmet Candy
• Decadent Godiva Chocolates
• Assorted Nut Varieties
• Decorative Wooden Box Presentation
• Hand Delivered Gift
• Same Day Gift Delivery Available
Gourmet Snacks Holiday Basket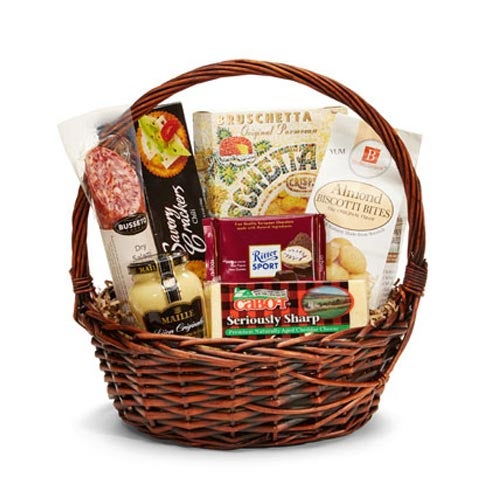 Delicious Gourmet Basket
$39.99
Shop
We've all witnessed it. Whether it's a turkey dinner with family, a Christmas party at work, or a birthday party; there's always the one person(crazy, I know) who dives past the sweets straight for the salty stuff. After accepting that they don't understand our affinity for sweets, we are able to form loving relationships with them. When it comes to gift giving, you have to step into their shoes and imagine what their ideal holiday basket would be. Here to answer the anti-sweet lovers Christmas gift needs is this cracker, cheese, and sausage gift basket. Your quirky friend can dive right in without hesitation to enjoy the savory and salty treats featured in this sausage cheese basket delivery. We did throw in one box of cookies though..or two. We said we had to accept your anti-sweets nature! Accept* only. That doesn't mean we won't keep trying! Hmmph.
• Premium Assorted Snacks
• Gourmet Cheese
• Various Sausages & Crackers
• Handled Whicker Basket
• Cookies
• Elegant Presentation Gift
Gourmet Pear & Grapes Holiday Basket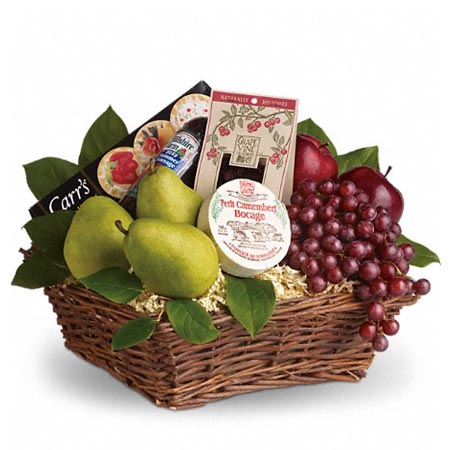 Delicious Delights Basket
$51.99
Shop
A fancy same day gift basket delivery that won't empty your wallet. Perfect. Love it. This is a great gift delivery option of fruits and snacks when you want a truly lovely presentation, but don't have the cash flow to buy the really elaborate high-end baskets. Everyone loves receiving a same-day gift, especially with high quality fruits like pears and grapes. For those of you focused on quality over quantity, send gift baskets like this featuring a taste of the best things in life. Send holiday gift baskets and let them know you're thinking of them.

• Green Pears
• Assorted Grapes
• Snack Crackers
• Seasonal Sausages
• Dried Cranberries
• Whicker Woven Basket
Large Gourmet Fruit Holiday Basket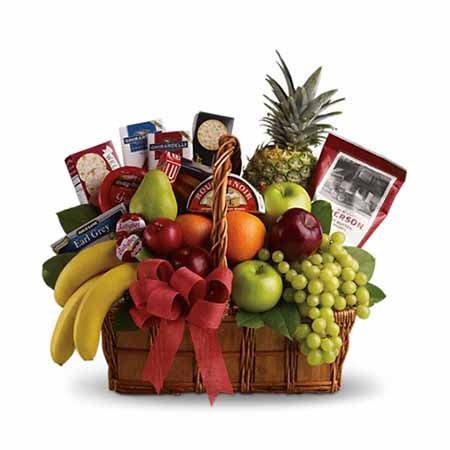 Bon Vivant Gourmet Fruit Basket
$111.99
Shop
What does bon vivant mean? We know you were thinking it, even if you won't admit it. From the Webster dictionary itself, it means, "a person having cultivated, refined, and sociable tastes especially with respect to food and drink". Who is this elaborate gourmet gift basket for? Everyone has that one friend who has impeccable taste, good form, and highly reformed taste buds. These people, bless their hearts, can not be faulted for their high caliber taste buds. Embrace your classy friend or loved one, and send a gift basket that they can truly enjoy. You can even practice for their thank you call or text by having this definition already memorized. When they ask you how you picked the perfect gift basket delivery for them, you can gush out an equally elegant answer. Whose fancy now? Don't forget, pinky up.
• Assorted Fruits
• Various Cheeses
• Assorted Crackers
• Tea
• Savory Snack Mix
• Red Decorative Bow
• Whicker Basket Presentation
Pineapple Centerpiece Fruit Basket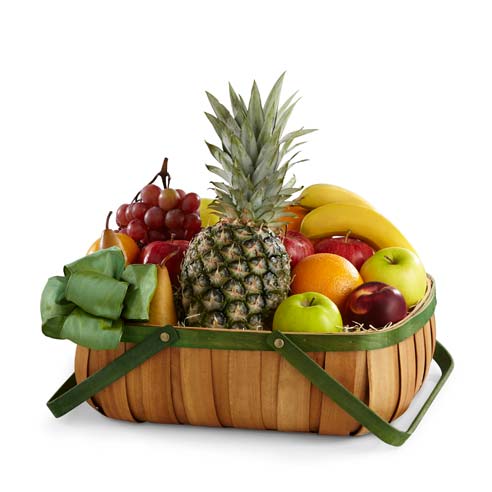 Assorted Fruit Holiday Basket
$37.59
Shop
Why is the pineapple centerpiece and fruit basket so ridiculously popular? Well beyond the fact that this cheap gift basket delivery is only $37.59 there are two other reasons for it's surge in popularity. The first being that, pineapples are just amazingly delicious, obviously. Secondly, is the recent pineapple takeover with the design industry within the last 2 years. From pineapple jewelry, to pineapple coasters, pineapple textiles for clothes, and even now - yep, your fruit gift basket. We don't know which designer started it all, but we already love having pineapples delivered. We're more than happy to languish in an overdoes of roly poly yellow pineapples.
• Fresh Fruits In Season
• Hand Delivery
• Green Bow Decoration
• Elegant Gift Presentation
• Gift Basket Same Day Available
• Natural Woodchip Basket Presentation
Poinsettia Plant Holiday Fruit Basket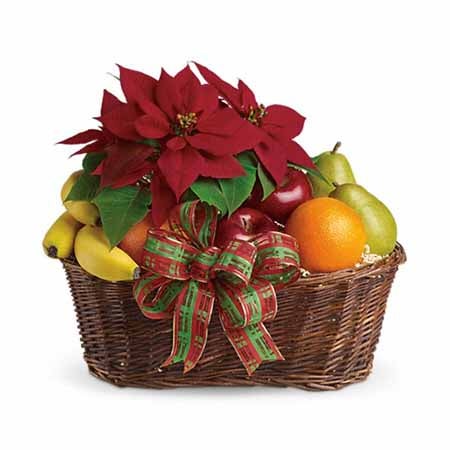 Poinsettia Fruit Basket
$39.99
Shop
For those who wish to send flowers and a fruit basket, this mixed fruit and poinsettia plant delivery is ideal. A potted poinsettia plant can decorate their favorite room long after they've munched through all of their snacks and fruit gifts. This favorite Christmas flower is the standard most gifted holiday flower of the season. Not only will you see them featured in beautiful store windows, but they also bring back strong memories from most people's childhoods. Who could forget the flower house in the animated Frosty movie where frosty melted? Such a briefly sad scene surrounded by beautiful poinsettias. Thank goodness for his magic hat!

• Poinsettia Plant Delivery
• Basket Of Fruits Delivery
• Red Apples
• Yellow Bananas
• Fresh Oranges
• Red Green Plaid Holiday Bow
• Sturdy Whicker Basket Presentation
Happy holidays to you and all of your loved ones! Don't forget this special treat from us for the best Christmas gift baskets at great prices.
Free Gift Basket Delivery Coupon: DELVFREE