Best St. Patrick's Day Gifts
See our top choices for the best Saint Patrick's Day gifts for same day delivery! It's that time of year again. Whether you're pinching everyone whose not wearing green, or simply celebrating the work of Saint Patrick himself, it's a fun time of year to be with friends, family, and loved ones. Green flower bouquets, candies, plants, and St. Patrick's Day gifts delivered straight to their home, office, or event are sure to make them smile.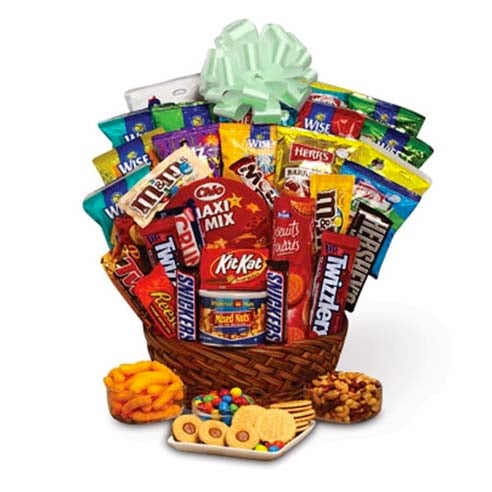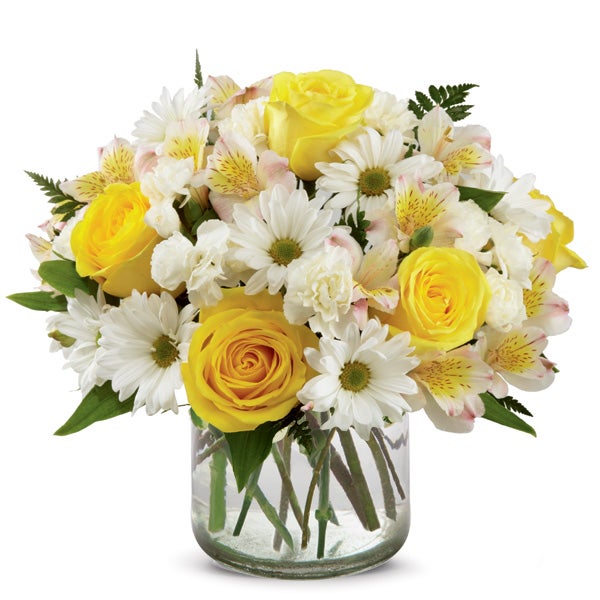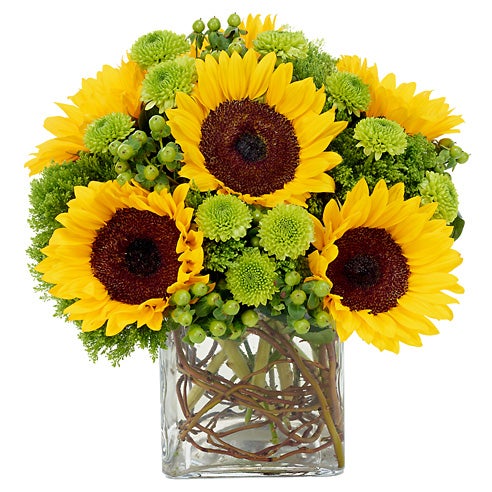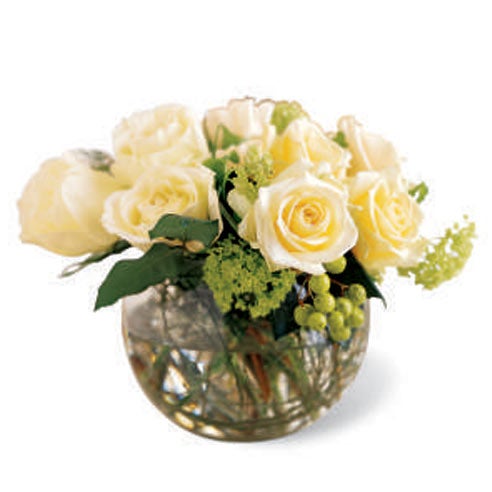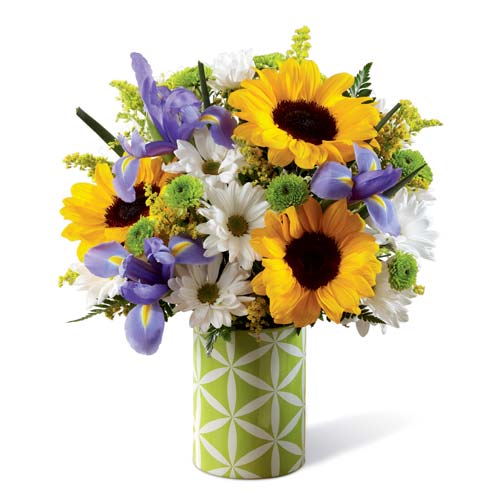 Inexpensive Saint Patrick's Day Gifts
Though there aren't many popular St Patrick's Day activities for adults, one thing they do enjoy doing every year is sending St. Patty gifts to each other. Some of you will celebrating at church with your congregation, and some of you will be meeting at the bar over beers. There may even be some of you that equally do both. No matter your particular way of celebrating, these hand delivered Saint Patricks Day gifts offer a way to send them some fun! From St. Patrick's Day flowers, to gift baskets, and centerpieces, just choose your favorite.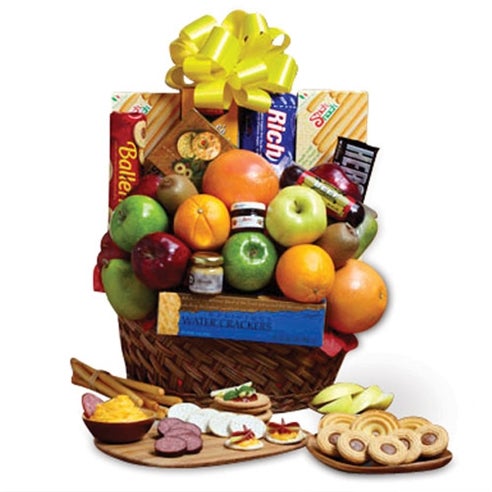 St. Patty's Fruit Basket
Send fruits baskets Saint Patrick's Day to let someone know you're thinking about them. Fresh picked fruits, savory snacks, sweet and salty treats, and more fill this hand-delivered basket. Make them smile by filling their tummy with deliciousness!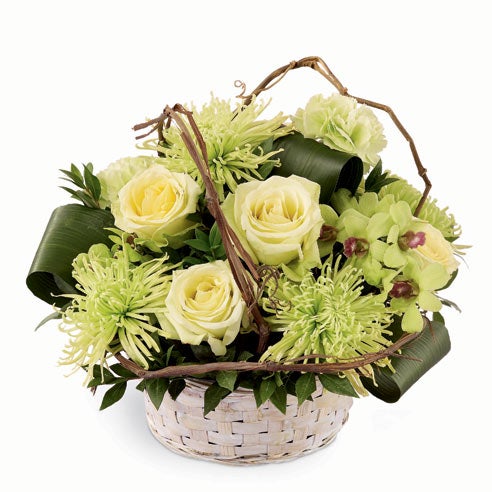 Green Rose Bouquet
In this arrangement light green roses and chrysanthemums blend together in a mixed bouquet that says Happy Saint Patrick's Day! Beautiful dendrobium orchids and a bamboo basket finish the bouquet.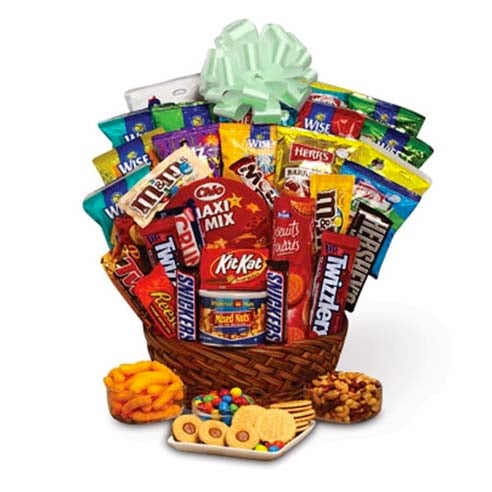 St. Pat's Candy Gift Basket
Some people prefer fresh fruits and some want salty and savory snacks. However most of the general population loves sweets, candies, and chocolate! This chocolate gift basket is sure to make their mouth water for Saint Patrick's Day.
Green Lantern Bouquet
This inexpensive daisy bouquet comes inside a lime green lantern for a long-lasting gift that they can enjoy. Once they've finished using the flowers they'll have a lantern to hold candles and cast beautiful shadows in intricate patterns upon their walls.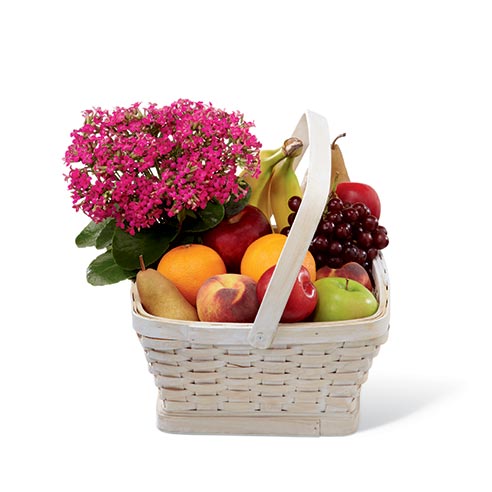 Kalanchoe Plant Fruit Basket
If they have a green thumb, why not send a St. Patrick's Day fruit gift basket that comes with a plant? The best of both worlds, they can eat their fruit gifts and decide where to put their planter. Whether they plant the kalanchoe arrangement in the yard or inside, they're sure to think of you every time they see it.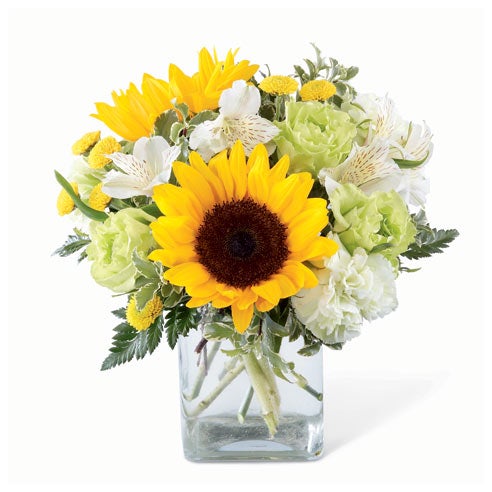 Sunflowers Arrangement
The sunflower spreads joy and sunshine in any room it fills. Send sunflowers bouquets for Saint Patirck's day gift delivery if you want to infect them with happiness! Not only good for their minds, but also good for the soul, these blossoming flowers bring the sunlight indoors in a tangible way.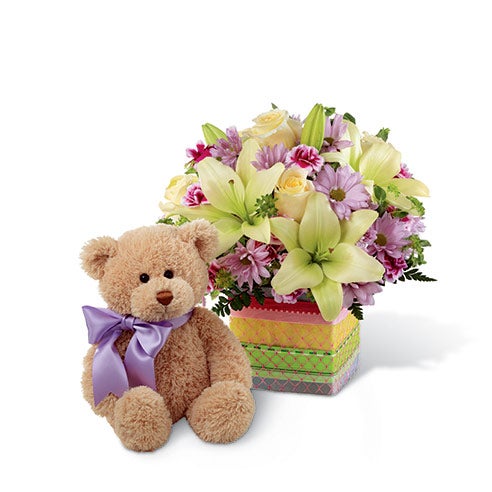 Bear And Flower Bouquet
This bear and flower gift is great for your lady love or to send to children too. Everyone will enjoy this mixed bouquet of pastel flowers, and the plush bear serves as a long lasting reminder of their special experience.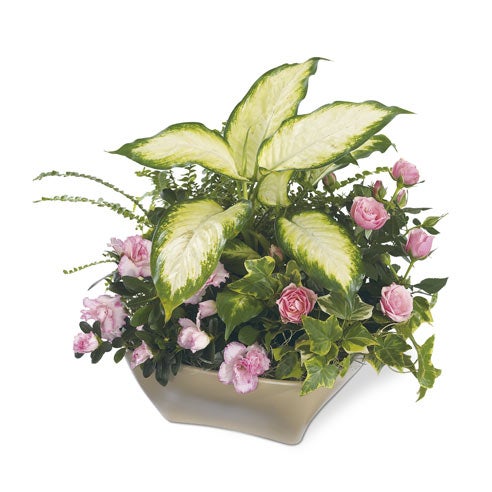 Dish Garden And Planter
Send someone a green plant dish garden as a unique St Patrick's Day gift. They can either keep it as is inside of it's container environment, or they can actually plant it at home somewhere. Either way their gift will last a long time.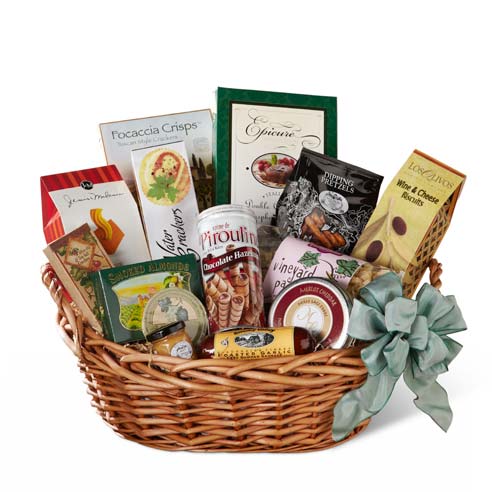 Sausage And Cheese Basket
For those few who you know don't enjoy sweets(we know, but apparently it's true!), there's a delicious gourmet sausage and cheese gift basket that you can send to someone special today. Different kinds of yummy sausages, cheeses, and a few snacks are wrapped elegantly in a woven basket and finished with a bow.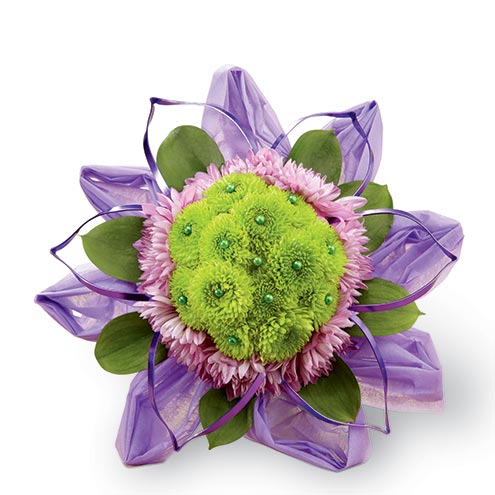 Modern Flower Arrangement
This modern flower bouquet would surprise and delight even Grumpy from Snow White! Green button poms, purple chrysanthemum and greens hand-arranged into a unique and strong shape look contemporary and fun. Send green flowers in a modern bouquet that's before for this celebratory occasion.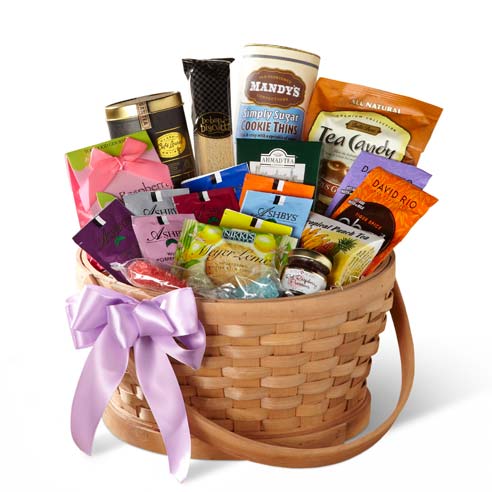 Tea And Cookies Basket
This mixed gift basket with tea and cookies offers a British inspired tea time break whenever they need it. If your friend, family member, or significant other wants to celebrate the occasion but lives on the calmer side fo life, treat them to a calming experience. Jam, candy, cookie, and teas make a tasteful and oh so elegant gift, hand-delivered straight to their door.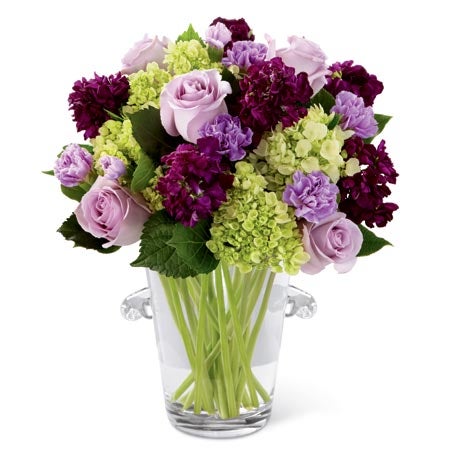 Luxury Purple Rose Bouquet
This purple roses bouquet works for a gift for Saint Patricks Day because it's filled with bright green florals too! Lavender roses sit a top a vivid green bed of jade colored hydrangea and greens for an elegant premium floral display.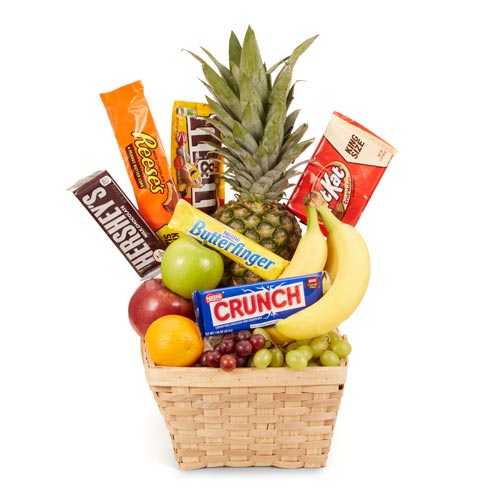 Candy Fruit Basket
This candy fruit basket is a top selling Saint Patrick's Day gift basket every year. It's smaller than the premium and luxury baskets, which is why it's so affordable. It still comes with all of delicious fruit they'll want like oranges, bananas, apples, grapes, and a pineapple. Our local florist will top it off with some tasty chocolates.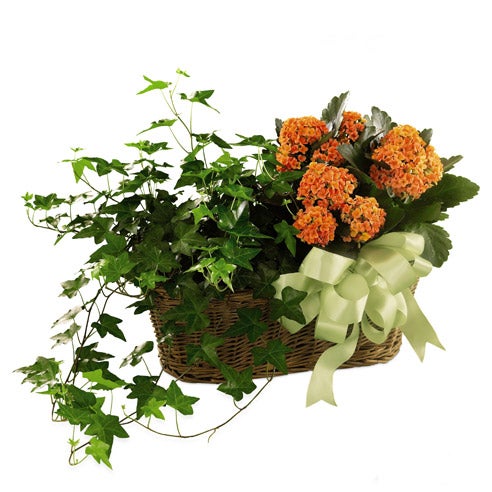 Kalanchoe Planter Basket
This kalanchoe plant with bright greenery and inspirational orange flowers will look great on their favorite windowsill or even a desk at work. Give them a continuously giving gift with a plant they can nurture and watch bloom over and over again.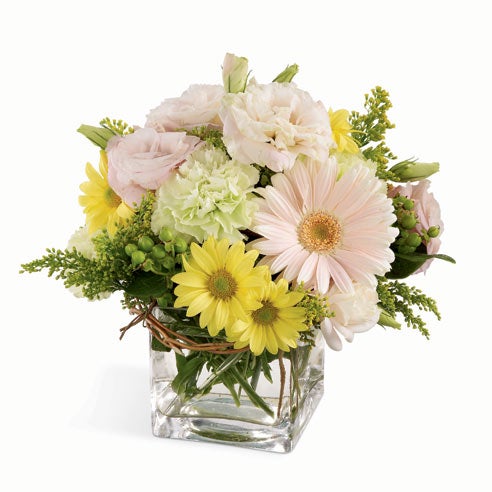 Gerbera Daisy Mixed Bouquet
A mixed bouquet of happy daisy flowers will brighten up the living room or office space. This Saint Pattys gift delivery mixes the holiday's favorite green shade with pale pink and bright yellow florals for a stunning floral presentation.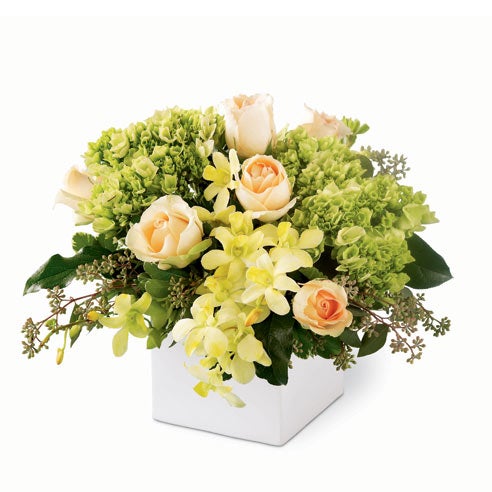 Green Hydrangea Bouquet
Let them celebrate Saint Patrick with this modern square shaped flower bouquet filled with green hydrangeas, eucalyptus, and pale pink roses. Arranged in a contemporary way with a clean white vase and chunky flower sections, this gift is the ideal St. Patrick's Day dining table centerpiece.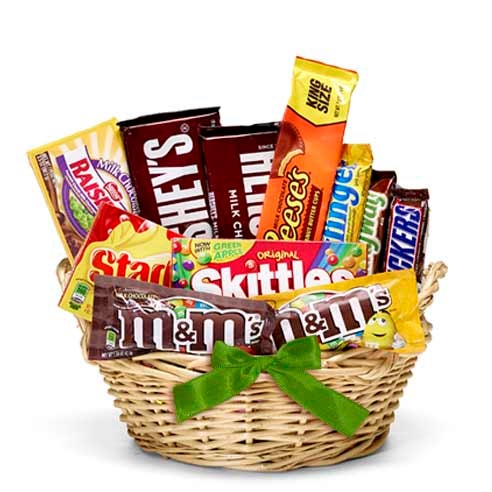 Whicker Candy Gift Basket
This little woven gift basket includes tasty sugary favorites at a low price anyone can afford. Send a cheap candy gift basket for Saint Patrick's Day that is affordable, but doesn't skimp on the candies! That's a win win for everyone involved.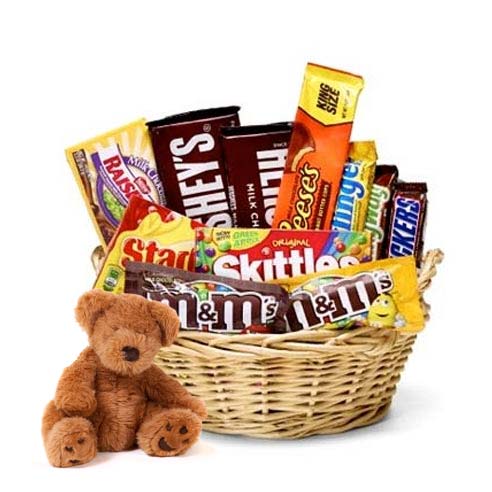 Candy Bear Gift Basket
Pair our affordable candy gift basket with treats and a huggable teddy bear that they're sure to love. They'll hold it close and think of you fondly while chowing down on some sugary goodness. Having bears delivered for St. Patricks Day will give them something to hold onto to remember the moment.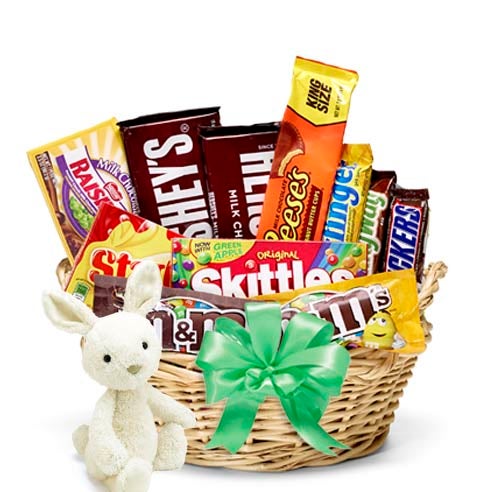 Bunny Candy Gift Basket
Though originally created with Easter in mind, this springtime favorite is frequently ordered as a gift on St Patricks Day. Available for same-day delivery with delicious chocolate and a hugging little bunny, give it to the beautiful femme or wee little one that you hold dear.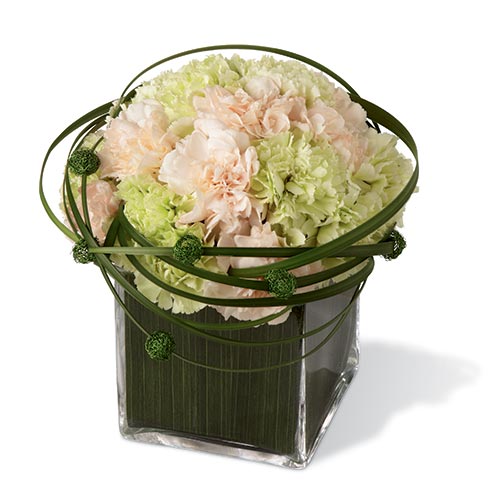 Green Carnation Bouquet
Green carnations are tightly packed into a modern floral arrangement with dramatic lily grass inside a cube vase for this gift. With this much decadent greenery who could even consider pinching them this year?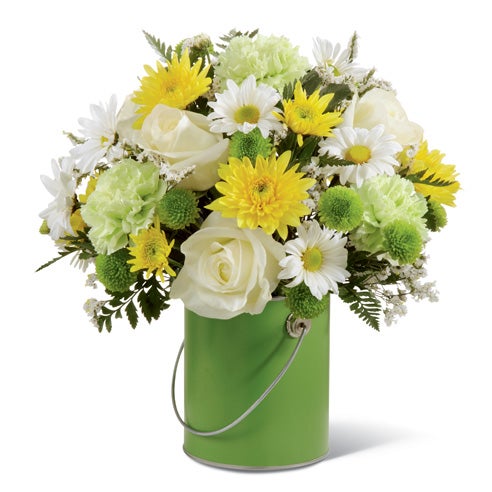 Flower Bucket Bouquet
Send a bucket or pail full of flowers! This Saint Pat's flower bouquet comes in a lime green pail that they can use over and over again. With light-green carnations, white daisies, and yellow pom blossoms, it's a show-stopper floral centerpiece!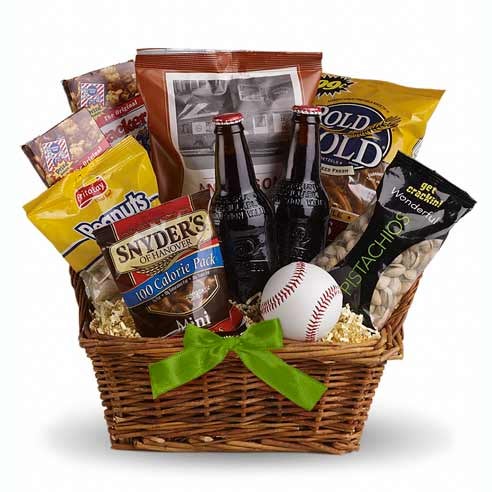 Baseball Themed Gift Basket
Take me out to the ballgame! You could also just send the ballgame to them with this fun Saint Patrick's Day baseball gift basket. With root bears, nuts, chips, pretzels, a baseball and more, there's plenty here to celebrate with.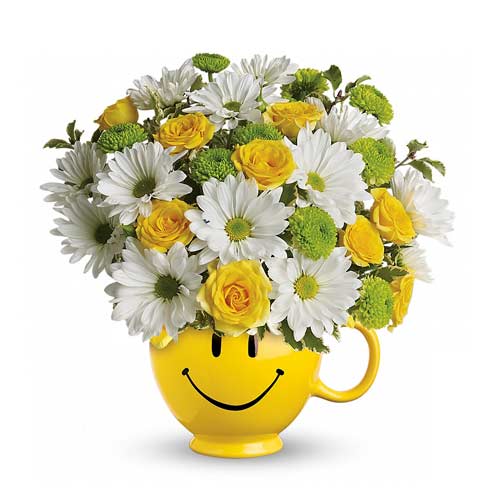 Coffee Mug Bouquet
This St. Patty gift delivery features freshly cut flowers set inside of a smiley face mug. White traditional daisy, yellow miniature rose, and green pom flowers blossom fragrantly inside of this beautiful coffee or tea cup flower arrangement. Yep, they'll smile for sure.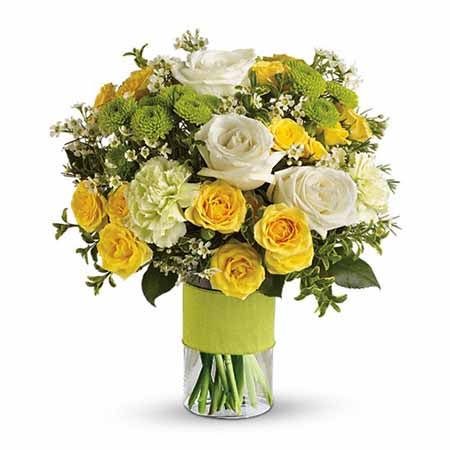 Luxury Patty's Day Rose Bouquet
Depending on to whom you're sending gifts for Saint Patrick's Day, you may want something a bit more on the luxury side. This very affordable premium floral arrangement uses petite canary and full white roses with jade carnations and dainty button poms to spread joy wherever it goes. Send luxury flowers to someone and they're sure to thank you.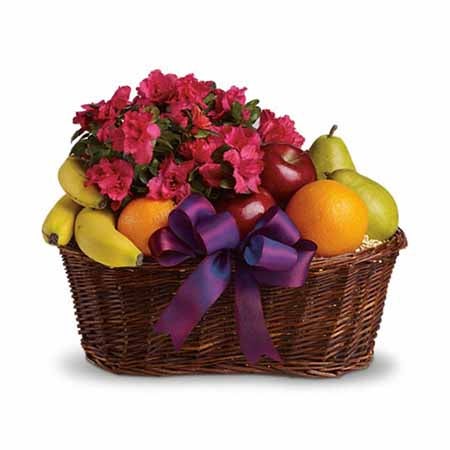 Fruit And Azalea Plant Basket
A fuchsia pink azalea plant delivered with fresh and ripe fruits isn't just fragrant and delicious, it's also gorgeous. This basket of fruits with a plant is so colorful it's a though an artist spilt paint on their counter. Finished with a big purple bow, this fruit centerpiece is simply all of the things.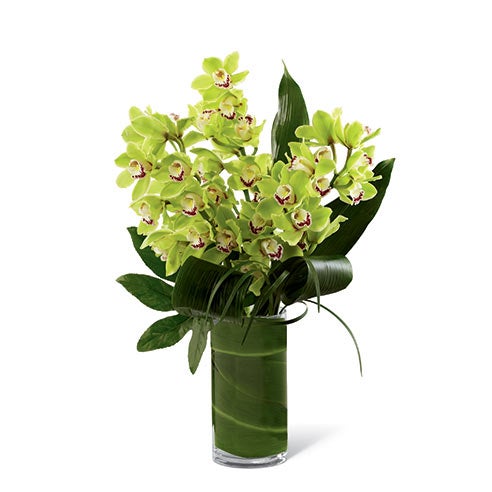 Green Orchid Arrangement
This long stemmed orchid bouquet goes inside a tall and clear vase lined with lemon leaf for a splendid luxury flower delivery anyone can appreciate. Green upon green, this modern flower centerpiece is a great gift to impress them.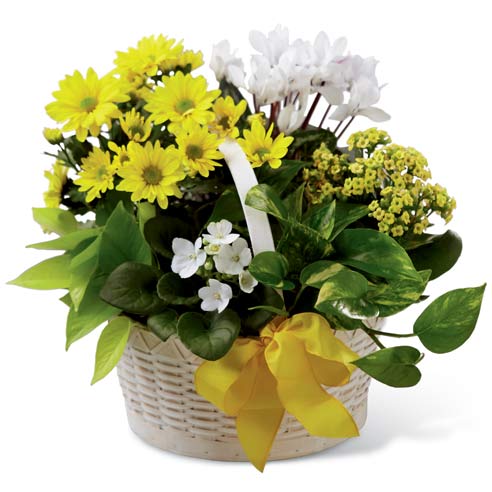 Flowering Dish Garden
Mixed green plants are set with flowering plants to create a floral display that's affordable, quaint, and perfect for Saint Patty's Day gifting! A pale colored woven basket holds this plant gifts that can be transferred to their yard, or kept where they are are a beautiful display.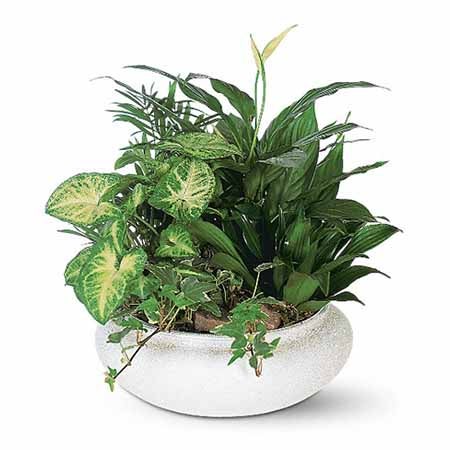 Dish Garden Plants
This hand-delivered dish garden comes in a lovely white bowl and hold a few different and popular plants. Featured in this arrangement are an ivy, draceaena, palm, and butterfly syngonium plant. This plant delivery won't just bring them happiness, it will also freshen the air around them.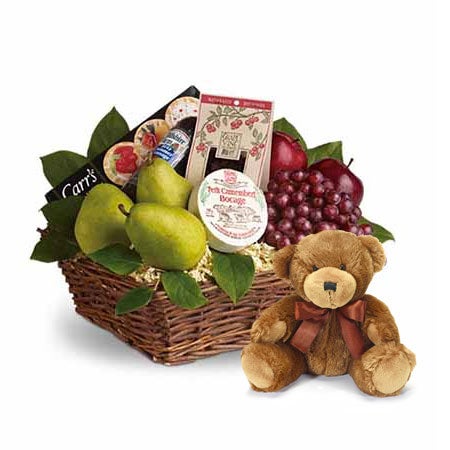 Cheese Fruit Basket With Bear
Send along this sweet gift of fresh fruits that's hand delivered with a cuddly plush stuffed animal, cheeses, and crackers. With tasty goodies paired with dried fruits and sausages, they'll have all of their needs covered from the sweet to the savory.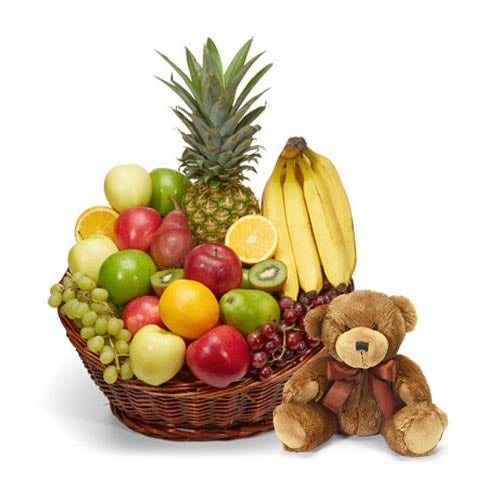 Large Fruits Basket And Bear
This larger fruits basket is full to toppling. An adorable plush bear sits next to a large woven brown basket holding fresh seasonal fruits. With a pineapple, bananas, apples, lemons, kiwis, grapes, and grapes they'll love a healthy gift like this to celebrate Saint Patricks day with their family and friends.