11 Christmas Flower Arrangement Ideas
These Christmas flowers arrangements are inexpensive and come with free delivery cards and are hand-delivered. From rose arrangements, winter flowers, and seasonal Christmas gifts; you can have Christmas flowers delivered at very affordable prices. Send Christmas flowers to friends and loved ones with our free flower delivery coupon code: delvfree.
Christmas Flowers Arrangements
1. Rosy Red Christmas Bouquet
This Christmas flower arrangement under 30 dollars includes all of the seasons favorite Christmas flowers. Holly, greens, red and white blooms, and a holiday bow are tied around the vase. Beautiful Christmas floral arrangement ideas to create an alluring holiday atmosphere in any room, office, or home don't need to be expensive. Though typically ordered as a same day flower delivery, this Christmas bouquet is sometimes sent as a Christmas dinner centerpiece for friends and family for the holidays too. What makes this one a particularly unique Christmas flowers gift is it's affordability and use of the traditional season's colors.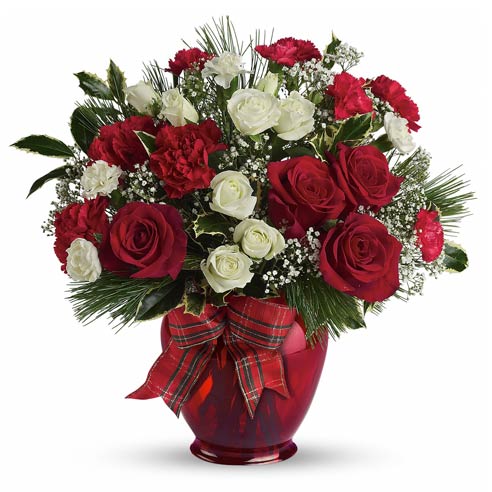 Holiday Red Rose Bouquet
$27.99
Shop
In This Bouquet:
• Cute Mini Red Carnations
• Red Spray Roses
• Small White Carnation Flowers
• Branches of Holly
• Red Glass Vase
• Printed Holiday Bow
2. Salal & Holly Holiday Basket
Why settle for green flower centerpieces when you could have a full basket of greenery witht hsi beauty. Baskets of green are very popular during the Christmas season. This is a popular holly holiday basket featuring mainly holly berries and salal bulk. The decorative bow can vary depending on the local florist these Christmas flowers come from. The bow is almost always a printed bow though with Christmas symbols whether it's pinecones, ornaments, holly berries, or red and green plaid varieties. This Christmas flower arrangement is very popular and receives more re-orders than other Send Flowers' green plant varieties because customers enjoy the fragrance that comes with these branch arrangements.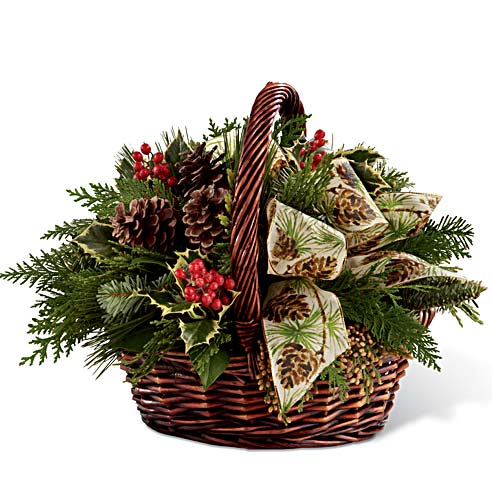 Delivering Cheer Christmas Basket
$31.99
Shop
In This Bouquet:
• Green Salal Branches
• Natural or Treated Pinecones
• Pieces of Holly Branches
• Medium Sized Brown Basket
3. White Alstroemeria Christmas Bouquet
White alstroemeria bouquets are popular christmas flower arrangements too. In general white flowers and red flowers, especially mixed together, make up the bulk of christmas flower orders. People enjoy the holiday feeling that red and white flowers evoke and this flower arrangement features high quality but cheap flowers that are both affordable and very cute. That's why it's one of the most popular flower arrangements for Christmas.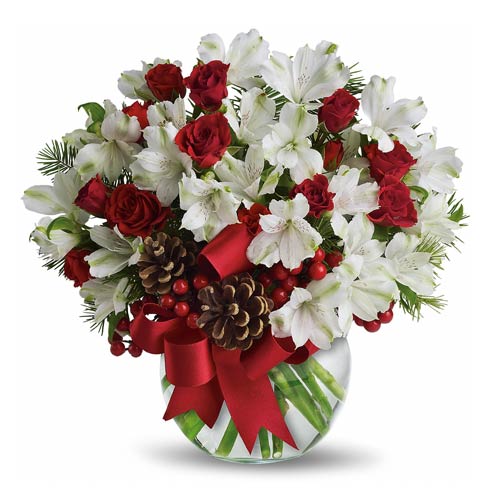 Let It Go Christmas Bouquet
$27.99
Shop
In This Bouquet:
• White Alstroemeria Flowers
• Small Red Roses
• Round Bubble Glass Bowl
• Bunch of Red Berries
• Pops of Douglas Fir Branches
4. The Kind Grinch Christmas Bouquet
This stunning christmas flower arrangement concentrates more on the green and red color theme for it's holiday flowers finish. In a flower industry overflowing with white and red christmas bouquets, this white lily bouquet with generous bunches of green hydrangea is a welcome change. A great holiday flower arrangement for anyone looking for a unique flower delivery and something just a little different. One of Send Flowers' more modern christmas floral arrangements, the grinch would definitely label it "steal worthy". Skip the traditional Christmas flowers this year and surprise your recipient!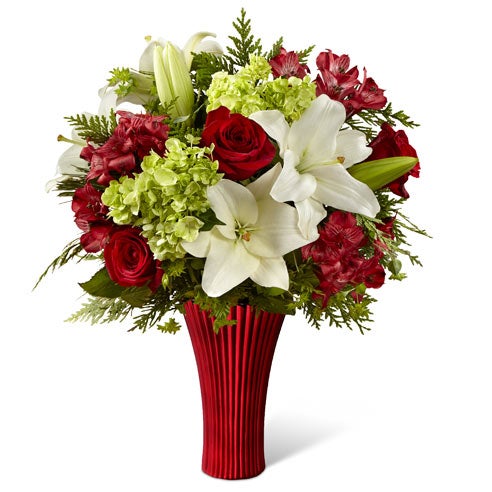 Christmas Elegance Christmas Bouquet
$47.99
Shop
In This Bouquet:
• Christmas Red Roses
• Winter White Lilies
• Bright Green Hydrangea
• Modern Red Vase
• Rich Dark Red Alstroemeria
5. Gold Oranament Christmas Flowers
A glowing golden orb of red Christmas flowers and cherry blooms. This high end elegant Christmas flower delivery is ultra chic. Much too pretty for a side table, this crimson flower delivery belongs at the heart of your dining table or should be the focal point of your living room for a holiday party. Bright seasonal flowers and scarlet flowers for Christmas emit a relaxed, loving mood for the holiday season. Have Christmas flowers delivered and afterwards reuse your gold ornament vase for candies or chocolates with the family every year. Let these modern Christmas flower table arrangements set the holiday mood of your fine Christmas dinner festivities.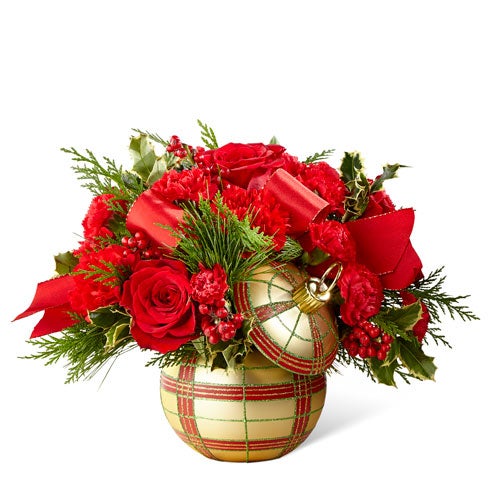 Elegant Ornament Christmas Bouquet
$43.99
Shop
In This Bouquet:
• Holiday Red Roses
• Lush Red Carnations
• Cute Gold Ornaments
• Red Holly Berries
• Ornate Ornament Vase
• Sparkling Burgundy Bow
6. Rudolph's Roses Christmas Delivery
If in need of a more romantic flower bouquet for christmas, this red roses bouquet is a holiday delivery stunner. A mixed bouquet of red roses with red carnations creates a high quality cheap flowers bouquet that is full without beefing up your price. This affordable holiday rose bouquet is great for a girlfriend, boyfriend, husband or wife. A touch of red berry gives this bouquet Christmas spirit while the fabric wrapped flower vase hints at a bit of the exotic.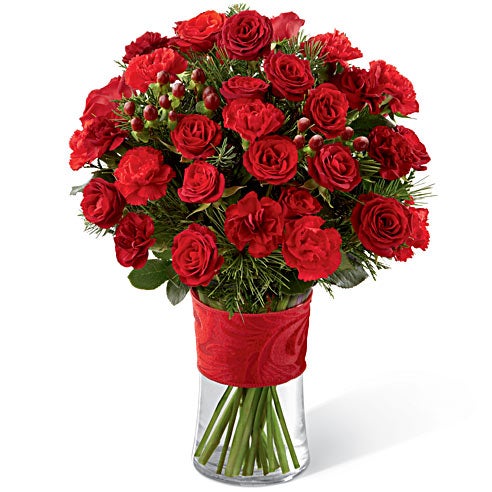 Joyous Season Christmas Bouquet
$31.99
Shop
In This Bouquet:
• Burgundy Carnation Flowers
• Red Roses
• Red Berry Hypericum
• Clear Tall Glass Vase
• Red Fabric Vase Ribbon
7. White Lily Candle Christmas Centerpiece
A winter white centerpiece for Christmas dinners is almost always a best seller for the holidays. These lily centerpieces are perfect winter flower arrangement ideas for candle lit dinners with family and friends. A white candle centerpiece is richly elegant and casts that perfect Christmas holiday glow upon any room it occupies. While white lily remains a constant favorite christmas flower, the white chrysanthemum will add some unexpected texture to your winter flower centerpiece with a fragrance everyone can enjoy. Tall white flower centerpieces are perfect elegant dinner table centerpieces.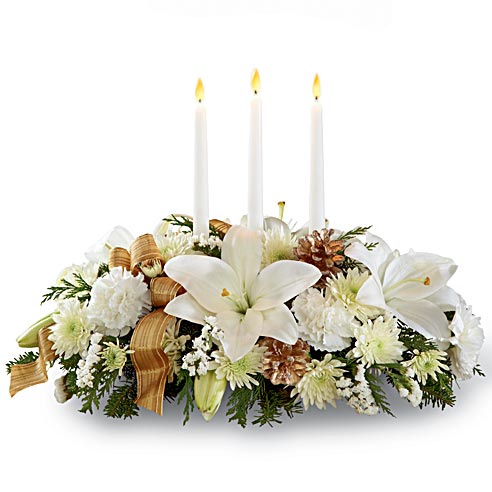 Snowy Glow Christmas Centerpiece
$47.99
Shop
In This Bouquet:
• 3 White Candles
• Winter White Lily
• White Carnation Flowers
• White Chrysanthemum
• Golden Pinecones
• Holiday Gold Ribbon
• Lush Winter Greens
8. Designer Thomas Kinkade Christmas Arrangement
It's like sending flowers and a christmas gift all together with this kinkade christmas flower arrangement. Thomas Kinkade is know for these charming village scenes, figurines, and captured sweet moments of life. Whether you have a Thomas Kinkade village collection or not, these sculptures make for unique flower delivery bouquets. Send a Thomas Kinkade village piece surrounded by christmas flowers and reignite the loving memories of their childhood past.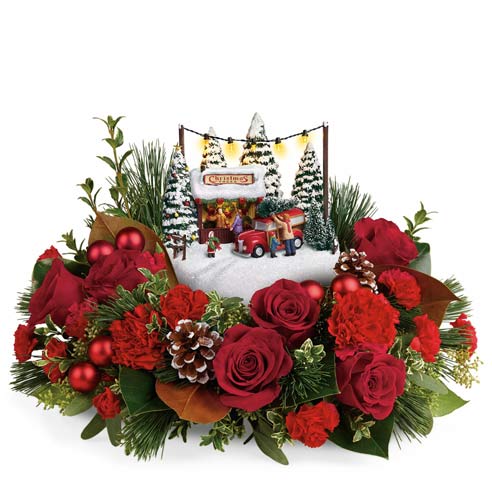 Country Christmas By Thomas Kinkade
$71.99
Shop
In This Bouquet:
• Thomas Kinkade Village Centerpiece
• Snow Frosted Pinecones
• Small Red Roses
• Holiday Decorative Greens
• Cute White Poms
9. Red Poinsettia Planter
Need quick and easy Christmas flower ideas? Send a poinsettia plant, one of the most traditional and beloved Christmas plants delivered every year. When one thinks about a Christmas flower, the red poinsettia flower is the first thing to come to mind. There are red poinsettia plants and white poinsettia plants. Both are popular plant deliveries, but these red blooms are definitely the most requested.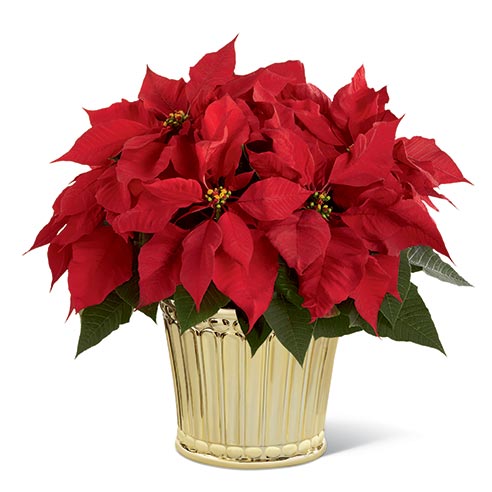 Red Poinsettia Plant Delivery
$43.99
Shop
In This Bouquet:
• Re Poinsettia Plant
• Embossed Metallic Gold Planter
10. Delicious Candy Cane Bouquet
In order to order flowers online while satisfying your floral and dessert needs, this candy cane bouquet delivery should deal with all and the above. Your loved ones or friends can enjoy having their Christmas flowers delivered while munching away on some tasty holiday candy canes. Red and white ombre carnations match the candy canes perfectly. One thing this christmas arrangement has that makes it unique, is an overdose of cuteness. Use the white flower basket to hold fruit afterwards at home or to make a gift basket for a friend. One of our small floral centerpiece ideas, it's cute, delicious, and totally festive.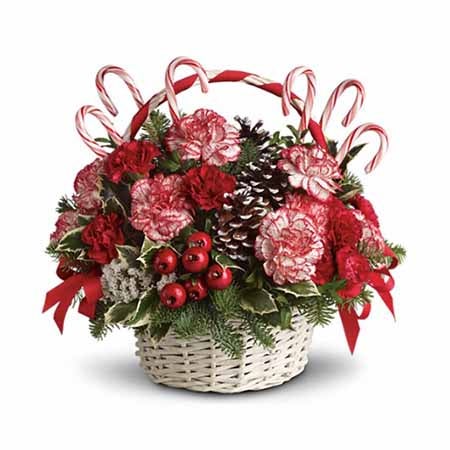 Candy Cane Christmas Bouquet
$47.99
Shop
In This Bouquet:
• White Red Tipped Carnations
• Colorful Candy Canes
• Frosted Pinecones
• Medium Red Berry Brussels
• Lush Winter Greens
• Red Handle Wrapped Bow
• Winter White Whicker Basket
11. Walking In Winter's Wonderland
Send a lily bouquet with glitter snowflake decorations as a crisp and pristinely clean looking winter flower bouquet. White lilies mixed with white spray roses almost look as though they're standing in a tall glass of champagne in this modern christmas flower arrangement. Lush accented greens add depth to this floral design keeping this white bouquet from looking monochromatic. White flower arrangements with glittering inserts add instant elegance and holiday spirit to any room they occupy.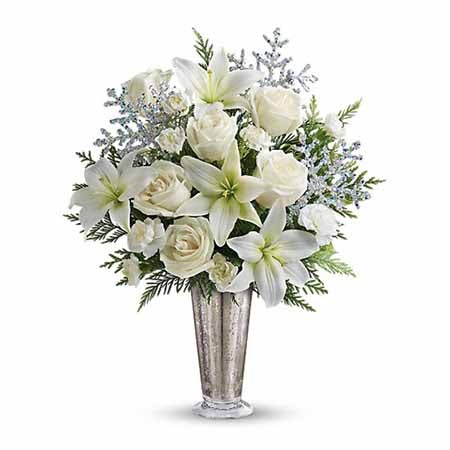 Winter White Lily Wonderland
$39.99
Shop
In This Bouquet:
• Winter White Rose
• Winter White Lilies
• Small Winter White Carnations
• Sparkling Snowflake Decorations
• Flattened Cedar Branches
• Assorted Winter Greens
• Sparkling Vase In Silver
Christmas Trees With Flowers
These mini christmas trees for delivery are a great way to spruce up any room with Christmas spirit. We've noticed over the years they we get many requests for these to office buildings and also city apartments. These little christmas trees can become your office christmas tree and are great decorating options for small apartments in cities too. No need to decorate a small christmas tree this year. Send flowers can do it for you when you order modern christmas flower arrangements that are fun and playful!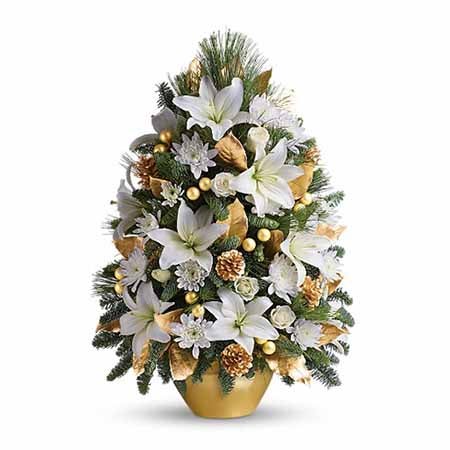 Mini Lili Christmas Tree
$62.39
Shop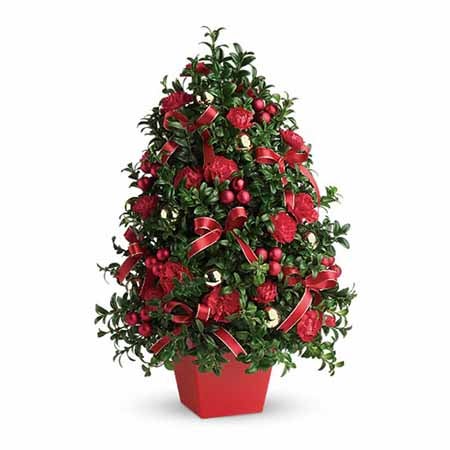 Berrififul Mini Christmas Tree
$59.99
Shop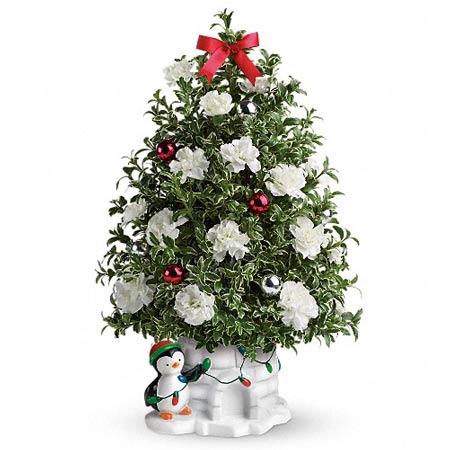 Penguin Mini Christmas Tree With Flowers
$42.39
Shop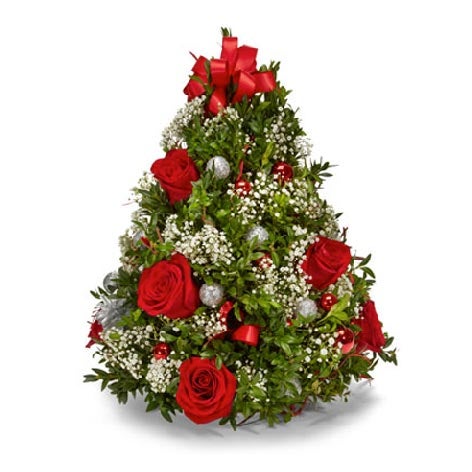 Rose Christmas Tree Bouquet
$43.99
Shop
Send Flowers' free flower delivery coupon: DELVFREE