Easter Floral Centerpieces
Easter Day is a wonderful time to appreciate spring awakenings and a fresh start. With spring right around the corner, sending Easter flower centerpieces is a great way to start your new year or someone else's.
What are popular types of Easter flower centerpieces?
Some of the most popular types of Easter flower centerpiece designs use egg decorations, luxury bowl vases, spring flowers and candles. Depending on whether you're ordering an easter flower centerpiece, or want to make one yourself, you may prefer for different styles. Before choosing the best Easter floral centerpiece, consider to whom you're sending the gift and their age. Most people who order a centerpiece style of flower arrangement, are ordering one for their own table or another adult recipient; like a family member. In these cases it's a great idea to look for something more elegant like a candle centerpiece or an arrangement made with luxury or even exotic flowers. Though it's rare, some people do choose to send Easter centerpieces for children. If you're sending your arrangement to a child or perhaps a sibling's family where there are kids, consider an Easter egg bouquet. The adults of the household and the children will appreciate your hand-delivered Easter gift as it beautifully decorates their dining table.
How to Pick Easter Flower Centerpieces:
Why Easter Egg Bouquets
• Best for friends or family
• Perfect for children
• Reusable decorations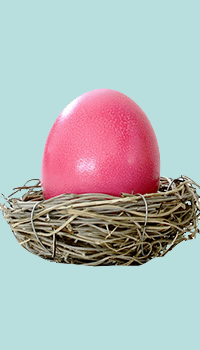 Why Easter Candle Centerpieces
• Best for tabletops
• Candles set the mood
• Brings the family together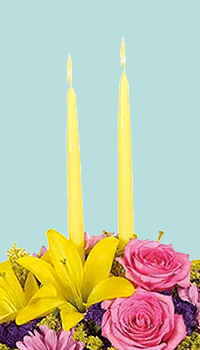 Why bright Flower Centerpieces
• Best for events
• Great for matching party themes
• Designed to impress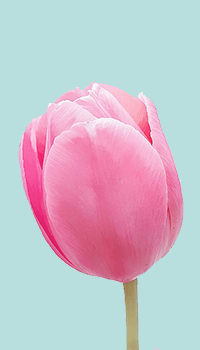 Why Easter Flower Bowls
• Best for work and colleagues
• Keepsake reusable centerpiece
• Perfect for parties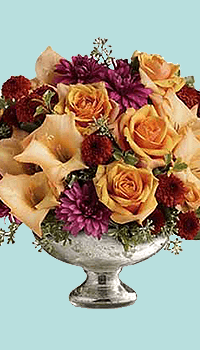 Easter Egg Centerpieces
Easter eggs centerpieces are some of our favorites arrangements to recommend for the holiday. Not only do they have an air of playfulness about them, but they're well-suited to any age group too. That's why we recommend them for close friends and other family members. If you want to surprise a brother or sister along with their entire family, this is a nice arrangement to make everyone smile. The adults will appreciate the fresh cut flowers and fragrance that fills their home, while the children will exhale over the colorful plastic eggs inside. In this type of arrangement we recommend changing the water out daily if possible. We find that if children are around this type of arrangement they tend to play with the eggs. It's best to freshen up your water daily in case they've added anything "interesting" into the mix. You can give them the plastic colored eggs afterwards to play with, or you can use them as decorations in craft projects together. They're great for making Easter wreathes at home!
Easter Flowers Candle Centerpieces
Easter flower candle centerpieces are the ideal decoration for Easter lunch and dinner. The family can celebrate the holiday while gathered around the dining room or dinner table with a beautiful flower arrangement, inspired by the season. This style of Easter floral centerpiece is great for friends, family and even coworkers; but mainly people order them for themselves. When you're prepping a large meal for the family and want a decoration to really heighten the experience, a centerpiece will do the trick. Many people like to spend this time fo year with their family and usually cook a large meal together. Since they don't want to preoccupy themselves with the tedium of making their own decorations, they'll order a centerpiece instead.
Most Easter floral centerpiece decorations are beautiful, but styles created with candles are exceptional. If you dim the lights and arrange a lighted centerpiece at the heart of the table, it instantly sets the mood at your gathering.
White Flower And Candle Centerpieces
We recommend that you use white flowers and candle centerpieces at your dinner table. It's also great for any meal of time of day. It's great for families who get together for Easter breakfast, brunch, or dinner. White flowers look beautiful in morning and evening light and won't clutter your table. It's easy to add too much decoration to your feasting area, so opting for clean flowers adds fragrance and light without overwhelming the design of your table.
Colorful Flower And Candle Centerpieces
Though it requires more forethought to order colorful candle centerpieces, they can be perfect for your get-together. The most important thing to consider when buying brightly colored floral candle centerpieces is the dominant color theme and size of your table. You can choose similar flower colors to match your plates, table or glassware. You could also choose a solid color flower centerpiece featuring a predominant color to create a color block affect. For example a solid white table may look excellent with a blue centerpiece. Yellow plates and dishes could be attractively offset with hot pink roses. Consider what the mood is that you want to set and how to best accomplish that mood through your candle flower centerpiece.
Large Candle Flowers Centerpieces
Large candle flower centerpieces need to be the center of attention wherever they are. They aren't the best table setting decorations unless your table is very large or in some cases round. Use this kind of centerpiece to decorate entryways, mantles, or as a single decoration on a table. This means you can put it on a smaller table when it's supposed to serve as only a decoration. Avoid using it where many people will be eating or conversing. Don't let this information make you turn away from ordering a large centerpiece if that's what you want. We just want you to know that there's a time and a place for these large beauties. This kind of arrangement is ideal for impressing visitors. For your Easter celebration, you could set an oversized display at the front of your house to welcome your guests as they arrive.
A Few of Our Favorite Centerpieces