Easter Baskets For Men & Gifts
For Easter Day we want to show the men of our lives that we care about them too with deliveries for him! Sure, our guy friends may hoard the best candy at work, and our brothers may hog the TV remote, and dad sometimes embarrasses us at family functions, but those minor incidentals aside, all-in-all they're great guys to have around. Easter man gift baskets, mens Easter flowers, stuffed animal gifts, and Easter planter deliveries are just some of the gifts to send men that we've listed. Pick your favorite and send Easter baskets online for him that are available for free delivery with our free flower shipping code "sendfree". Find the best inexpensive Easter gift delivery for the important men in your life. Even easier? Most of these Easter presents for him are hand-delivered and available last minute.
Gifts For Him Covered:
• Men Flower Arrangements
• Chocolates Gift Baskets For Men
• Easter Plant Delivery For Men
• Easter Candy Gift Baskets For Men
• Easter Sports Gifts For Men
• Teddy Bear Delivery For Men
Men Flower Arrangements
Sending a flower bouquet for manly men, exactly how do you send a man flowers? It's easy to send men flowers when you choose from architecturally strong man bouquets with deep colored flowers, "boy-colored flowers", and flower basket arrangements. Sending a man flowers isn't that different from sending flowers to anyone else. That's right, men like flowers just as much as their female counterparts. Now they might not walk around shouting their joy out to the atmosphere, but that's just not in their nature. Receiving a flower bouquet delivery on Easter gives them the same excitement that it would any other person. It's an Easter gift delivery that shows them that they're appreciated by someone, respected by peers, or that they're a shining light in someone's life. When men receive a hand delivered gift for Easter from you, you're sending a wave of good feelings to them, and that's a beautiful thing to share with someone for the holiday. Don't expect a gushy phone call on Easter Day from a grown man in tears, no matter what unique easter gifts for men you send. The equivalent and more meaningful experience will be seeing that cute, little half smile on their face when they lock eyes with you later. That goes for brothers, boyfriends, awesome "bros", and fathers too. The half-smile may be all that you get, but it's the equivalent of excited giggles from children, and beautiful thank you cards and phone calls from mom.
Chocolates Gift Baskets For Men
We understand if you're looking for Easter gift baskets for boyfriends, or Easter baskets for men that maybe you don't know really well, it's harder to know what the best gifts to send for Easter are. When all else fails, if you want to send Easter gifts for bosses, or to send Easter gifts baskets for coworkers, candy and chocolate is hands down the safest choice. Chocolates delivery make easy delivery gifts for men at work too because if they want to take it home, it's a lot easier to travel with than a man bouquet delivery. With exceptions of a few people who don't enjoy chocolate (just like the M&M's commercial, they DO exist), chocolate gift baskets delivered for Easter are tasty and will work for most men. They're great options for females too, and children...and friends...excuse us, we digress. Send chocolate gifts baskets for him and rest assured that there will be something in there to strike his fancy and tickle his appetite. If you pick a basket gift option, he'll also have the wicker basket afterwards that he can use for magazines at home, or to hold office supplies at work. Multifunctional objects, now you know they'll enjoy that. Except for young boys, who will probably thoroughly enjoy playing with it in the yard until they've destroyed it. However, that can be fun too.
Easter Plant Delivery For Men
For a long-lasting gift try a plant delivery for men. If you've been thinking about it all day and still can't decide what kind of flowers to give to a man or pick a gift basket, then send plants to him instead. Especially for the Easter holiday plant deliveries are very popular. Some plants are even specifically called "spring Easter plants". For example, Easter lily plants are the most ordered, then there's the Easter cactus plant delivery, and falling close behind the blooming cactus plant are violet plants for Easter. All these same day delivery plants are seasonal favorites for the Easter holidays. Though Easter plant delivery is easy to get for same day plant delivery, be careful around Easter Day. If you have your heart set on sending dad a plant for Easter, or a white lily plant to a boyfriend or brother, they will sell out. Schedule your Easter Day plant delivery for him ahead of time to be sure you get one, otherwise you better get in there before 1PM or you'll be out of luck.
Easter Candy Gift Baskets For Men
Wondering what to put in a man's gift basket for candy? Why bother when there's an expert florist looking at microscopic online data to say exactly what men like in their candy gift baskets? With a few creative gift basket ideas for men for same day delivery just for him baskets are easily ordered online rather than trying to do it yourself. That's so much work, just. Stop. A man gift basket delivery for Easter can feature fruits, gourmet chocolate, or fun things to bring back childhood memories like candy peeps and chocolate bunnies. Need cheaper candy delivery? Just use the send flowers free shipping code "sendfree" and get it with no delivery cost. A great Easter basket for men starts with knowing what he orders himself the most frequently. These are our recommendations.
Easter Sports Gifts For Men
Not everyone wants to send I love you gift baskets for him. Not that you don't love him, but it's Easter, send gifts for him that are fun! If your boyfriend, brother, father, or friend loves sports, then how better to celebrate the Easter holiday than with a football flower arrangement or baseball flower arrangement? Fun fact, did you know that these sports flower arrangements started out as sympathy tribute gifts? However over 80% of purchases of these sport tribute bouquets are sent to non-sympathy related events like birthday parties, anniversaries, and celebrations (from the personalized cards we think victory at sports events). Some people also send sports bouquets to rub it in friends faces when their team loses to them.
If you're seeking something more robust than a sports gift delivery in a basket may be better suited to you. A manly gift basket delivery with pretzels, a baseball, root beer, peanuts, and other snacks is sure to put a big goofy smile on his face. His goofy face is after all, the best face. Happiness is wonderfully contagious, and if you're looking to slap a smile on that man's face then send sports gifts online and sit back and wait.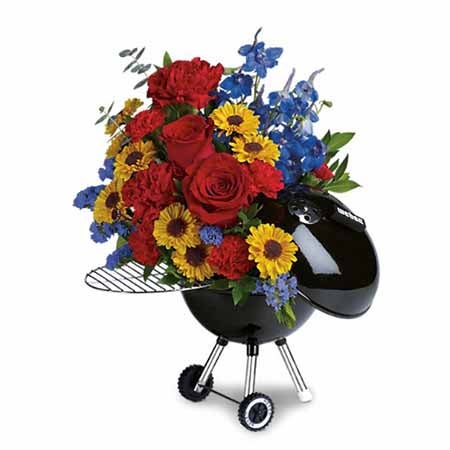 Man Grill Flower Bouquet
Ok so grilling isn't really a sport, but we bet some people in the South, and especially in Texas, would disagree with you! Does your male friend treat grilling like an athletic sport? If he holds his spatula like a knight's sword, wears his spring baseball cap like battle armor, then we're willing to let it slide as a "specialty sport". For the ideal sports gift at your Easter grill out event, send flowers to him that mimic his favorite pastime.
For the man whose best friends with his dog, why separate them? Send a stuffed animal with a flower bouquet. He can either keep his stuffed puppy or gift it to his dog when they go outside to play together. Now whether playing with your dog is a sport technically or not - we don't know. However, some of these puppies are strong and can play for an hour, so we're choosing to count it as a sport! Delivered gifts for men for Easter can even include "fluffy" and "fifi" now.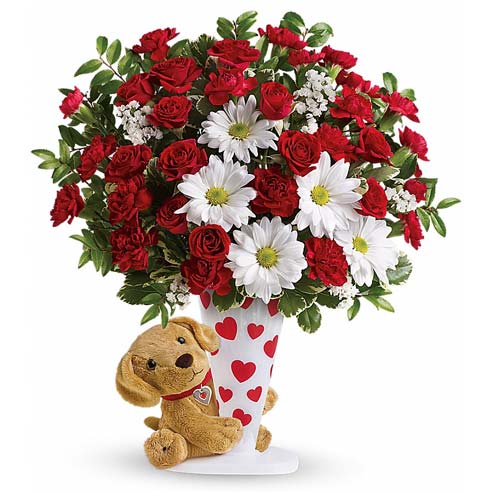 Just A Man And His Dog
Teddy Bear Delivery For Men
No one is too old for a stuffed animal delivery. Teddy bear gift baskets and teddy bear bouquets have remained popular gift deliveries for years now, and that's because everyone enjoys them. There's something about holding a cute teddy bear for both male and female that just makes you reminisce about your childhood. The adult part that he'll get to enjoy is his delivered flowers with bears, whether they're sitting next to a masculine rose bouquet or paired with a balloon bouquet delivery for him. Though it's not from scratch, with your own pairing options you can essentially build a bear delivery yourself. Almost all the manly flower bouquets can be paired with balloons, chocolates, or plush bears. The most popular choice is without a doubt the teddy bear with roses bouquet seen below, but pick flowers for him that you like, and create a teddy bear flower arrangement pairing the gifts you think he will most enjoy. If you order your Easter stuffed animal delivery before 3PM in his zip code, then you can send a teddy bear delivery same day to him. How's that for convenience?
Gifts To Send Men At Work
Different from our other same day Easter plants, these green plant varieties are good choice for gift giving for completely different reasons. When having gifts for men delivered for Easter, it's important to keep in mind his preferences and daily lifestyle too. If he spends a lot of time in an office, then we recommend sending plants on a Friday or even a Saturday if he's there then. People work different kinds of jobs and because of that, he may not be with you on Easter Day. If he's not, then send him a plant and let him know he's there in your heart and spirit. Have Easter gifts delivered as long-lasting green plant deliveries that he can enjoy for a very extended period from 6 weeks to, well, forever if he has a green thumb. There are a few specific types of Easter plants for him you can send. The green spathiphyllum plant, flowering spathiphyllum planter, and indoor palm planter featured below are all green plants that live a long time and that he can enjoy in his office space whether that's in an advertising cubicle, management at a restaurant, or even teaching at a school.
Related Content: