Flowers For Men
Do you want to know which flower arrangements for men are the most ordered? Although flowers are traditionally sent to women for a variety of occasions, why not break free from tradition and send flowers for a man whose special in your life? A lovely floral arrangement from our flower bouquets for men could be the perfect gift to brighten his day, and below are some of our Best Flowers to Send for Him that will make him smile with appreciation and happiness. In other words, yes, there IS a mens flower bouquet for manly men that you can send! Wondering what kind of flowers to give a man? See our recommendations below for the best flowers delivery for men.
What Kind of Flowers to Give a Man
Flowers For Him
When you're picking flowers for him try to think of he's favorite colors. Anything works really, from his favorite sports team colors, or his dream sports car. Floral arrangements for men are actually a great way to show that you know him pretty well! Just write a special card to let him know you care with your own personal touch, "only the best Lakers blue blooms for my baby". He will love any structured flower for men you choose to create a beautiful bouquet, just for him.
Flowers For Boyfriend
If you're considering sending flowers for a boyfriend, we recommend you look for something in a lower price range that's arranged in an interesting way. For new romances or relationships that are still young, you'll want to skip the huge arrangements. Ostentatious flowers may make him feel uncomfortable if you're just getting to know each other. The perfect flower for boyfriend delivery could be a single rose or a fun wrapped leaf vase with touches of rose. A single rose for him may be all that you need. It's a gift that's unique, and just enough, to make him smile without feeling pressured by it. With any of these roses for boyfriends, it can be your turn to sweep him off his feet.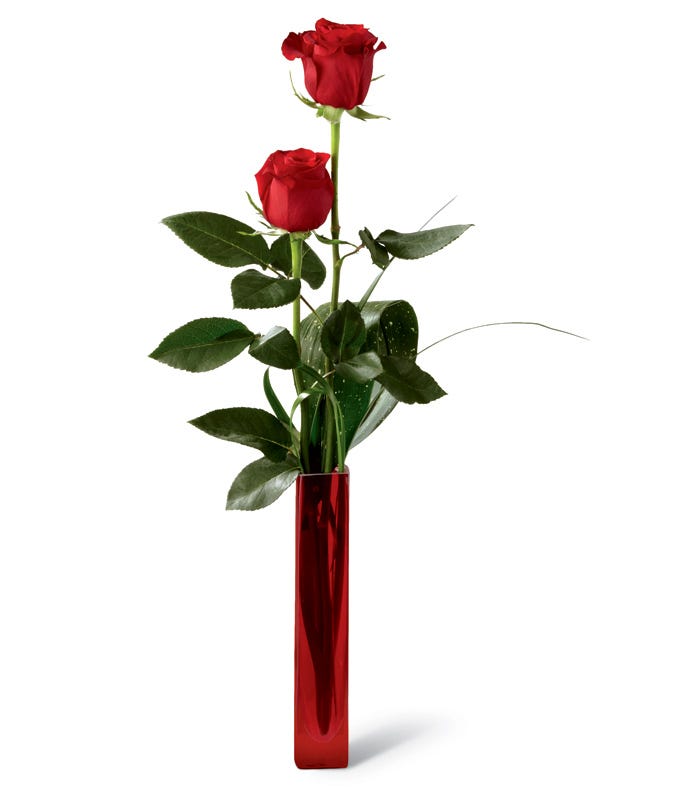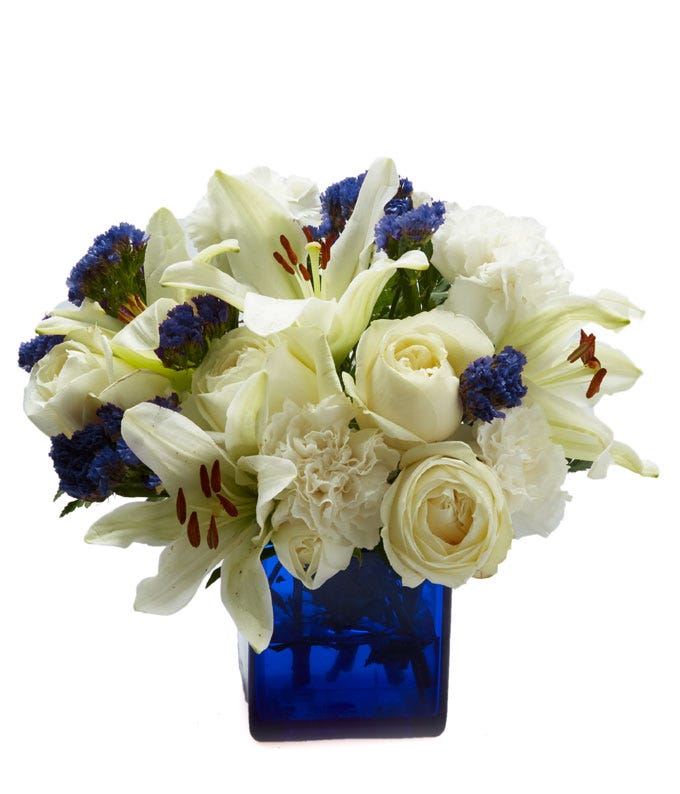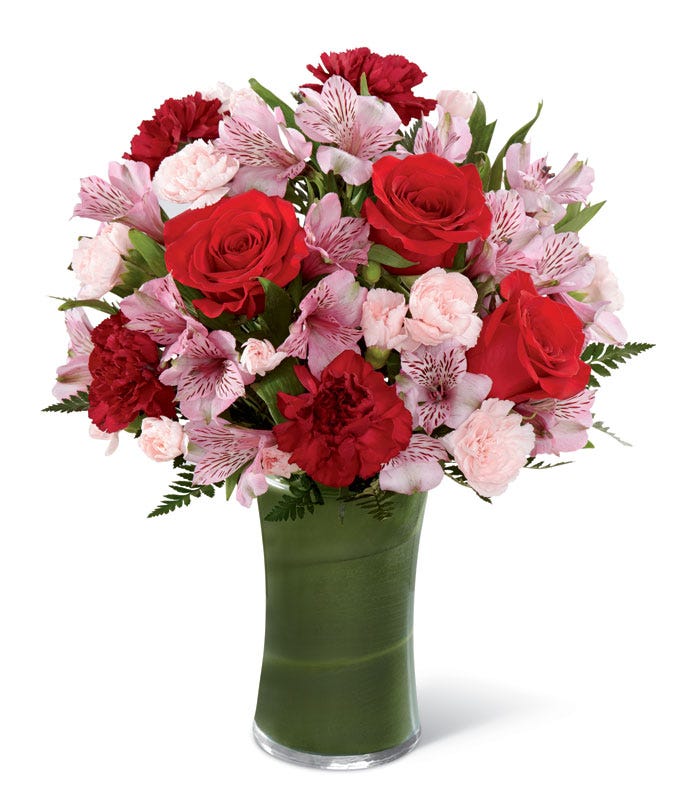 Just Because Flowers For Him
A great flower for him just because you want to surprise him are fun colored roses, lilies, and sunflowers. Sending just because flowers for a guy is sometimes more fun than sending a romantic gift. When you're not trying to fit a theme you have more options. Any kind of bouquet can be sent, so don't be afraid to pick bright colors, interesting vases, and even large flowers. Men frequently order sunflower arrangements for other men, which is why we included one here. The arrangement below is very popular. The boxed orange roses gift is also popular, but is more purchased by women for men. They love it every time we drop it off!
Birthday Flowers For Him
When sending flowers for mens birthday, send balloons by adding them on to any of the bouquets to create balloon bouquets for your sweetie! See? Sending flowers to men for their birthday can be as romantic, or as playful, as you wish. Just be creative with your birthday bouquet for him. A flower delivery for him can have "Happy Birthday" picks, balloon inserts, curled ribbons and more. The next time you're wondering what flowers for my boyfriend or husband will say happy birthday best, just remember there are bouquets that say it both clearly and literally.
Flower Delivery For Him
These bright and mixed flower bouquets for him are fun and vibrant arrangements for a unique gift to send him. Many of these man bouquets feature masculine red carnations, yellow alstroemeria, and colorful poms that are hand-arranged in a glass vase decorated with a ribbon for an excellent flower delivery for men that he can be proud to carry home. This is the perfect anniversary, birthday, congratulatory, or every day gift to send him that will convey your warmest wishes. Sending men flowers is easy with masculine plant delivery options and same day flower delivery for men. Don't be shy, send him flowers! Just be sure to send him flowers for guys. When you're wondering what kind of flowers to give a man for his birthday, revisit this page any time.
White Orchid Planter
The White Orchid Planter is an elegant and long-lasting gift that represents peace and tranquility. A beautiful white phalaenopsis orchid plant is situated in a white ceramic container, and measuring approximately 6 inches in diameter, is the perfect gift to send for him. Instead of a flower bouquet for boyfriends, fathers or husbands, you can send a long-lasting plant they'll get to enjoy much longer.
These cheery and colorful bouquets are symbolic of your affection for the special man in your life whether a husband, father, or boyfriend. When is comes to ordering flowers for him, don't shy away from color. Men enjoy colorful flowers and order them often. These vibrant and colorful men's bouquets with orange, yellow, and blue flowers are some of his top picks. We know because we see their flower orders online all day! If you're leaning towards a blue flower arrangement or a striking yellow rose display, chances are he will too. Any of these floral arrangements are sure to bring a smile to his face and warmth to his heart. If you send flowers to a man he's going to know you care about him. If you prefer a bright color bouquet, but don't want something overly flamboyant, choose something with a clear vase. The simple vase won't distract from the flowers and keeps the bouquet looking clean. If you love color and just want to surprise him with a beautiful floral gift, look for interesting bag and colored vases. This will add more depth to your bouquet and he'll have a keepsake afterwards. He can put more flowers in the container, or keys, or whatever other house items he may use. The blue vases are especially beautiful when filled with marbles for a table centerpiece or shelf decoration.
Classic Dish Garden
If flowers for mankind aren't your thing, why not a plant? This garden containing lush green plants is sure to be a wonderful gift delivery for him that will add a unique touch to any home or office décor. Available for same-day delivery, this comes hand-arranged in a woven basket and is perfect to send to the special man in your life, no matter what the occasion. Please note that the medium measures approximately 14"H x 7"D overall, and that plant types may vary.
Best Flowers For Men
If you are looking for a truly luxurious floral arrangement to send him to convey your sweetest sentiments, look no further than these beautiful but dark colored flower bouquets with sound architectural hand arrangement. The flower arrangement features double lisianthus, brilliant white roses, and white limonium, which are accented with assorted lush greens. The bouquet is hand-arranged in a decorative glass vase, available for same-day delivery, and exudes both beauty and elegance. Send him flowers in richly deep hues and dark blooming flowers.
Best Flowers For Birthday
For the best birthday flowers for men try looking for dark colored flower bouquets and strong designs using structured plants and unique exotic flowers. What is THE birthday flower for man? Probably the bird of paradise flower. Both structurally sound, vivid in color, and long-living; a bird of paradise plant delivery makes a handsome flower bouquet for men. A flower arrangement for men made with the paradise flowers will lend an extra dose of masculinity to his gift.
Birthday Flowers For Boyfriend
Send a flower bouquet for him that says "Happy Birthday" with flowers, balloon bouquets, and chocolates. With flowers for him delivery, you can send flowers boyfriends would be proud to receive. If you're sending a boyfriend flowers then you have a decision to make between romantic flowers for him or playful fun arrangements. When your relationship is new, your floral gift can carry a lot of meaning. If you're already really invested in your relationship with your boyfriend than it's time to send him roses, but if your relationship is more new than a balloon bouquet for him may be a better option for you. Takes some of the pressure off! No matter what stage of your relationship that you're in, sending a flower bouquet for men, especially celebratory birthday flowers for men, is certain to bring joy to his heart.
Anniversary Flowers For Him
When it comes to romantic flowers men like the same flower delivery bouquets that women do, whether they admit it or not. Men love red rose delivery as much as we do, but that doesn't mean it needs to be packed full of purple flowers and pink daisies. Simply look for a masculine flower arrangement so that they can carry it home with pride, instead of hiding it under their suit jacket until they are home. Send romantic flowers for men, they'll blush on the inside. When sending roses for men you can also add other things like candy or bears, that also gives them something a bit more substantial. Every flower arrangement for manly men can be accompanied by delicious chocolate. With a mixture of roses for him and a chocolate delivery, he'll know how much you appreciate him.
Modern Flowers For Men
If you're still asking yourself do guys like flowers, we hope by now that you realize that they do. You can call them guy flowers or masculine flowers, whatever term you prefer, just remember that eh enjoys flowers too. For some of the best flowers associated with masculinity, choose a modern flower bouquet for him. These contemporary flower arrangements for men are designed with him in mind.
All our bouquets can be delivered same-day to his home, office, or school. Be sure to check out the rest of our Flowers for Men Collection to find the perfect floral arrangement to send him. From love flowers for him to a birthday delivery, we've got it all.