Best Cheap Standing Sprays For Funerals
People often feel guilt when looking for a cheap standing spray for a funeral or viewing. They feel that their love or respect for the deceased directly correlates to the amount of money they spend on their flowers delivery. You should strive to delete those negative feelings. You CAN find cheap funeral standing sprays that are packed with fragrantly beautiful flowers without spending so much money. Everyone wants to purchase a standing spray that's lovely, but you don't have to order $700+ bouquets for one day to do so. Remember that to truly show respect, love, and honor to the deceased is to have shared your life with them. You did that, otherwise you wouldn't be attending the funeral now. Reflect on your experiences with the dearly departed, and know that your inexpensive standing sprays and funeral arrangements don't alter your love for them.
How To Pick A Cheap Standing Spray
All of these cheap standing sprays come with same day flower delivery when you use the free flower shipping coupon "SENDFREE". There are many different types of flowers used from roses, tulips, carnations, lilies, daisies, and even tropical flower varieties in these cheap funeral standing sprays. You will have to decide on the color scheme of the funeral arrangements delivery based of off your knowledge of the family, or the decisions of your own family. Using this coupon is a good way to buy funeral sprays cheaply without sacrificing on the quality of your funeral floral arrangements.
Things to Consider Before Purchasing:
• Has the family of the deceased requested a color scheme?
• Do you know if the deceased had a favorite flower?
• How large of a funeral are you attending?
• Are close to the deceased through friendship or business?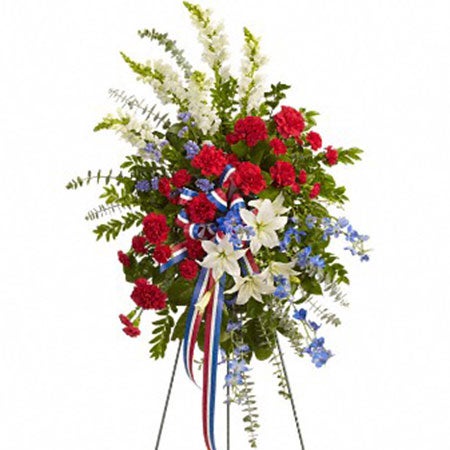 Sacred Duty Spray
$111.99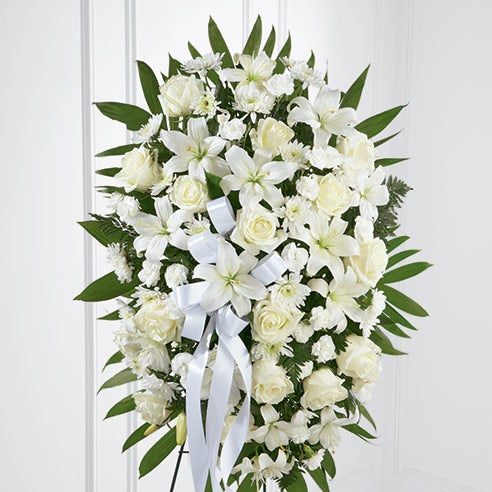 White Roses Standing Spray
$119.99
Funeral Color Scheme
On the rare occasion the family of the deceased may request that attendees meet a color scheme with their funeral flower standing sprays. Don't be alarmed by this if you're not sure. If the funeral is set to have a color scheme, then you would already be aware of it and could make your high quality cheap sprays according to those specifications. Someone in the family would be sure to notify friends of the family if it was important enough to them. It's very rare to witness such a request, but they do exist and are more prominent in certain geographical areas. Discount funeral sprays come in an array of different colors, so if they do want a color theme, it's very feasible to acquiesce their request.
Favorite Flower of the Deceased
If you do know the deceased's favorite flower, then it's a kind gesture at a funeral or viewing to send a standing spray utilizing that flower. It shows not only respect and love, but also a deep knowledge of the individual and your unique relationship with them. If you don't know their favorite flower or if they didn't have one, then try to think of their favorite color and use that as a theme instead. Anytime you can add a personal touch to the gifts or funeral sprays delivered, it will be well received.
Funeral Size Flowers
In some cases it's better to choose sympathy flowers over a standing spray delivery. If you're attending a very large funeral then consider sending sympathy flowers same day instead. If the family is having many people at the funeral then imagine them needing to take all of those standing sprays home with them, or even trying to give them to other people due to lack of space. If you're anticipating a gathering of 50 or more people than a small but pretty sympathy bouquet will suffice.
Friendship of Business
This is the only exception to our rule about not over-spending on funeral flowers. If you're a good friend of the family or relative then you need not worry about this. If however you are a business partner or the family itself has business dealings with you, a bit more or a robust offering should be given. If someone is investing a sizable sum of money with you then they will expect to see a bit of that sum spent on them in consideration to your business relationship. This doesn't mean that you pick the most expensive standing spray. Opt for something robust or in a medium spray size, and remember, carnations are great "filler flowers" to bulk up funeral bouquets for delivery without also becoming "filler" for the price. High quality inexpensive funeral arrangements are acceptable.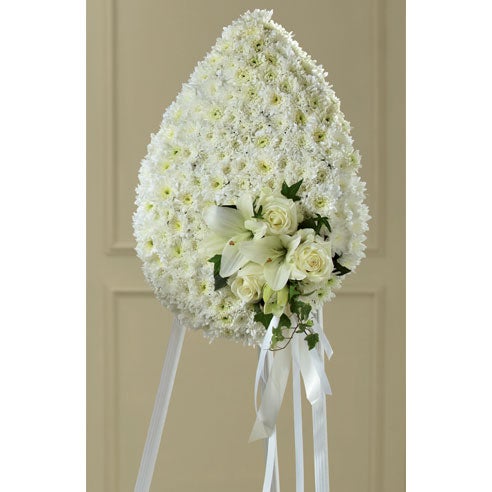 Teardrop Standing Spray
$171.99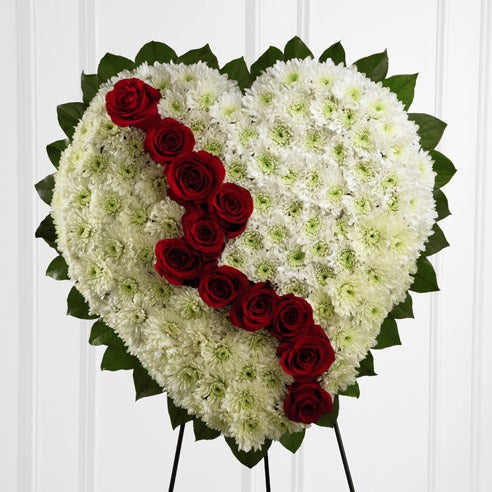 Sorrowful Heart Standing Spray
$135.99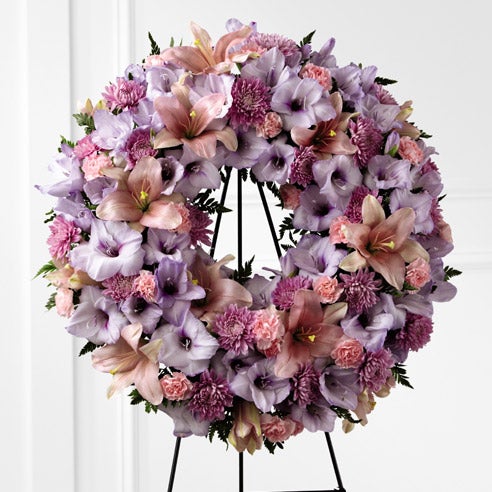 Lily And Pastel Wreath Spray
$131.99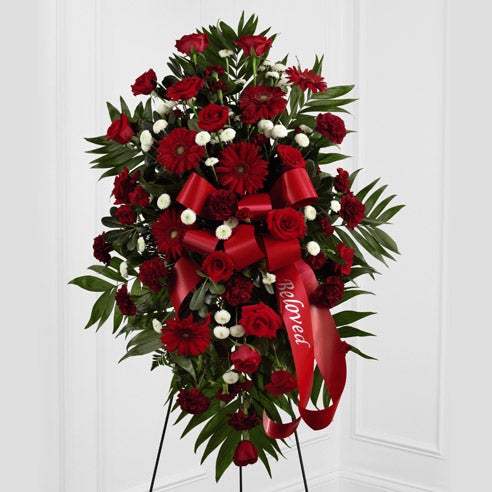 Maroon Daisy Standing Spray
$143.99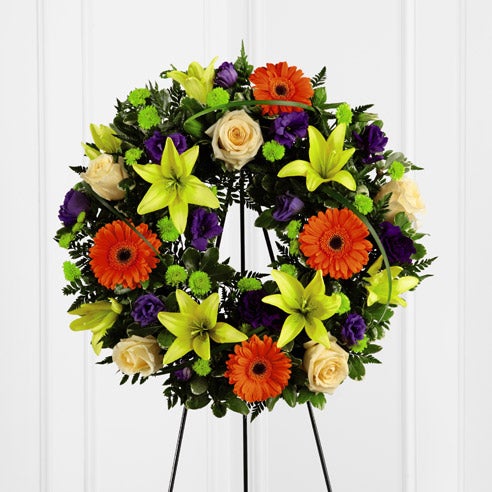 Tropical Flower Wreath Delivery
$139.99