Funeral Flower Arrangements For Men
Choosing floral tributes for funerals is something every person has to do eventually. Choosing sympathy flowers, floral tributes, or funeral flowers for men who were important in your life is seen as a sign of respect for some, and by others it's a way to express their sentiments in an artistic way. Whether you're showing respect for a father with casket sprays for dad, or a floral arrangement that's an expression of love for a brother, these masculine floral arrangements are well suited for beloved men or as funeral flowers for fathers. Your funeral flower arrangements for dad will show him love and respect.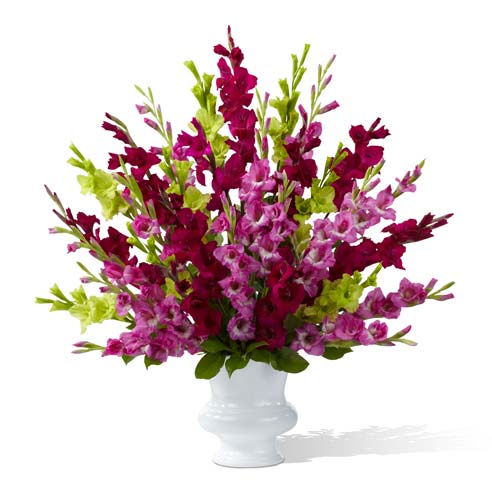 Magenta Gladiolus Funeral Arrangement
$103.99
Shop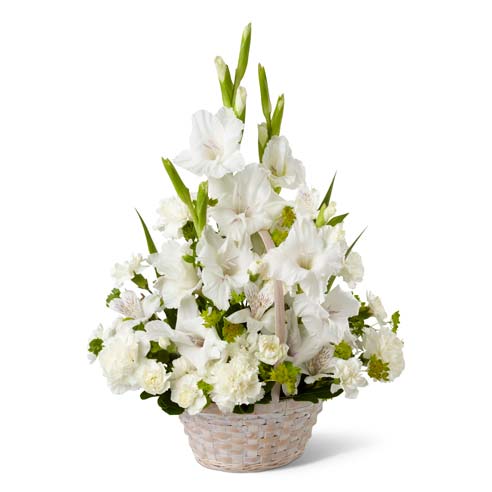 White Peruvian Lily Bouquet
$39.99
Shop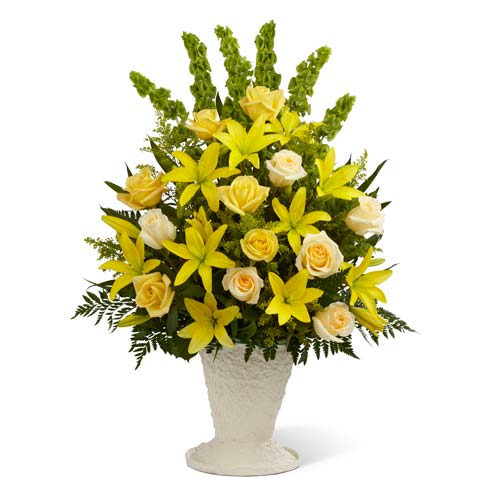 Bright Memories Yellow Lily Arrangement
$87.99
Shop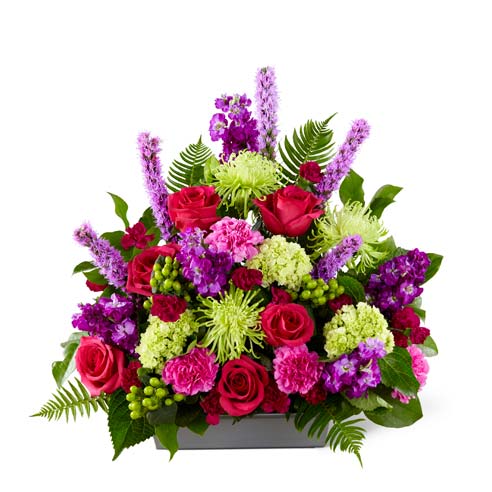 Colorful Perfection Sympathy Bouquet
$89.24
Shop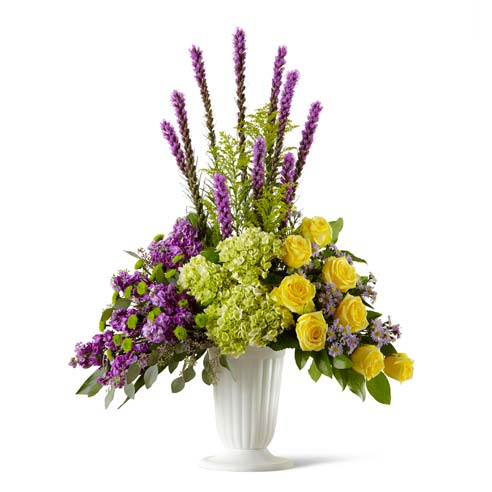 My Affection Sympathy Flowers
$123.24
Shop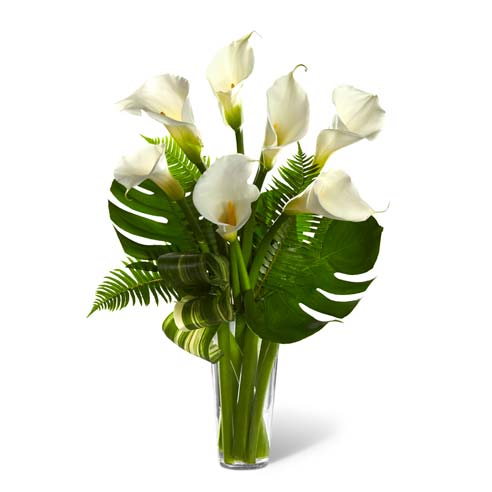 White Calla Lily Sympathy Bouquet
$72.24
Shop
Rose And Lily Sympathy Bouquet
$33.99
Shop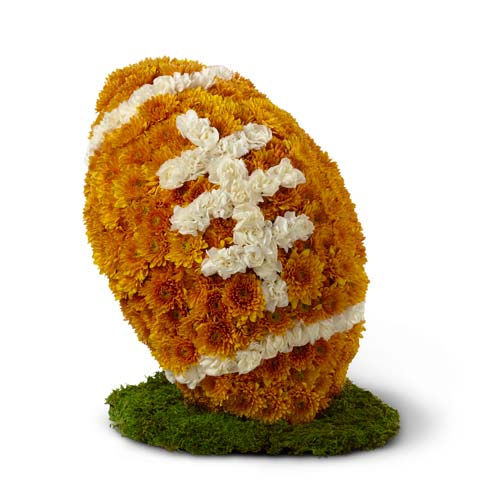 American Football Sympathy Arrangement
$191.24
Shop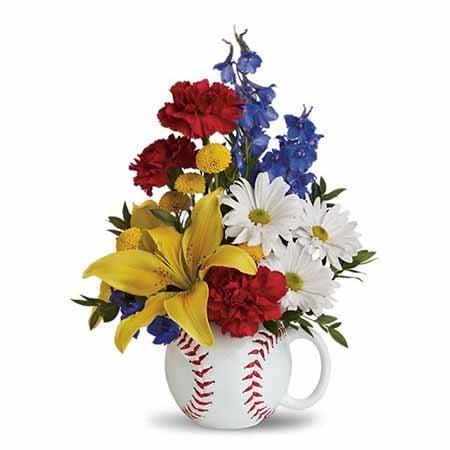 Baseball Pastime Tribute Arrangement
$42.39
Shop
Flowers For A Military Man
For those of you shopping for sympathy flowers for veterans, or military funeral arrangements; these red, white, and blue bouquets are a beautiful and respectful way to let funeral attendees know that your loved one served this country and helped provide the freedom of life they enjoy today. Same day military bouquets feature a wide assortment of mixed flowers including roses, iris, daisies, lilies, and carnations. Veteran flowers also come in different sizing and price ranges. All of the flowers are freshly cut and blooming so don't be afraid to opt for a cheap flowers bouquet. You're still getting the high quality delivery as you would with the luxury military bouquets, they're just a smaller version, or they've been mixed with more affordable flowers like carnations to help ensure the price isn't too exorbitant for those who are on a tight budget. We believe that everyone should be able to honor the loved men in their lives no matter their financial situation.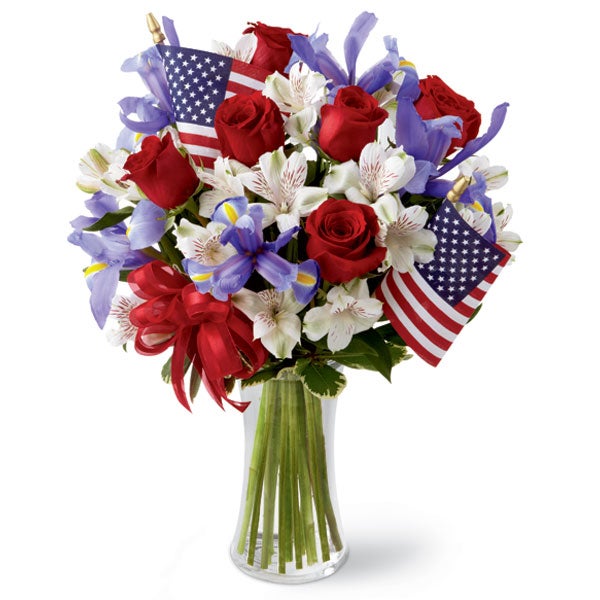 Red White And Blue Bouquet
$50.99
Shop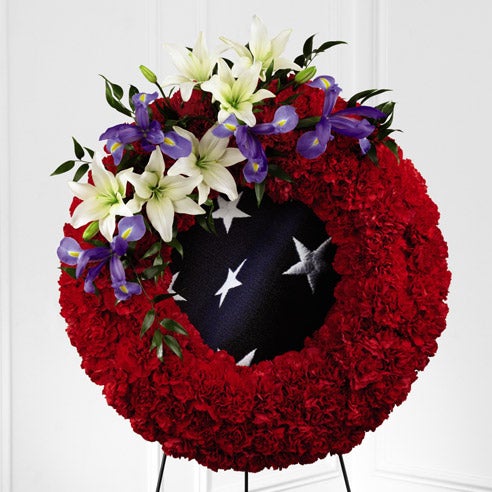 In Honor of America Wreath
$348.49
Shop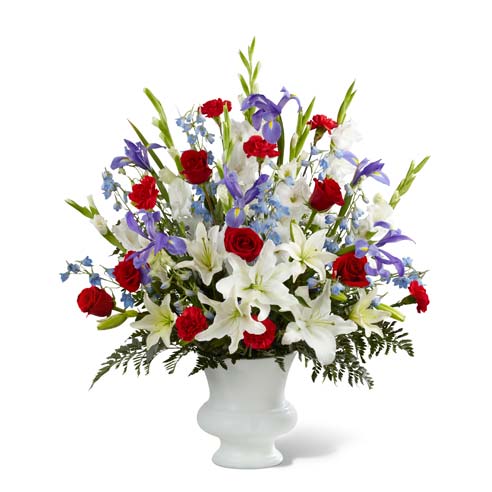 Farewell Patriotic Funeral Arrangement
$101.99
Shop
Standing Spray Funeral Flowers For Father
For funeral flowers for dad at the funeral home, these standing sprays are created with freshly cuts florals in strong colors and contrasting clean styles that are perfect for masculine funeral flowers. With a structured design and clean outline, these flowers are placed on a tall flower stand for all to see. The use of tropical flowers, red roses, large leaf bouquet designs, and neon color-rich flowers creates a standing spray for men that's as bold and masculine as they were. They are not only beautiful, but also serve as a respectful remembrance centerpiece for family, friends, and loved ones.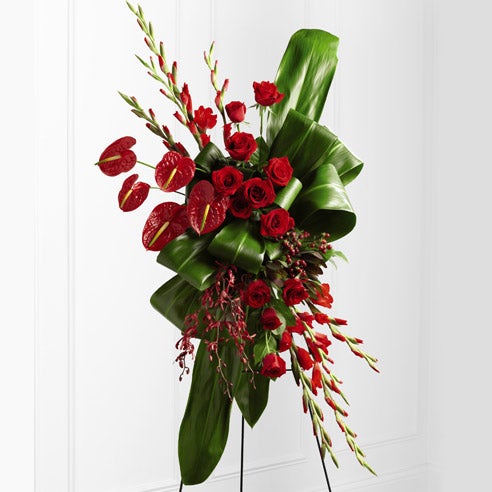 Loving Thoughts Standing Spray
$225.24
Shop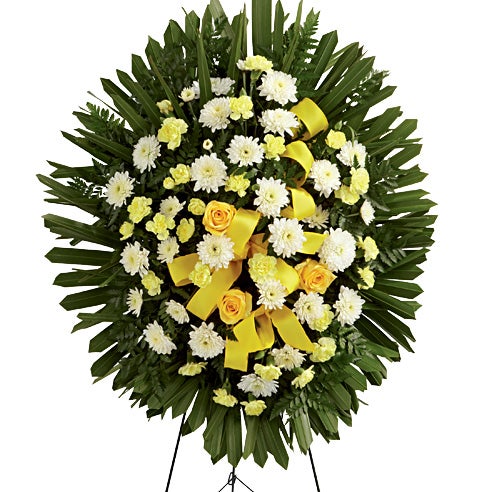 Happy Reflections Standing Spray
$67.99
Shop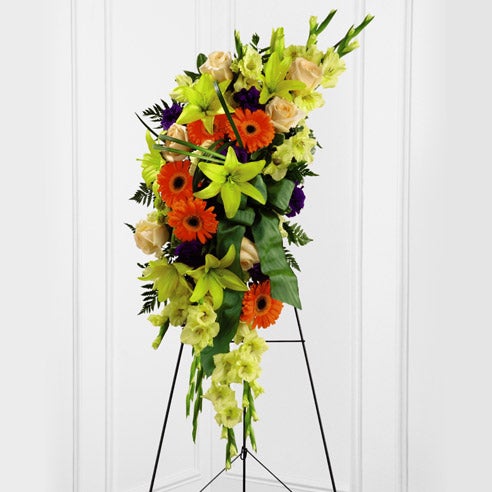 Tropical Flowers Standing Spray
$157.24
Shop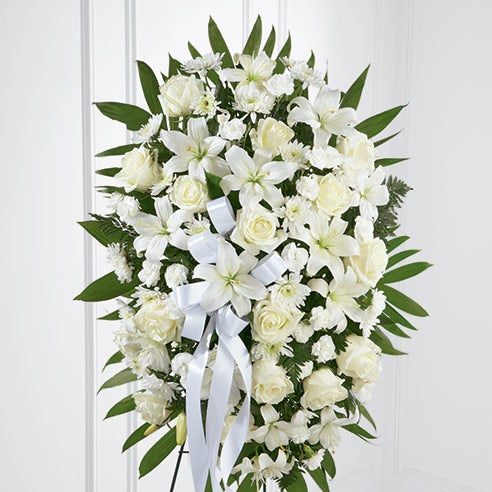 White Floral Tribute Standing Spray
$127.49
Shop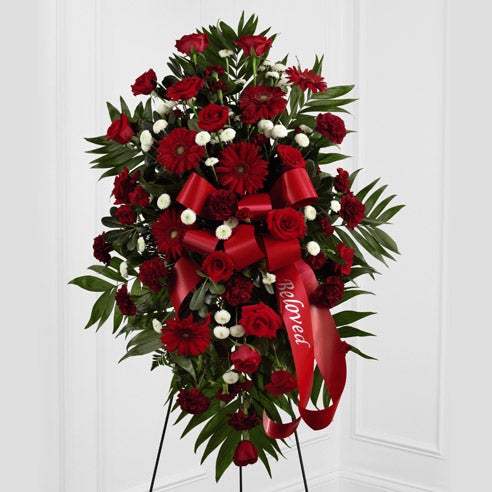 Cherished Memories Standing Spray
$152.99
Shop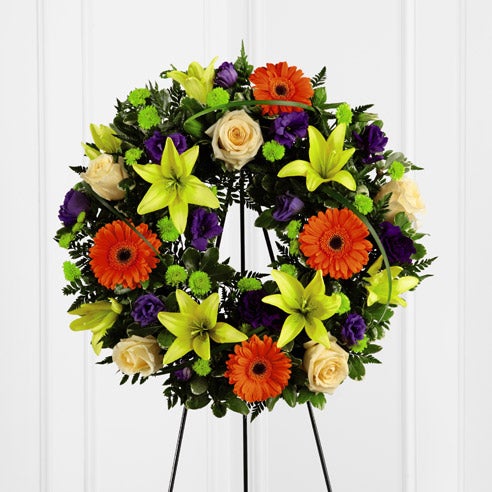 Tropical Glorious Funeral Wreath
$148.74
Shop
Flowers For Funeral For A Man
Casket sprays for men with strong designs are both beautiful and will resemble his strength in life. These casket sprays for funerals and casket spray designs will be a beautiful presentation of the love you have for the deceased. These designs are some of the most popular casket spray deliveries ordered online for male family members and departed friends. When choosing funeral flowers for a man, many individuals choose to opt for a solid color casket spray, but the mixed flowers are beautiful as well. Pick yours for your cherished loved one to resemble what you feel for them. Red roses are the universal flower for love while a white heart made of white spray roses is the symbol of love. Both are available in masculine flowers for funeral delivery. White calla lilies are truly elegant and lend a relaxed feeling of serenity and peace to gatherings, while the sunflower funeral arrangement is bold and colorful. If your father or brother were full of boisterous love and affection than this spray, the bright yellow rose, or tropical flower spray, may be a more accurate depiction of their exemplified love for those surrounding them. Masculine flower arrangements can be beautiful and architectural for a design he would've approved of.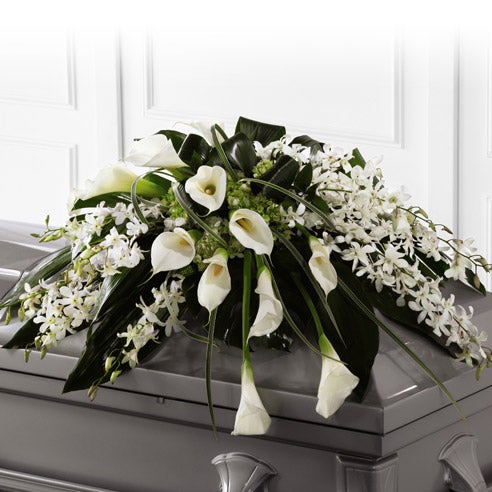 Angelic Peace White Lily Casket Spray
$303.44
Shop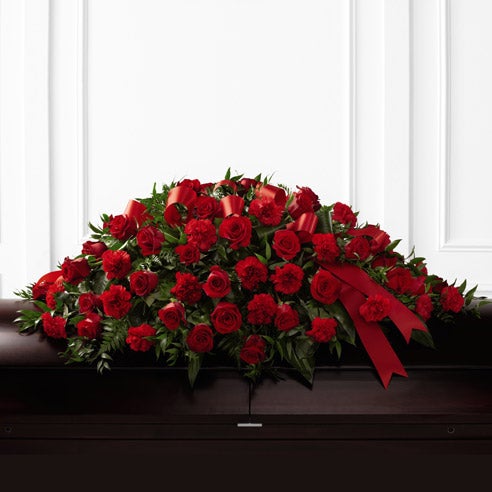 Vivid Love Red Rose Casket Spray
$229.99
Shop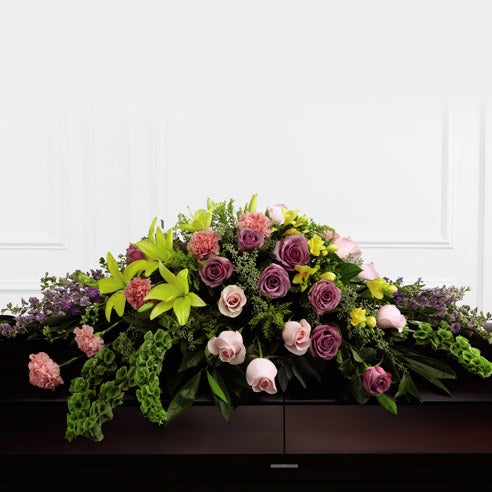 Forever Loved Casket Spray
$226.09
Shop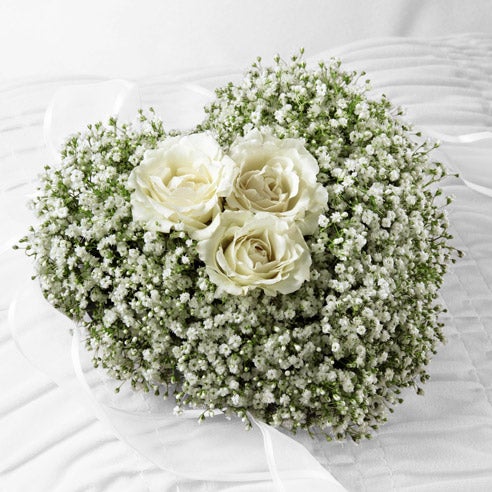 White Heart Funeral Flowers
$38.24
Shop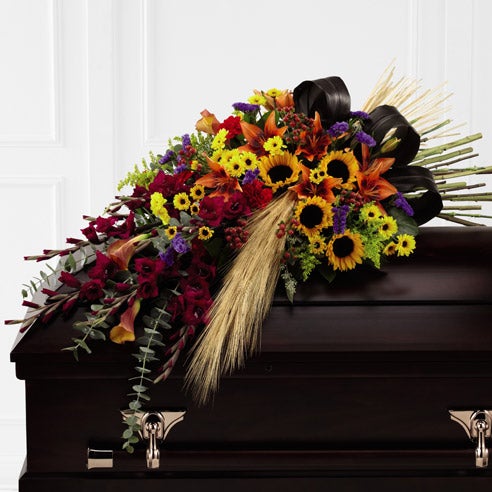 Garden Splendor Sunflower Casket Spray
$203.99
Shop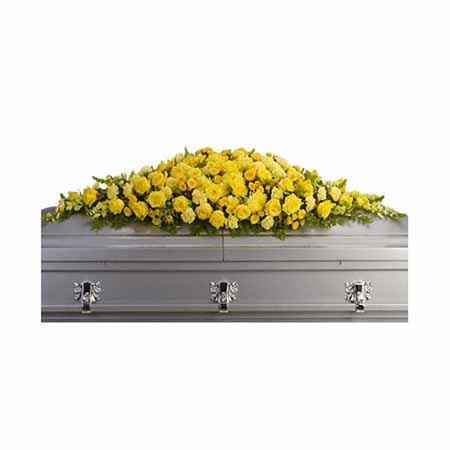 Golden Garden Casket Spray
$270.29
Shop
Free Flower Delivery Coupon: SENDFREE
Article Written By: Send Flowers
Date Published: 04-01-2016
Date Modified: