Unique Valentine Flower Arrangements
Valentine's flowers are great and all, but sometimes the idea of sending someone yet another red rose bouquet just kind of has you, well bored. If you're starting to feel the redundancy of the age old romantic delivery, try out a unique Valentines flowers arrangement instead. Crawl out of your Valentine flower delivery slump and skip the roses this year by sending them a unique Valentine flower bouquet that'll either make them smile, laugh, look quizzical, or just surprise them. At least it will be different and unique!
Unique Valentine's Day Flower Arrangements
Sunflower Valentine Arrangement
If you're looking for something other than the typical love flower, then take a look at this beautiful sunflower bouquet. This sunflower Valentine flower arrangement is very contemporary with a square clear vase, oversized sunflower stems, neon green berry, and artfully arranged vines. Instead of hiding the twisted and turning vinery as is customary, this design uses the wildness of the stems to add a contemporary look to this new age bouquet. For something new and exciting, send this sunflower Valentine arrangement. You can send sunflowers to their home, apartment, or office. These flowers look really great in office welcome spaces and hallways, for example in the entrance of your home.
Lavender Rose Valentine Arrangement
Up your rose game and skip the traditional red hues for the currently very popular purple and lavender roses. Purple rose bouquets are an unexpected and equally unexpectedly beautiful Valentine flower delivery. There are darker purple roses and also lavender hued roses, in our opinion all of them are beautiful. These types of roses became wildly popular a few years ago and have only continued to rise in popularity. Shoppers like that they're a traditional type of flower for the holiday, but in a color no one will expect. Try purple rose bouquets these year and throw down a wild card.
Floating Orchids Valentine Arrangement
No one gets tired of receiving floating orchids. Floating orchid sales always increase dramatically around the month of Mother's Day, but we think they should be a specialty all year around. Speaking from strictly an artist viewpoint, you couldn't ask for a more exquisite arrangement. Looking at a floating orchid bouquet simply places your mind in a calmer place, or makes you think of those beautiful spring days when the breeze is just right. From strictly a utilitarian standpoint, these orchid bouquets also provide your recipient with a beautiful glass centerpiece that can be continuously reused. There great for holding Christmas light or fall leaves as decorations and can be used all year round for different ambiance affects. A unique floating orchid delivery meets all of our standards for an unusual but lovely Valentine flower delivery.
White Lily Valentine Flowers Arrangement
When it comes to the flower of love, the red roses doesn't have to be the only way to express your inner feelings. This mixed lily bouquet is supremely elegant and filled to the brim with fresh cut soft pink and clean white flowers. Though the white lilies take the majority of the spotlight, crisp chrysanthemums and carnations are also featured throughout this Valentine Day romance arrangement with pops of color in pale pink rose. This delivered Valentines bouquet look much more expensive than it is. Under 40 dollars and available for same day flower delivery anywhere in the United States, it's a great option for a unique V-day gift delivery. Send white lilies to someone as romantic flowers, or also during this romance filled holiday just to thank someone for being in your life. This is also a good option if you want to send something pretty for your mom or grandmother.
Little Pink Valentine Flower Arrangement
This unique petite flower bouquet contains a plethora of floral varieties for a quaint and cute presentation your loved one will enjoy. Hand delivered inside a glass vase, this mixed flower bouquet is picturesque and just plain cute. Miniature pink roses, mini carnations, white daisy flowers and more mix together for a pretty, but cheap Valentine gift that you can send to them today. While the main color theme is pink and the flowers traditional, we love the more modern and unique take this miniature bouquet has to offer. More traditional Valentines deliveries typically are large or oversized with mostly red florals. This mini bouquet feels like a breath of fresh air amongst a holiday overflowing with floral aromatic romance. Sometimes you just crave something a little different, a maybe a bit less overdone.
Purple Lily Valentine Flowers Arrangement
This pale purple flower bouquet is romantic but as calming and contemporary. With a beautifully etched lilac colored vase and mixed pastel flowers, this arrangement is a great way to send unique Valentines flowers to someone this year. There'a always something inspiring about light purple and lavender hues, especially when it comes to flowers. Send purple flowers for a change of pace and make this year an enlightening one.
Country Inspired Valentine Flowers Arrangement
Send someone a charming flower arrangement that's inspired by scenes from the countryside. With pink carnations, white traditional daisies, miniature red carnations, and just a few touches of rose, this mixed country bouquet feels like home. A red colored vase for the holiday and a pretty tied bow finish the look for a deliverable arrangement they won't soon forget. Whether they love where they're at or they're missing you back home, this Valentine's Day you can deliver them a touch of the countryside with this floral present of fresh cut blooms. Carnation bouquets are great options for anyone who wants to send romantic flowers at a fraction of the cost of roses. By choosing varieties like this mixed centerpiece featuring touches of roses, you can give them a luxury arrangement at a much lower cost. However unique you want the arrangement, vase, of type of flowers to be, is entirely up to you!
Butterfly Valentine Flowers Arrangement
Let this butterfly bouquet make your recipient smile this year. It's a rose bouquet, faux butterfly ecosystem, and also rock garden. Definitely a contemporary and modern Valentine flower arrangement, this gift won't be expected at all. Thought the gift itself is very pretty, it will also make them life with it's heightened level of creativity. It almost feels like vacation in a glass. Send Valentine flowers with this centerpiece to make them giggle and smile with appreciation. Is it a unique qualifier? You bet it is.
White Daisy Valentine Arrangement
A white daisy delivery is a very affordable way to surprise someone with a flower delivery for Valentine's Day. Not only will you be delivering something to them that's not the traditional rose, but it's a cheap gift too. You'll still reap the benefits of hand delivery and fresh cut flowers, but daisies are much more cost-effective than sending roses. Fresh cut daisies typically have a slightly longer life span and the red carnations will give the bouquet a fuller look without adding to the overall price. This Valentine's Day gift is mutually beneficial to both parties involved.
Iris Rose Valentine Arrangement
Iris and roses paired together create a beautiful arrangement that's colorful and very romantic. For the most part we will be avoiding roses because our goal is to show you unique and non-traditional Valentine's Day bouquets. With that said, we believe this one isn't exactly a standard because of its beautiful blooming irises. This color-blocked floral arrangement is available at a cheap price that we love, without losing it's allure for romance. A few red roses keep the love bouquet from being over the top, while deeply colored iris creates a whimsical floral bed to cradle the roses. Whomever you send it too, they're sure to love it. For a uniquely inspiring flower arrangement this season, send them an iris bouquet.
Bird Tulip Valentine Arrangement
See the adorable little songbird perched at the edge of it's nest? Who could blame him for building a nest amongst fresh cut pink tulips, white iris, and white narcissus. This gorgeous bird bouquet is truly captivating. This inspired spring arrangement is perfect for sending mom Valentine flowers to decorate her favorite coffee table or even a dining table at a friend's place. Maybe your wife is highly artistic and would appreciate this equally artful gift. Send your music love a songbird arrangement with a tulip delivery that's absolutely gasp worthy.
Hydrangea Plant Valentine Arrangement
Send a hydrangea plant for Valentine's Day flower delivery instead. With a hand delivered plant gift, they'll have a gift that keeps giving. Easy to care for and providing them with non-stop growing blossoms, they'll enjoy it year around. Flowering plant delivery is money well spent. Long lasting and full of fragrance, these blue hydrangeas will inspire them every day. Whether they keep it at home or let it decorate their office desk space, this flowering plant gift is definitely fun, unexpected, and you guessed it, unique.
Blue And Yellow Rose Valentine Arrangement
Yellow roses are surprising in and of themselves, but place them atop a bed of baby blue and dark blue flowers, and you'll see beauty in the making. White lilies sit in the middle as the main focal point, but the long stem yellow roses really steal the show. This blue delphinium and canary yellow rose Valentine arrangement will be unexpected, but still err on the side of tradition. After all this blue bouquet does contain the ever popular rose flower, but with pops of color that take it well beyond the level of a traditional gift.
Lily Topiary Valentine Arrangement
In case you've been living under a rock, topiary flower arrangements are a thing. By "a thing" we mean they've become insanely popular. Luckily for you not only are they available for same day flower delivery, but they're also surprisingly affordable. These Valentines bouquets are a bit tricky to make, but we've been doing it for years. Our local florists can have a lovely floral topiary created and delivered to your recipient in the next 24 hours. This flower Valentine gift features a popular and well known color for the season, but so obviously not in the anticipated standard arrangement. Let pink Valentine flowers take on a whole new exotic guise with this new modern Valentine arrangement.
More unique arrangements for Valentine's Day below...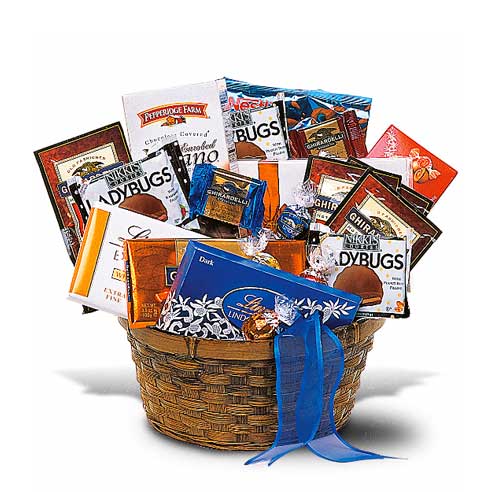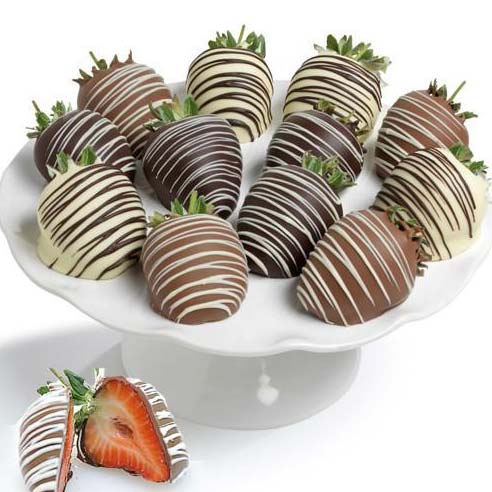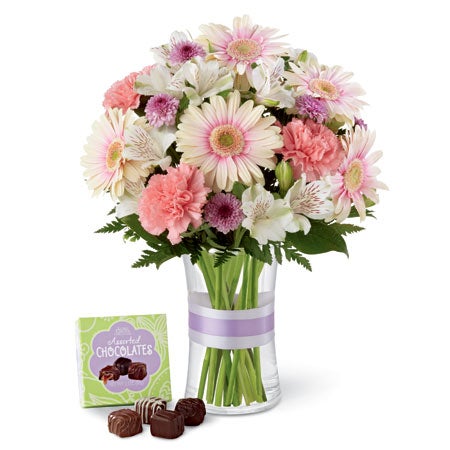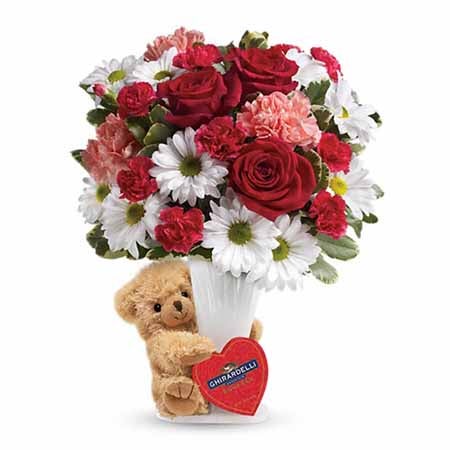 Maroon Pink Lily Valentine Arrangement
No pink roses please, well, unless they are VERY creative. Pink lilies are an eye-opening flower to give for this Valentines Day 2018. With large lily blossoms in full bloom it's hard not to stare and just enjoy their beauty. Both a unique and traditional Valentines bouquet, this centerpiece features traditional pink colored flowers, but in a mixed bouquet of dark maroon carnations, asters, and lavender wax flower. Skip the princess pink this year and opt for a grownup's gift delivery with dark colored maroon and burgundy flower arrangements.
"LOVE" Tag Valentine Arrangement
You caught us, we threw in at least one red rose bouquet, however roses are not the most featured flower here, and the vase is anything but standard. In this inexpensive Valentine flowers arrangement white lily is the focal point with simple touches of rose. So how did this white lily bouquet end up on our unique Valentine's gift list? Well for the love tag vase of course. If we're all going to take a moment to be really honest, we know a lot of people throw their vases away. People throw away or recycle the normal vases though, you know, like the one's you'd find at the local grocery store or something similar. This vase is not one of those vases. A beautiful red glass vase with a typed love tag hanging from it's side in beautiful silver will not end up in the trash or the recycling bin. An additional benefit? Thinking of you every time they see it in their home and having the reminder that someone loves them dearly. This is perhaps, the best way to say I love you with roses.
Pastel Flowers Valentine Arrangement
This pastel garden bouquet is a breath of fresh air during what is most typically, a very cold part of the year! This pastel roses Valentine bouquet has a retro feel to it with blush colored miniature roses and very pale, yellow and cream rose blooms. It would be a perfect Valentine table centerpiece for a romantic dinner at home. With some soft candles this pastel floral centerpiece could really highlight your special meal. These are also popular flowers to send to mom around Mother's Day, so why not Valentine's Day too?
White Rose Valentine Arrangement
Sending a single white rose isn't just a surprise, it's very elegant. Don't underestimate the power of one single rose. Especially if it's delivered with an elegant message, quote, or poem. When single roses are paired with other gifts well, or small romantic gestures, they can be three times more powerful than the obnoxious huge red rose delivery. Your hand delivered single white rose can be created into the most unique Valentine flower arrangement they've ever seen. It just takes a bit of knowhow and a smidge more effort. When you want to show someone your true love, that's just adding to the fun!
Orchid And Rose Valentine Arrangement
This modern Valentine arrangement will make their mouth drop. Everyone think of romance roses for this holiday, but when they get around to considering floating flower arrangements, they forget about roses. It's a common misconception to think that there are only floating orchid arrangements when there are actually rose ones too. This gift is the perfect combination of a favorite modern flower delivery with a rose addition. This rose and orchid flower arrangement is simple but amazing contemporary too. A curved but flat sided glass vase holds two different bouquets at once with a lavender rose bunch snuggled up next to a violet purple orchid bunch. Now that's a unique Valentine bouquet.
Lavender Roses Valentine Arrangement
In case you missed our flower delivery statistics article, purple and lavender roses are highly sought after. Though they don't top the chart as the absolute most popular orders, they still made the top 10. This creative purple rose arrangement has a Zen quality to it with a beautiful wooden vase with pops of stark greens. In this unique Valentine present lavender rose and lily blooms are mixed together for a beautiful Zen garden centerpiece. Both calming and inspiring, this was an easy choice for our unique Valentine's Day gift list.
Pink Tulip Valentine Arrangement
This roses and tulips mixture is playfully romantic and has a vintage feel to it too. Give him or her a tulips and roses bouquet to represent your equally playful and romantic relationship. Encased in a glass vase this pale pink mixed bouquet pops even more against the wax flower and pitta negra underneath it. The tulip centerpiece is given some extra oomph and fullness with some very inexpensive carnation flowers. This is one of the more traditional but still unique floral Valentine centerpieces. Perfect for those fo you who want to step out of the comfort zone, while still holding onto the rail.
Stargazer Lily Valentine Arrangement
What is it about stargazer flowers? They seem to be stunning no matter where you put them. Even though they're a red flower, they match all kinds of different colored flowers and floral types. Even though it's still the same color as the flowers of love, it made our unique Valentine arrangement list for one particular reason. That whimsical, modern, and breathtaking vase. This specialty Valentine bouquet features rose love flowers, blooming stargazer lilies, and exotic greens housed in a twisted and chunky re glass vase that's definitely a keeper, just like you! This luxury rose delivery will provide your loved one with a special vase that can enjoy year around.
Bear & Flowers Valentine Arrangement
This unique bear and flower bouquet sends your loved one a hug and a flower arrangement in a combination gift. He or she can enjoy their flowers at their desk, home, or wherever and then have a cute bear to remember you by afterwards. Its a great romantic flower and long lasting gift pairing to really touch their heart. An extra benefit? The price isn't bad at all, especially for double the gifts! Your bear and flowers gives them two of our favorite presents of the season at a very low cost.
Pink Lily Valentine Arrangement
Send pink lilies in this modern beautiful flower bouquet perfect for a girlfriend, wife, or mother. Pale pink lilies with hot pink tips are layered with carnations, peach roses, and lavender mums for a beautiful Valentine delivery. A high quality pink glass vase finishes this romantic floral arrangement that hints playfully at a easy romance or appreciated love.
Boxed Rainbow Roses Valentine Arrangement
Any average Joe or Jane can send their sweetheart roses, but rainbow roses are in a whole other ballpark. Unexpected from every angle, this mixed rose arrangement for Valentine's Day delivery is definitely a surprise. Not entirely traditional, but also not completely out in left field, this is a great Valentine arrangement for someone who wants something different, but not shocking. You've got to admit that for roses, this price is pretty good too. These rainbow roses are delivered in a box, but you can also select a vase if you prefer.
More arrangements below...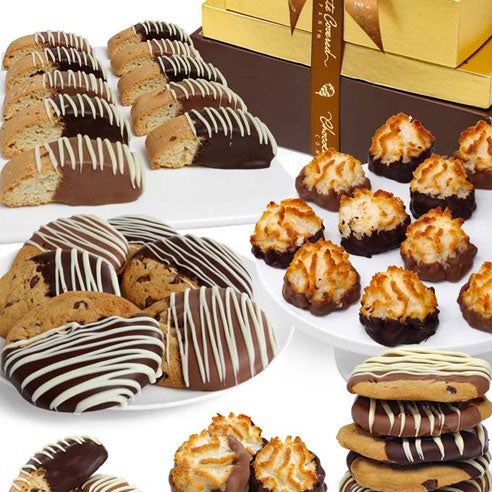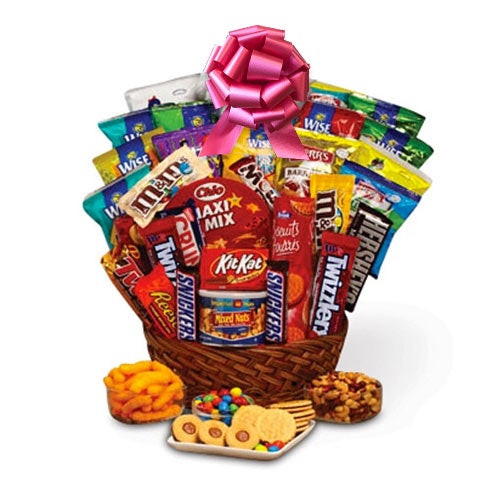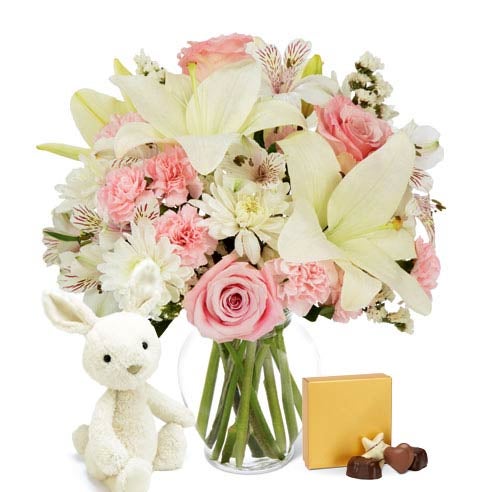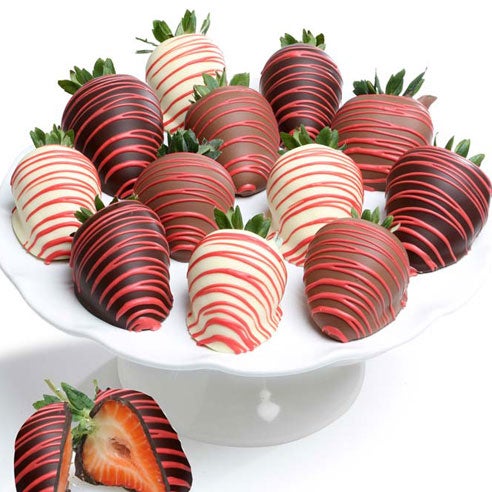 Blue And White Valentine Arrangement
This unique arrangement uses a striking blue vase with a bright colored contrasting bouquet in white to surprise recipients. White lilies alabaster roses, cream carnations, and blue statice are surprising and ultra elegant in the mixed centerpiece. For a gift delivery that's the complete opposite of the red rose, send a blue and white flower bouquet to delight someone special.
Red Tulip Valentine Arrangement
Let an arrangement of tulips in dark red romance your honey this year. Perfect for both men and women, this dark red tulips arrangement is an expression of love in a non-typical flower variety. With a holiday centered around roses and long stem red roses, why not mix it up for your honey this year with these long stem tulips instead? Different colored tulips carry different meanings, but for Valentine's Day tulip delivery, sticking to this vibrant red hue will clearly express your most loving sentiments. Let your tulip delivery speak for itself.
Romantic Lily Valentine Arrangement
This white lily delivery is sure to cause quite a stir. Send white lilies to her or him in this mixed red and white bouquet for a Valentine's Day floral delivery they'll never forget. Romance inspired with blooming lily and fresh-cut red rose and mum blossoms, this V-day bouquet will touch their very heart. The strong and clean lily flowers will represent the purity of true love, while the red roses will be an exhibition of your fiery passion.
Green Orchid Valentine Arrangement
Tall and strong stemmed cymbidium orchids are already show stealers. Create a luxury flower arrangement like this with jade green orchids in particular, and it becomes a rare sight indeed. This luxury orchid bouquet isn't for the typical romance. Send orchids like this to someone who is just as rare and special a person. Jade green orchid flowers are hand arranged inside a modern leaf wrapped vase in this arrangement fit for a king or queen. Whether you're sending flowers for men on Valentine's Day or to women, any strong romance will enjoy this rare and premium arrangement. Just gorgeous.
Hyacinth Valentine Arrangement
When are people going to figure out that these beautiful pastel flowers are ideal year around? Everyone rushes to order pastel hyacinths for Mother's Day and Easter, but they're ideal for Valentine's Day too! These light colored flowers have strong stems and last a long time after cut. They also form into a very interesting cone shape giving whatever unique bouquet they fill a modern yet soft architectural structure. A gathered vase adds to the contemporary look while the very soft blooms add a slight touch of femininity.
Green Carnation Valentine Arrangement
Carnations are one of our favorite flowers to recommend, no matter the holiday or season. Why? Carnation flowers take color very well, come in a wide variety of colors, fill bouquets beautifully, and you guessed it, they're really cheap! That doesn't mean the flower isn't a good flower, we love them! They don't cost as much because they're easier to grow and don't require as much care. If you want to send a really full looking flower arrangement or if funds are just really tight for you, mixed carnation arrangements like this jade carnation bouquet are ideal for you. Jade flowers are very beautiful and this affordable centerpiece definitely make our list for unique Valentines.
Magenta Orchid Valentine Arrangement
Are you flowered out already? No problem, we have options for that too! Send an orchid planter and gives them a long lasting gift instead. This beautiful magenta orchid plant can be delivered straight to their apartment, home, or office where they can watch it grow every day. These lovely orchid plant deliveries are a fun Valentine gift to send and thought they come in a variety of colors, we like that this one still errs on the side of romantic intentions.
Calla Lily Valentine Arrangement
Calla lily bouquet delivery it's just unique, it's very impressive. This large scale flower arrangement features a round oversized bubble bowl and is then filled with long stems of the modern calla lily flower. Calla lilies are pretty florals but they also have a strong look to them, while maintaining a soft curve. They are long lasting and perfect for decorating large halls, fancy events, and also, impressing your sweetheart. Send a large flower bouquet full of mixed calla lilies and watch them gape in happy surprise.
Burgundy Lily Valentine Arrangement
Sometimes the darker side of romance is what attracts us! Though hopefully not too dark. If you and your honey love dark colors, strong looks, and a passionate love, why not send this burgundy flower bouquet their way? Burgundy lily flowers mix with burgundy roses in this affordable flower delivery for V-day to have them shouting hooray!
White Tulip Valentine Arrangement
White tulips paired with striking greens and finished with a clean white bow, who wouldn't love it? When you're over the gushy couple flowers, there's this refreshing and new flower arrangement to send for Valentine's Day instead.The modernity of this centerpiece is exemplified with it's singular color, clean design, and mason jar shaped glass vase. Send white tulips for Valentines at their work place. While they can of course be sent anywhere, we love the idea of these clean florals sitting at someone's work space. White tulip flowers can decorate a loved one's desk without making it feel cluttered, and fresh cut flowers can help inspire creativity and thought. Excellent qualities for when when you're trying to accomplish amazing feats in your career don't you think?
Lavender Daisy Valentine Arrangement
This purple and lavender flower bouquet is a color blocking masterpiece. With dark colored iris, lavender daisy flowers, and dark purple tulips, this bouquet is perfectly unique for your friend or loved ones. Light lavender flowers, violet blooms and blue flowers are calming for the mind. This is a great Valentine floral delivery for anyone who loves blue and purple, has a high stress job, or just needs a little relaxation. Does your honey bunny need deserve a chill day? Help them out by delivering flowers for Valentine's Day to their awaiting arms in cool colors that will help them breathe a sigh of happy relief.
Green Rose Valentine Arrangement
This green roses bouquet effortlessly makes the cut for our unique deliveries list. We've already mentioned how much we adore jade colored flowers, so it should come as no surprise that this jade rose arrangement is one of our favorites. A pale green rose delivery will let your love know that you're green with envy every time someone else eye's them. Send a cute personalized message card with your bouquet to give them a little heart beat skip and possibly a giggle or two.
Iris Valentine Flower Arrangement
It's always surprising how many people underestimate iris bouquets and their beauty. This iris flower arrangement it's decorated with pops of color with it's yellow tulips. Yellow and purple flowers are popular for Mardi Gras, but why not for Valentine's Day too? These irises are delivered in a box, but you can also add a vase if you prefer. The iris flower is definitely a unique type to send for this romantic holiday. While having iris in an arrangement isn't entirely new, having a dark colored bouquet like this that's almost entirely just iris is.
Orange Rose Valentine Arrangement
Have you ever thought about sending orange roses for Valentine's Day flower delivery? You may be surprised to find that orange rose arrangement are popular year around. If you're looking to surprise someone, we're pretty sure this flower would do it. If you have a loved one expecting roses, then surprise them by sending a colored rose in a hue they won't be anticipating. There are different hues to choose from like coral, bright orange, and burnt orange roses. We really liked this bouquet because these are orange roses delivered in a box. These roses are already unusual and unique because of their color, but that fact that they're also roses in a box delivery adds even more surprise to your gift. Give long stem orange roses a spin this year and send them to your special someone. This is also a great Valentines Day bouquet for men.
Hydranega Delphinium Valentine Arrangement
If you've never experienced blue delphiniums, you don't know what you're missing. This gorgeous blue flower delivery is a premium arrangement for those who are dearest and nearest to you. Large, grandiose, and packed full of fragrance, send delphiniums and baby-blue hydrangeas with turned leaf decorations to get an undoubtable nod of approval. No one is immune to a premium flower delivery, and this luxury bouquet takes the cake. Heads up, if you send flowers to work, they may need some help getting home!
Flower Delivery Coupons For Valentine's Day
If you made it all the way through then you definitely deserve a little treat! Use this free flower delivery coupon and get free hand delivery or even free shipping on any bouquet or gift!
Free Deliveries With Code: DELVFREE