Best Flowers For Mom On Mother's Day
When you order flowers for Mother's Day online, with so many to choose from, how do you know what the best Mother's Day flowers are? This Mother's Day flower delivery list tells you based off of last years statistics from Send Flowers which colors or types of flowers were the most popular flowers for Mother's Day floral delivery. Use this Mothers Day flower bouquets guide to pick the best flowers for mom for Mother's Day. Below explains how to use the list and how we formulated our analytics. This Mothers Day send flowers armed with the best delivery statistics.
What Kind Of Flowers For Mom
One of the first things you'll notice about our flowers Mothers Day delivery list, are the mixed listings of specific types of flowers for mom, correlated with Mother's Day flower colors. The reason for this is that when looking at the most sold products in the industry, sometimes certain breeds of flowers are very obvious choices, while others can not be so clearly defined. For the sake of making the best flowers for Mother's Day list we could, we had to use a mixture of defining points using both types of data. If a top selling Mothers Day flowers section could clearly be grouped, we grouped them, otherwise they're separated. There are outlined sections of hues where we could see what were popular mother bouquets colors. These sections could not be clearly broken out by a specific type of flower, only by their color and hue. Use this Mother's Day shopping guide to see what is the most popular gift delivery for mom combined with what you know about your own mother. This should help you to make the best decision for your flower delivery on Mothers Day 2021. So what is the most common flower for Mother's Day?
1. Mother's Day Pink Roses
The popularity of pink roses never ceases to amaze us at Send Flowers. Wondering what color roses for mom you should send? The overall most sold flowers for Mothers Day are pink roses. Although a significant percentage of those sales are from long stem pink roses bouquets, mixed rose bouquets are the greater percentage of those sales. A dozen or 24 roses bouquet is the most traditional choice for Mother's Day rose delivery. With that said, they are also considered higher-end deliveries and luxury bouquets. We think that's why the mixed pink rose deliveries are the more frequently ordered rose gifts. While we can't prove that's the reason, it would make financial sense. We're also able to see that shoppers who purchase those bouquets usually browse through the long stem pink rose products before purchasing the rose mixed bouquet instead. When having roses delivered for Mother's Day, you'll have to decide between the flowers she probably wants most, and what's most affordable from your lifestyle standpoint. The good news is, as long as pink roses are the featured flowers, you can not possibly go wrong.
Most Purchased Pink Roses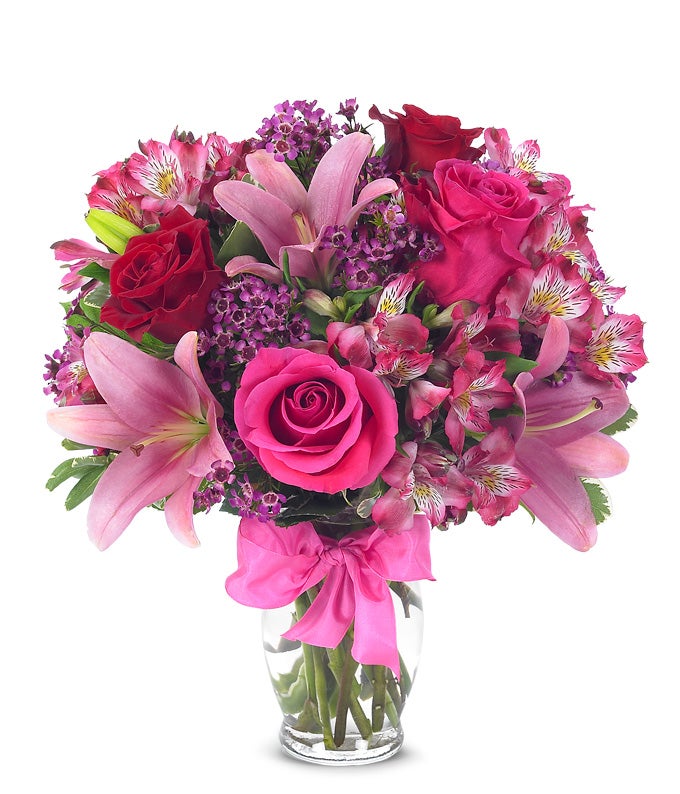 Perfect Rose Bouquet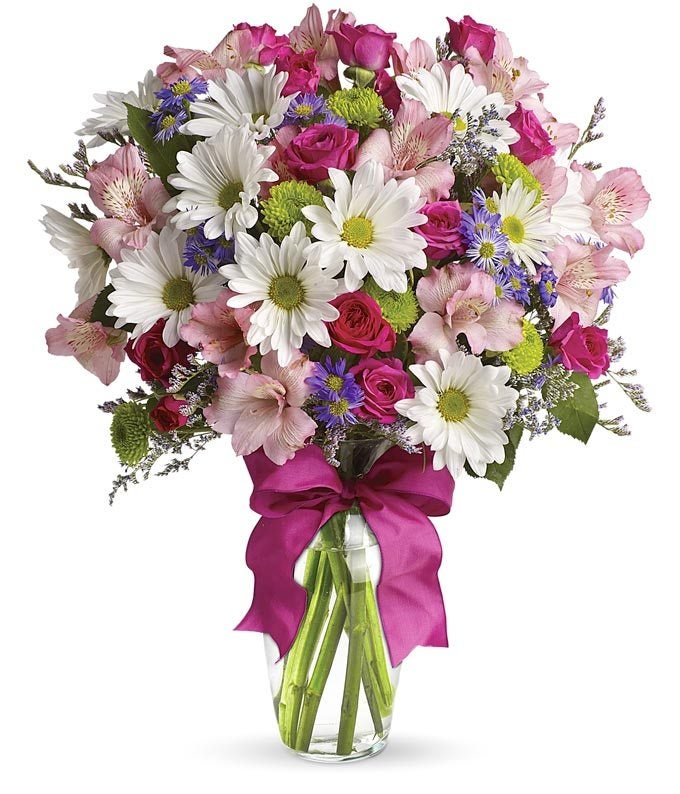 Pink Daisy Bouquet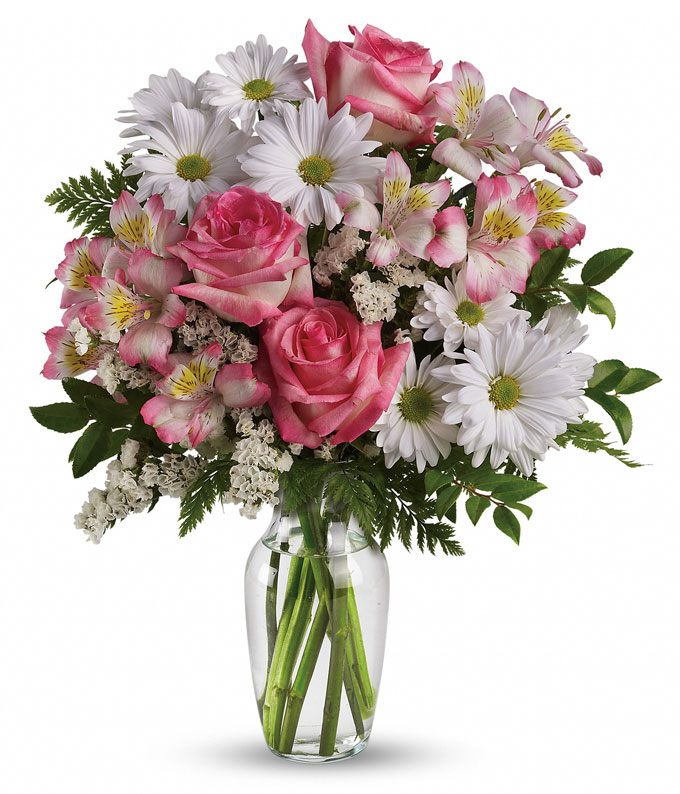 Treat Roses Bouquet
Most Desired Roses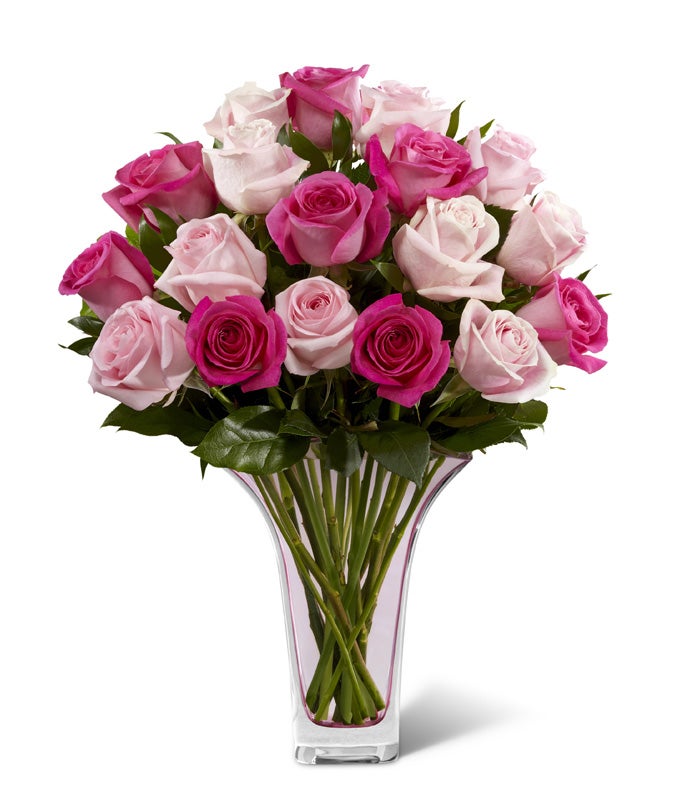 Long Stem Pink Roses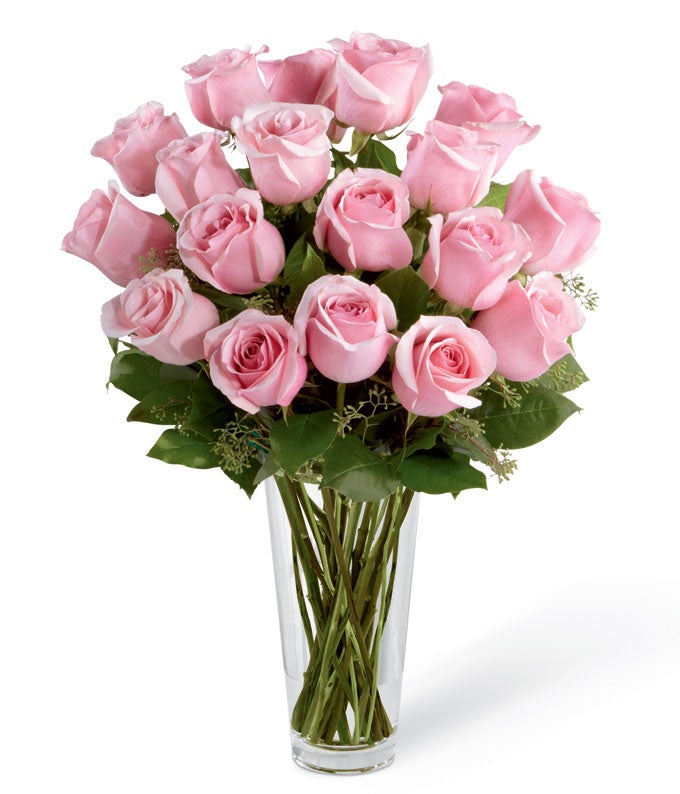 Long Stem Pink Roses
Pink Roses And Candy
2. Mother's Day Sunflowers
If you're sending flowers for Mother's Day, but not in love with roses, send a sunflower bouquet Mother's Day instead. Ranking almost equally to the sales for pink roses are sunflower arrangements for mom. What's most interesting about sunflower bouquets sales is the variety of themes purchased. Most of the other groupings of flowers that you'll see throughout this guide have a thematic idea that's similar. Meaning they could be sold in other categories that would make sense like romantic flowers, love bouquets, modern flowers etc. The sunflower arrangements don't have a shared theme, people just like sending mom sunflowers, and it looks like they just choose whichever product they like the best. For example, as an online florist company, we feel that the sunflowers and roses bouquet is quite a bit romantic. That doesn't stop sons and daughters from ordering sunflowers with roses for mom every single year. The garden sunflower bouquets are the most popular sunflowers to send and would be our personal recommendation for mom. We vote for this mixed sunflower arrangement because it was originally designed to be appropriate for any occasion. The middle modern sunflower arrangement was originally created as an event centerpiece for parties, office buildings, and special occasions; but it was ordered so frequently for everything else that over the years we had to change its overarching category completely. The modern sunflowers have become a favorite sunflower bouquet for Mothers Day floral deliveries too. Conveniently, sunflower bouquets delivery is available for last minute same day gift delivery too. That's great for any of you last minute procrastinators! To sum up all of this information, if you send flowers for Mother's Day with this fun and happy flower, you can essentially choose any arrangement, and she's still going to love it.
3. Mother's Day Yellow Flowers
Why has this section been labeled vaguely as "yellow flowers"? Following mixed roses in pink and mixed sunflower deliveries, there's a large section of flowers sold for mom in various colors, breeds, types, and size. The second largest section features a significant amount of mixed yellow flower bouquets, but it's impossible to say definitively which breed is most ordered. Equally balanced in orders and revenue, it's nearly impossible to clearly distinguish one Mother's Day flower type within these confines. What we feel comfortable saying with certainty, is that yellow bouquets for Mothers Day are popular. Really popular in fact, as the third most requested floral delivery on mom's day. The yellow rose bouquets take up a decent amount of the yellow florals percentage, but there are also yellow calla lilies bouquet sales, and yellow tulip bouquets too. Even blue and yellow bouquets are popular for mom, so long as yellow flowers predominately fill out the majority of the design. Due note that the pale yellow rose bouquets and pale yellow flower bouquets are not as popular for her. It's the very bright yellow flower deliveries (almost canary colored) that she's ordering and prefers. If you're one of the few shoppers who personally loves lilies for Mother's Day, this is a good section for you. Go ahead and find some lilies to send mom, but keep the arrangement in the canary hued family.
4. Mother's Day Peach Roses
Peach roses bouquet delivery ranks in at number 4 for the most popular flowers to send mom. As much as we love light peach roses, we were surprised to see them rank so highly as flowers purchased online for mom. As a national florist, we do see sales for peach flower bouquets on our yearly analysis, but it's not a flower delivery we see even every other day. What's interesting is the sudden spike in delivered peach rose bouquets during the month of Mother's Day. A light peach rose bouquet is a calming flower centerpiece that's soft and alluring. When looking at a bouquet of peach roses you may find that you feel more relaxed, your heart rate may slightly lower, and you feel a bit calmer. This is power that living things and color have on our mind. Maybe it's this inspired calm that makes shoppers remember their mothers and how they calmed them as children. We recommend the peach roses delivery in a box, because it's just so elegant to deliver roses in a box. However the peach rose bouquet with alstroemeria is an equal favorite, and the mixed peach bouquet is a new peach rose arrangement that we anticipate will perform very well this year.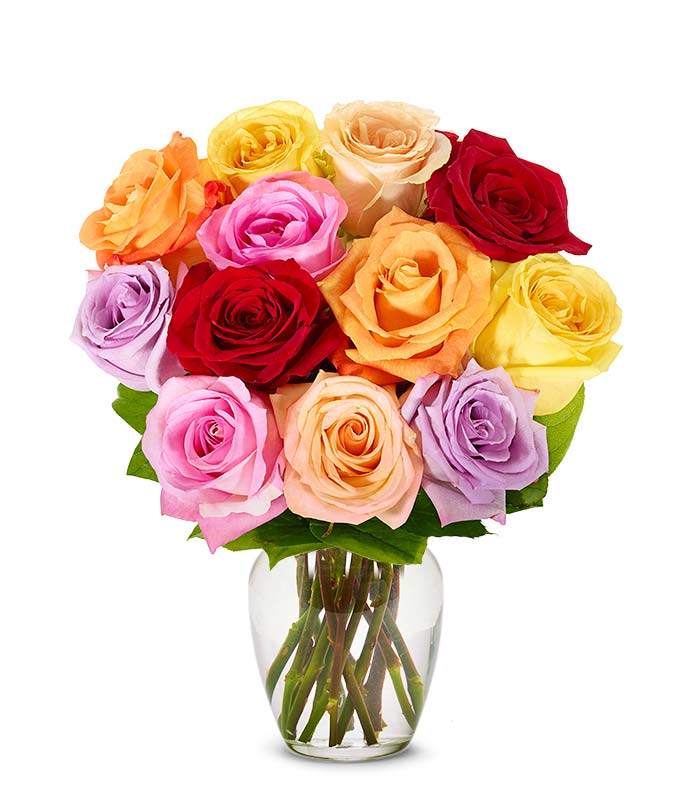 Boxed Rose Bouquet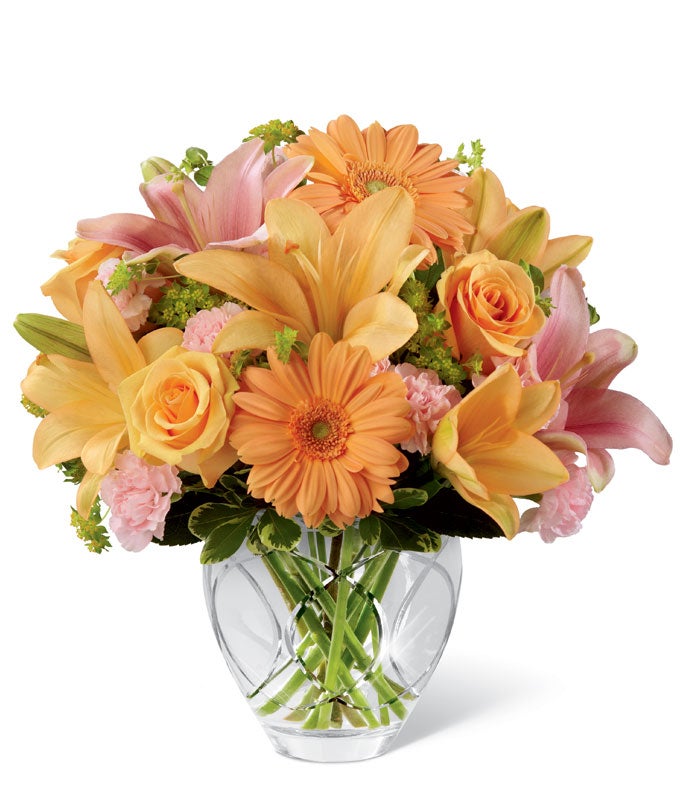 Mixed Peach Bouquet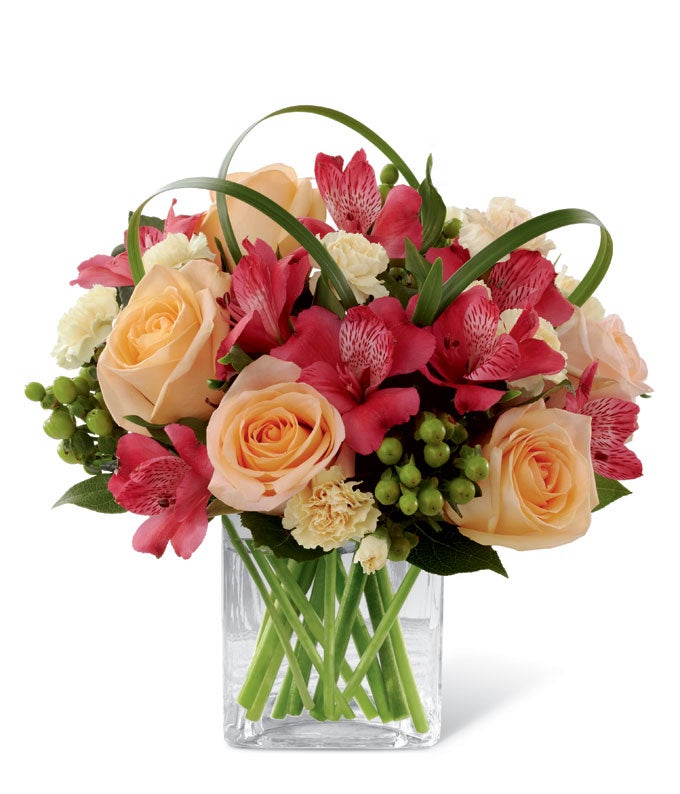 Peach Rose Bouquet
5. Mother's Day Alstroemeria Flowers
We love sending someone an alstroemeria bouquet. Not only are alstroemeria flowers extremely affordable, but they're beautiful throughout their entire blooming process, and they're hard to mess up. If you want to send mom roses but find that they're too expensive for you at the moment, a rose and alstroemeria bouquet is the perfect middle ground. It's rare to see a flower arrangement of alstroemeria flowers only. It's typically used as an inexpensive "filler flower", but we adore them. These beautiful flowers are underestimated always - until Mothers Day that is. Once Mother's Day gift season is in, bouquets of alstroemeria orders sky rocket. Though usually orders for alstroemeria are still in the form of mixed floral bouquets, the lavender alstroemeria flower bouquet seen below is a top choice for mom's gift delivery. We can't say for sure whether it's because of the teddy bear delivered for mom or the bouquet itself. However with all of the alstroemeria sales sitting in the fifth position of our online flower guide, we feel confident that these lavender flowers take part in the shopper's decision making process. There is no delivered alstroemeria flower color that outweighs any other statistically speaking. Simply choose which flower alstroemeria color you think mom would prefer, and she's sure to enjoy her flower gift delivery.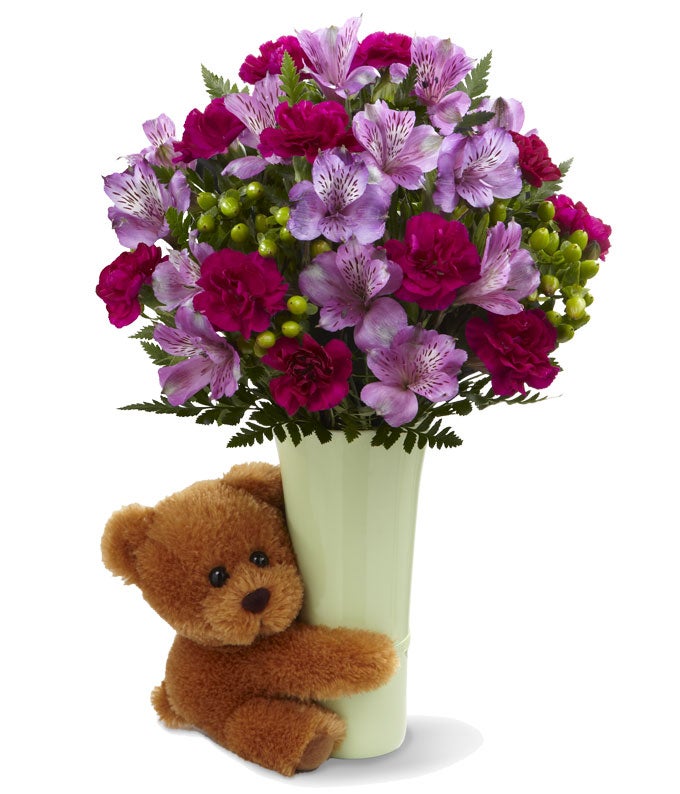 Lavender Alstroemeria Bouquet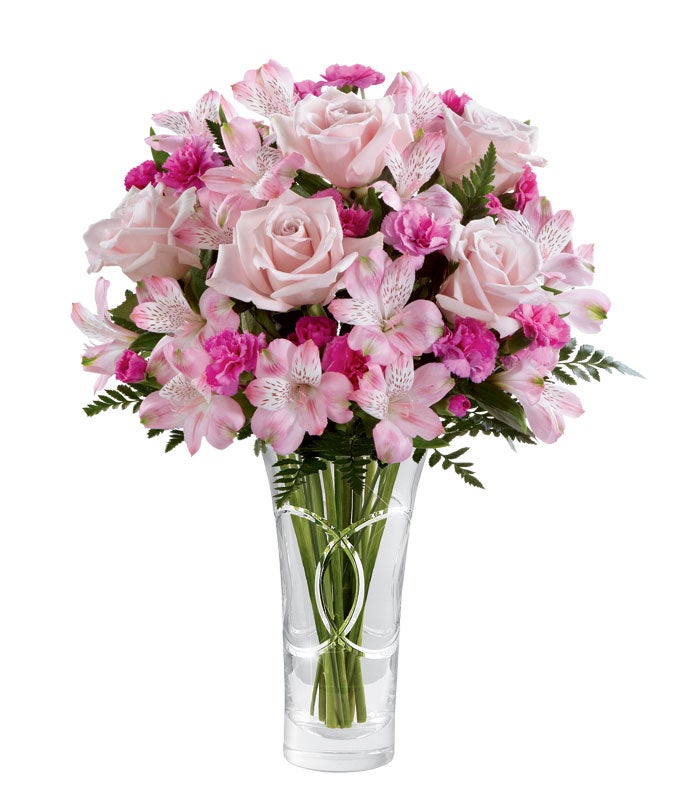 Pink Alstroemeria Bouquet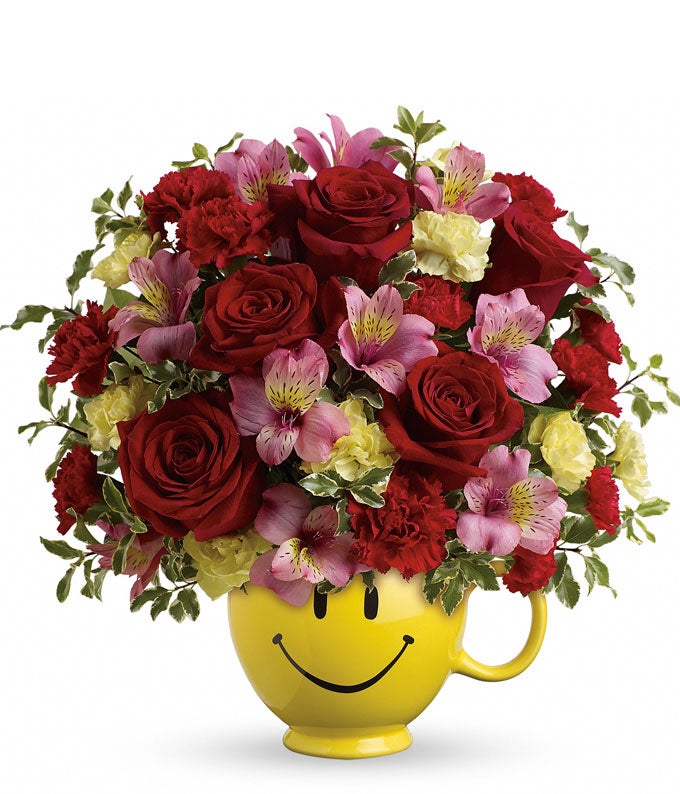 Smile Alstroemeria Bouquet
6. Mother's Day Orange Roses
Who doesn't love orange unique roses? For moms gift delivery send her beautiful orange roses in mixed bouquets for the holiday. A bright orange roses delivery is uplifting and fun to have at home or in the office. We see a surge of orange roses delivered for Mothers Day, and though they're sometimes ordered in mixed bouquet varieties, usually dark orange roses with other dark orange flower types are more desired. The lavender, red, orange and pink roses bouquet shown below is an ever popular rose delivery in a box. A boxed roses delivery never fails to impress. It's one of the most popular orange rose deliveries we carry. The orange rose and lily bouquet is a best seller, but we think that's probably due to the fact that it's just a little bit more affordable than the orange boxed roses. Why is the last orange lily and rose bouquet that's delivered in a glass orange vase so popular? That orange bouquet features exotic flowers called pink dahlias which add a special something to your orange rose delivery. They are three very different orange roses deliveries that all have their own unique touch.
7. Mother's Day Daisy Bouquets
Why were we shocked that daisies were ranking at number 7 on our popular mom's day flower list? Only because we thought that daisy flower bouquets would at least be in the second to fourth position. This is why looking at current flower sales data is always so interesting, you will find flower facts that you weren't expecting too. Daisy flower arrangements centerpieces are some of our favorite flower deliveries to create. The reason is because there's never a shortage of daisy colors to play with. Gerbera daisy bouquets which are larger types of daisies come to mind first, but they surprisingly did not show up in the most sold daisies for Mother's day. For your Mother's Day daisy delivery stick to the traditional daisies which are slightly smaller. Delivered daisies are some of the cheapest flowers that you can order online for any holiday. Ordering daisy flowers online doesn't mean you're cheap though, rest assured it's actually a good thing. You can save money on your affordable flower delivery while still ordering her favorite Mother's day flowers. Daisy bouquet deliveries hold a special place in everyone's heart. Whether it's because we saw them while we were growing up, or feel in love with them from a film(they're frequently used in them), or because of their vast color variety, the daisy flower is beloved by various cultures and peoples. White traditional daisies are the most common choices, but from our local online florist you can get all kinds of unusual colors, so play with your bouquet of daisy flowers for delivery!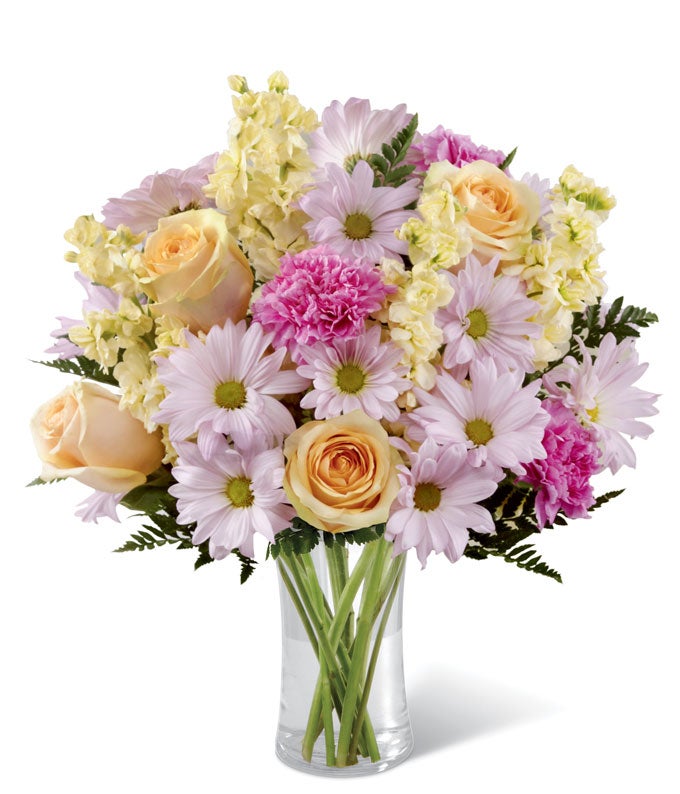 Pastel Daisy Bouquet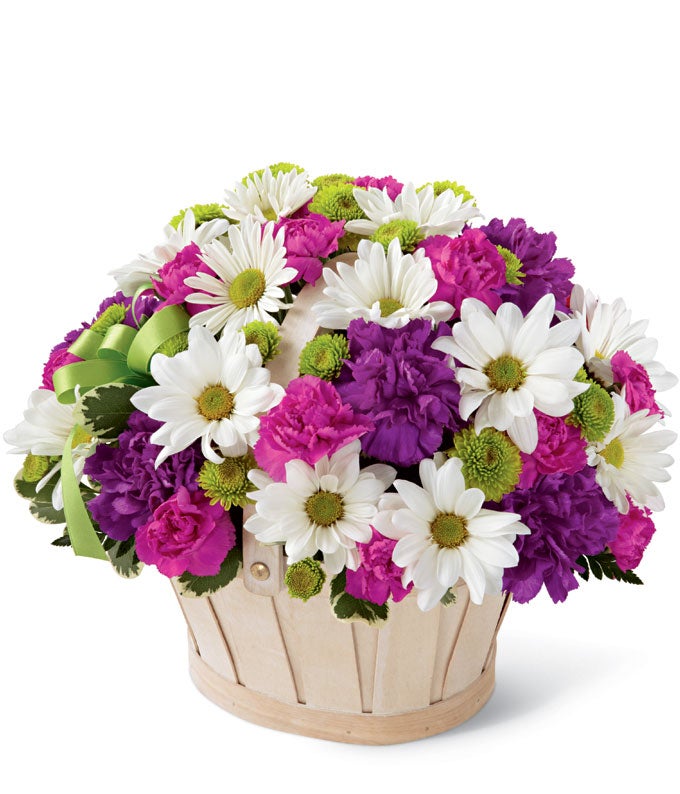 Mixed Daisy Basket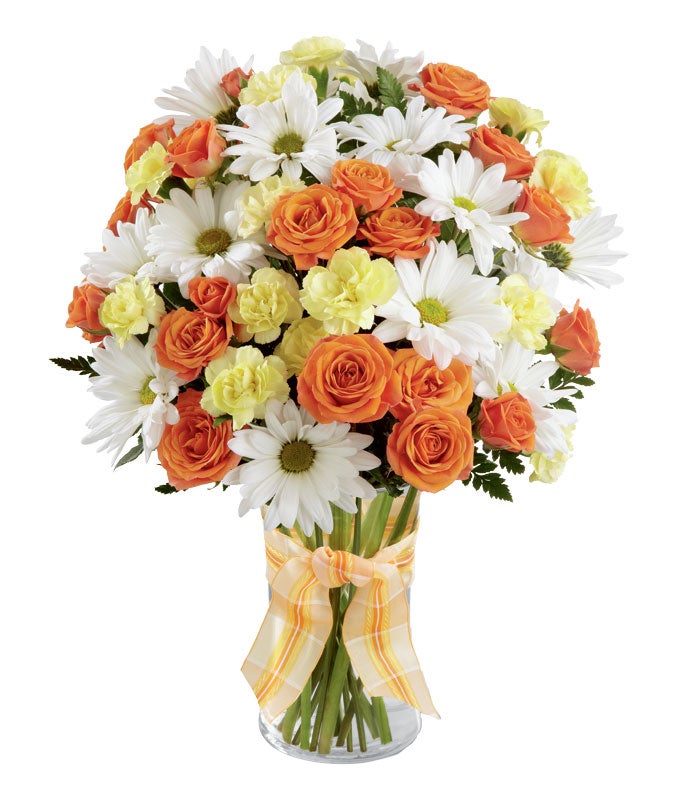 Traditional Daisy Bouquet
8. Mother's Day Purple Roses
A bouquet of fresh purple roses is a popular and fresh take on the typical roses delivered for Mother's Day. Light purple rose centerpieces are a great way to usher mom into Spring. Apparently at position 8 on our flower guide for mom, many shoppers agree with us. Though many different shades of roses were ordered, it's obvious looking at the rose sales from previous years, that lavender roses are the most desired shade of purple color. Purple long stem roses were not in the top 5 most sold purple rose bouquets, but were closely behind. If you decide to send mom a bunch of purple roses, be sure to note that the most loved are pale lavender roses delivered in glass vases. Of the most ordered purple and lavender deliveries, you can see below that two of the top three lavender gifts feature intricately etched purple glass vases. If you're looking for an impressive, unique rose delivery for mom, send lavender roses in etched vases. If you really do prefer the long stem roses in lavender, then consider the middle lavender bouquet which mixes the more expensive taller purple roses with beautiful lavender stock flowers. It's a little less expensive and still uniquely beautiful. Purple rose flower arrangements are unexpected and always have that interesting element of mystery. We guess that's why customers love them so much. Though not the highest on our list, these purple Mothers Day arrangements definitely claim their own area in the spotlight.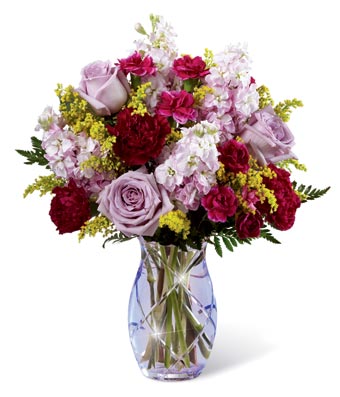 Pure Purple Rose Bouquet
Purple Rose Stock Bouquet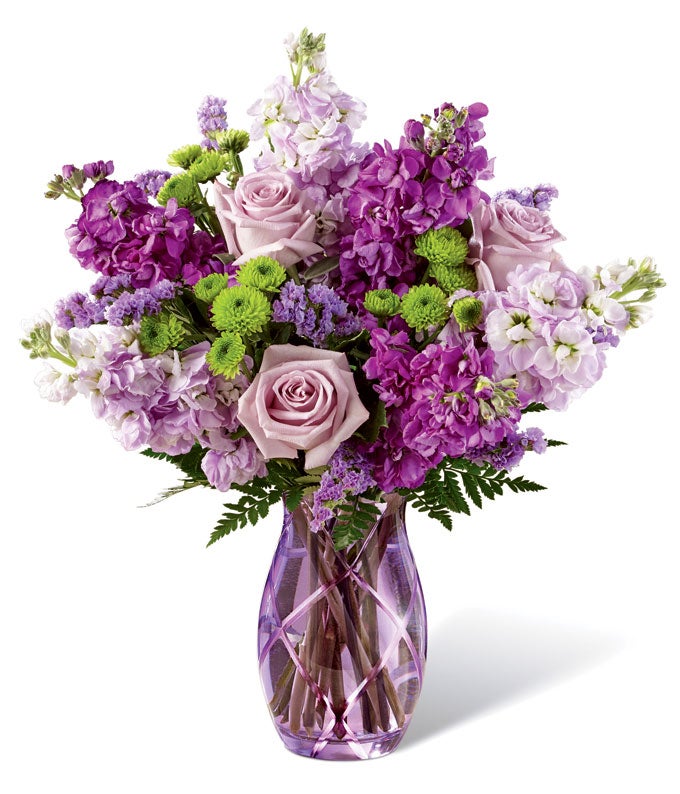 Lavender Rose Bouquet
9. Mother's Day Pink Tulips
People love pink tulip bouquets for their mothers women and ladies in particular. Women buy pretty pink tulips for their grandmothers, daughters buy pink tulips for their mothers, and mothers buy pink tulips for their daughters. Women love tulips in pink, and they all send them to each other. The female demographic surrounding tulip delivery purchases never ceases to be interesting. Give your mother a bouquet of hot pink tulip flowers to show her that you know what she likes. Tulip flowers come into season about a month before Mother's Day and they are always a popular flower for delivery. Though these pinky tulips are rated ninth on our mother flowers list, they're some of the most requested flowers for the entire spring flower season. Seasonal pink tulips flowers have larger heads then many other common types of flowers, and therefore these bouquets are usually larger and more sizable gift deliveries for her. If you're choosing between dark pink tulips and pale pink tulips, rest assured that both are ordered equally. There are mixed tulip bouquets for Mother's Day that rank in the most popular, but the bouquets of only pink tulips appear to be slightly more popular gifts for mom.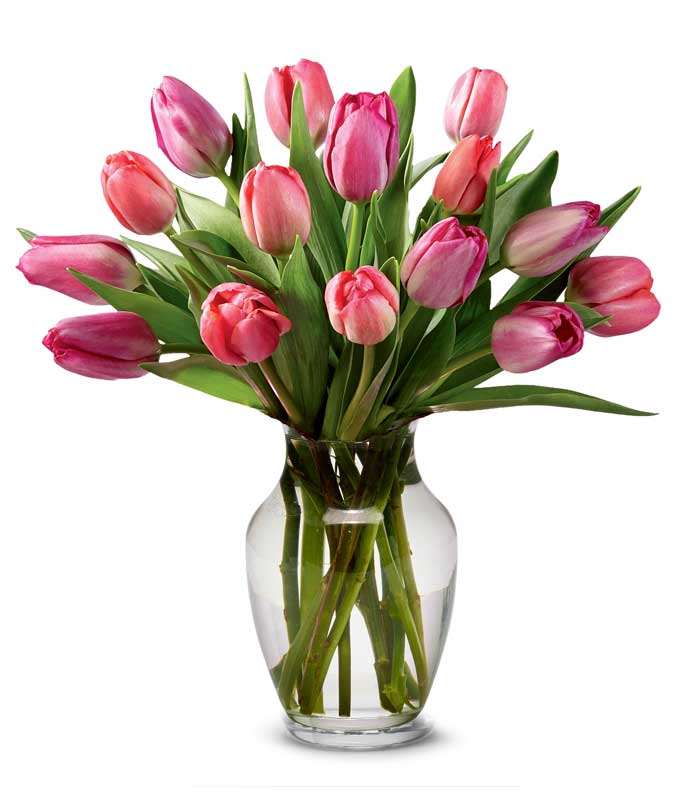 Perfetta Pink Tulips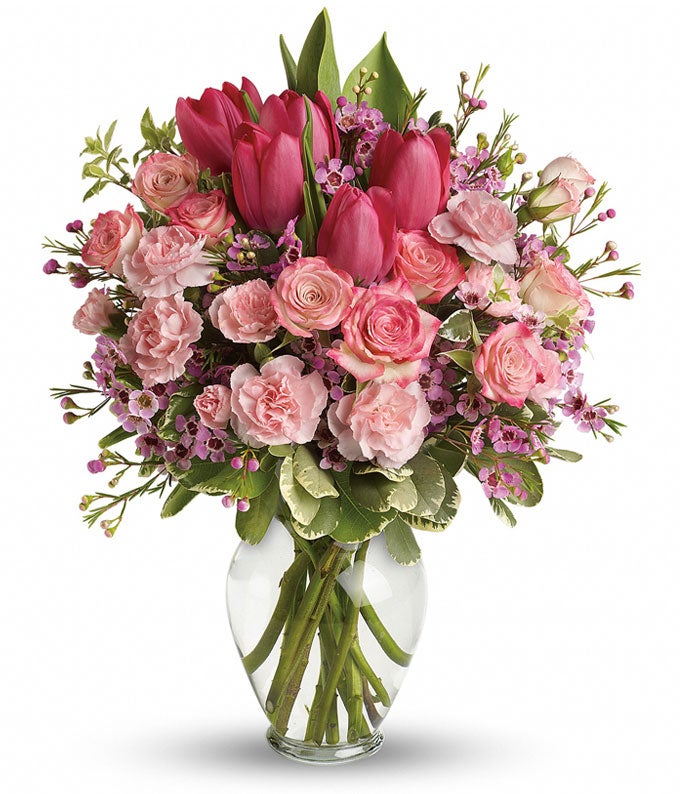 Pink Tulip Bouquet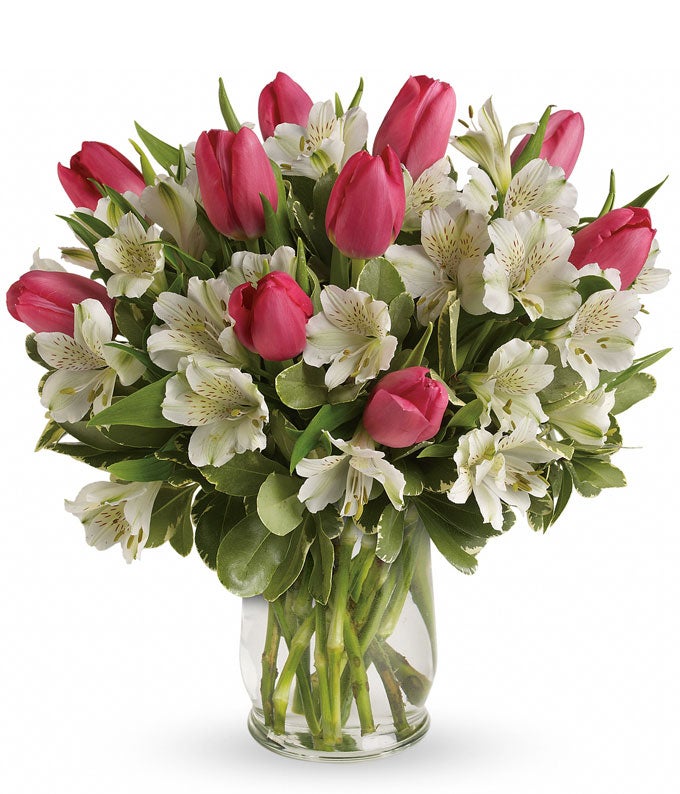 Pink Tulip Arrangement
10. Mother's Day Plants
It's not exactly a "flower bouquet", but we have to add as number 10 on our floral gift list, Mother's Day plants. The number of plants for Mother's Day delivered every year shouldn't surprise you. No matter the holiday, there are always those few people who prefer to send plants to mom instead of a bouquet. A plant for Mothers Day could come in a green plant variety, potted flower planter, or flowering plant with richly colored blooms. Why do so many people prefer this present instead? Some shoppers see a Mothers Day plant as a long lasting gift delivery that mom can continue to enjoy. That's why so many people opt for a Mother's Day rose bush for example, over moms flowers. Though Mothers Day planters with daisies, birds of paradise, and calla lilies are popular, it's the basket plants that are ordered online for her the most. Below you can see three examples of plant deliveries for mothers that come in the ever-popular whicker baskets. Mom can either care for her plant inside the basket as is, or transfer it to her yard. Throughout the year in general, green plant deliveries are the more favored gifts, but for Mother's Day specifically - stick to flowering plant types. Strictly statistically speaking, the most ordered plants online for mom feature dark violets, hydrangea plants, and budding rose bushes.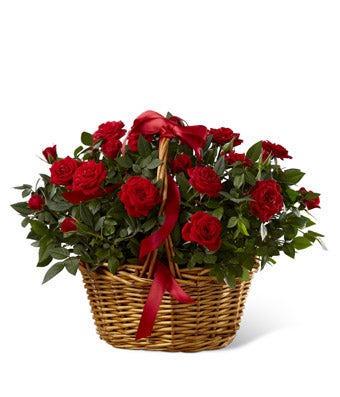 Rose Bush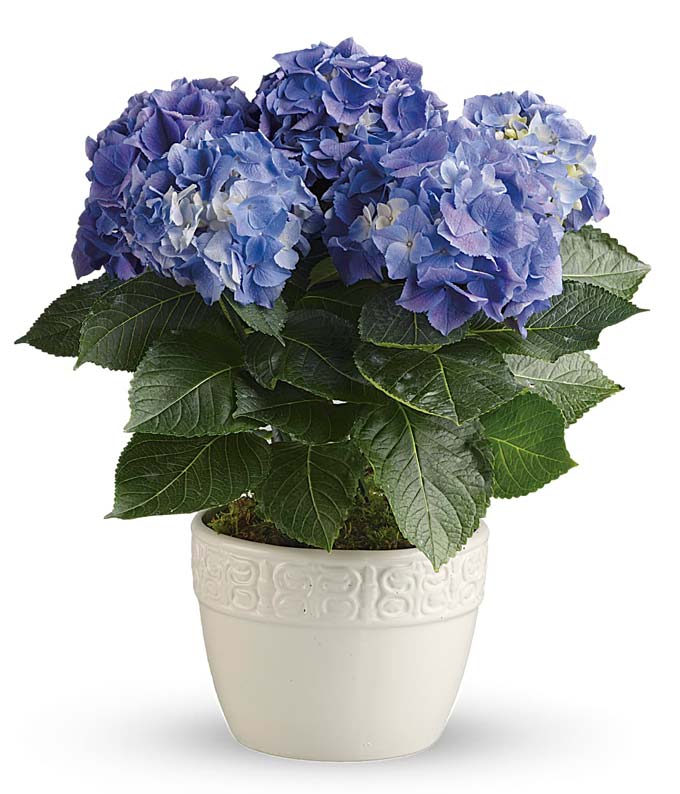 Hydrangea Planter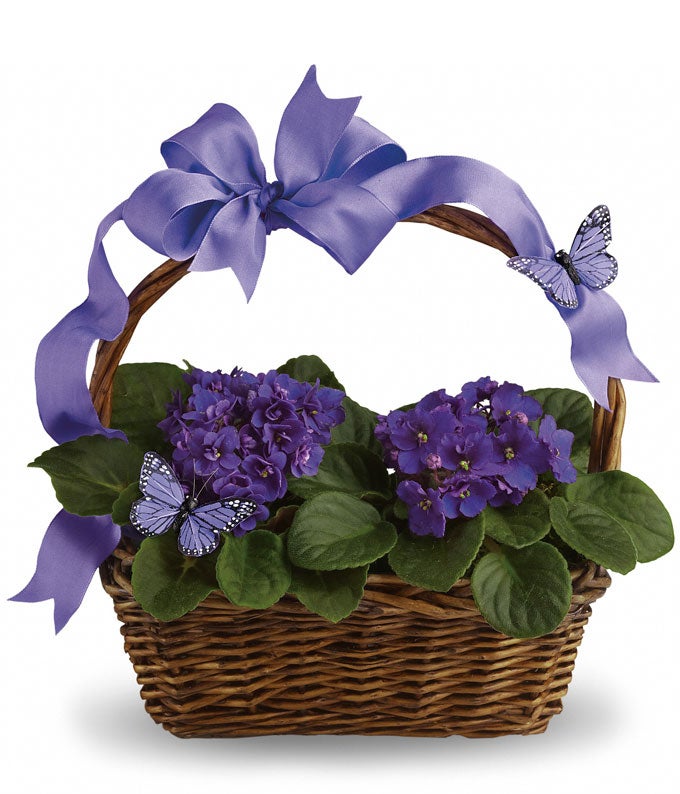 Violet Plant Delivery
Send Flowers Mother Day bouquets come with same-day and next day delivery options. For the best experience and smoothest delivery, do try to order ahead as much as possible. Don't just send some good flowers for Mother's Day, treat her to the best. You could always pick from traditional Mothers Day flowers, but isn't it more fun to see what people are sending today, now? Oddly enough the most traditional Mother's Day flower is probably the red rose, but if you look a the latest data findings, red roses don't even make it into the top 10 orders; at least not on their own. If you're ordering last minute, you can still send mom flowers. You can even get free shipping. Visit our free flower delivery coupons to pick your discount. From Mothers Day cheap flowers with 20% off, or even 50% off roses, there something to help out anyone no matter their financial situation. Delivering pink roses Mother's Day is simple and cost-affective. Last but not least, if you're still uncertain which centerpiece is best for you, just remember that this is your mother. The best Mothers Day flowers you can send, are any that are sent by you.
We update this list every year with any new findings we discover. For what to send mom for Mother's Day every year, be sure to bookmark this page to save yourself a lot of time and effort. We're always here to help. You can send flowers to mom every year knowing exactly what options are the most desired as well as what her demographic is ordering every year. She would want what she's sending right? It makes sense. Visit us anytime to discover which Mother's Day deliveries are the best selling.
Similar Articles: