Mother's Day Present Ideas
Treat her to something unique with these different Mother's Day presents to send! With Mother's Day gift baskets and presents for mom hand-delivered straight to her door, it's easy to express your gratitude for all that she does. This list of 60 gifts for mom on Mother's Day provides everything from cheap, luxury, candy, chocolate, bear, and flower gifts that she can enjoy sent with your love. Most of the presents listed here are available for same day delivery and can even be delivered on Mother's Day. Here are our favorite ideas for a Mother's Day present!
60 Mothers Day Present Ideas
Free delivery with coupon code: DELVFREE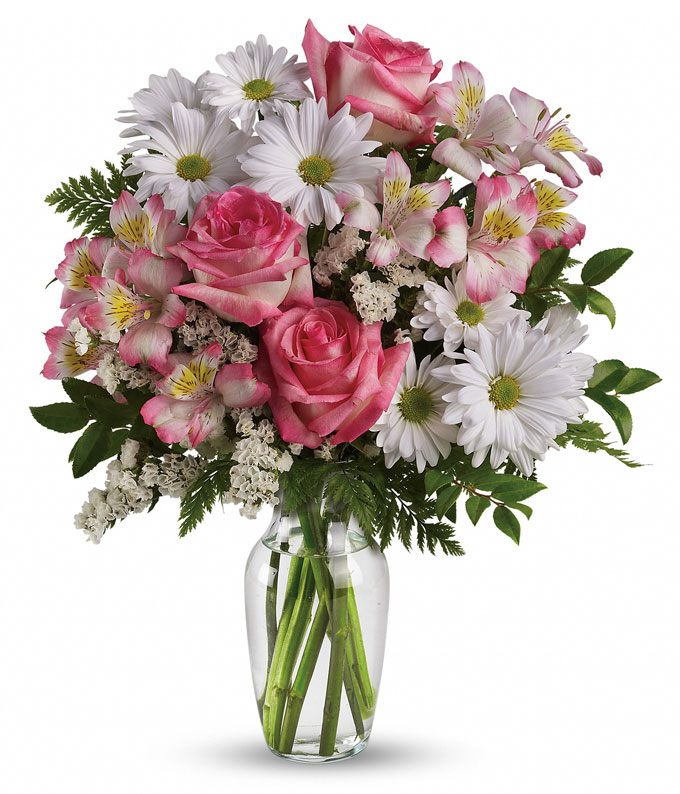 1. What A Treat Rose Bouquet
Treat mom to this what a treat rose bouquet for Mother's Day. This inexpensive present made for mom is one of our most requested and recommended bouquets every year. Give her a present of fragrant flowers, sweetly arranged to tell her she's loved dearly by someone.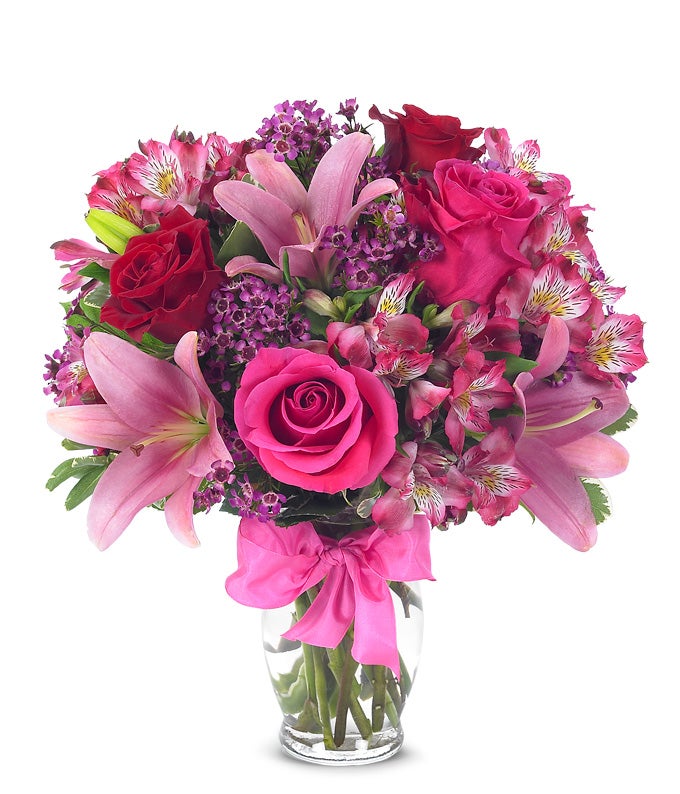 2. Rose And Lily Bouquet
Pink roses are the preferred Mother's Day flower, but this hot-pink rose bouquet adds an element of surprise. Hand-delivered same day in a glass vase with a hot pink ribbon, this fun and inexpensive mixed bouquet is a great present for mothers. Pink isn't just a color, it's a way of life!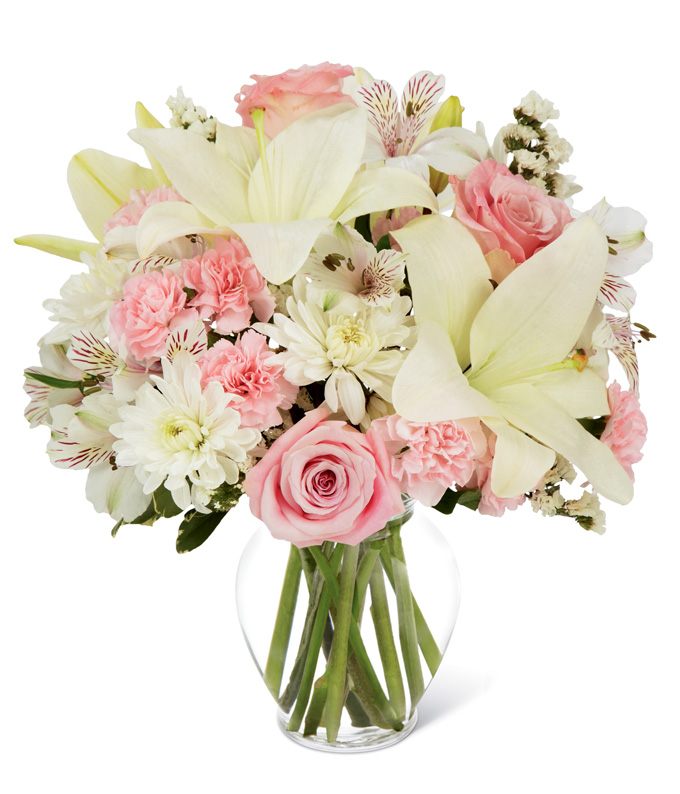 3. White Lily Bouquet
This pale lily and soft rose arrangement tells mom that she's elegant, cherished, and beloved. Send presents for Mother's Day that convey to her that she's the most special lady in your life with fragrant flowers to decorate her favorite space.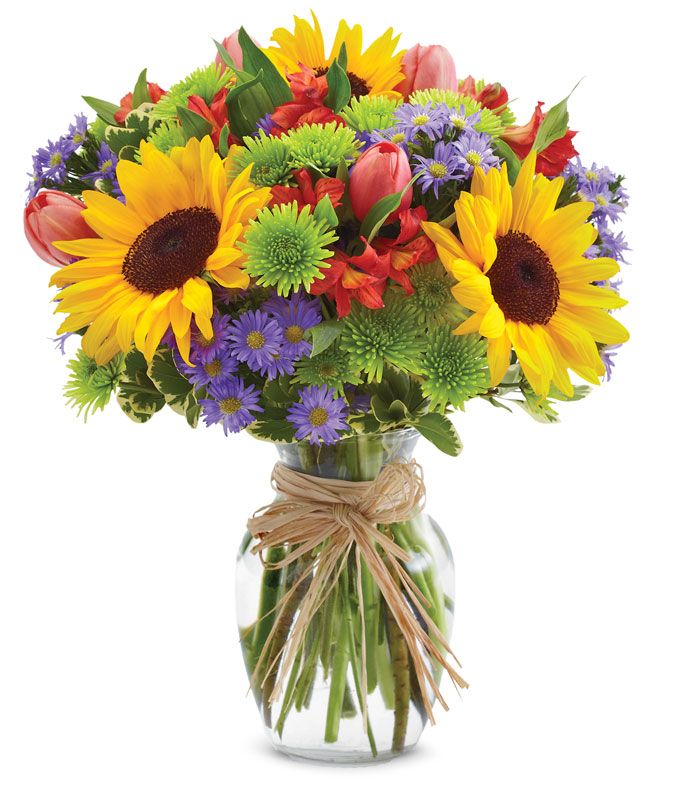 4. Sunflower Bouquet
What is it about sunflowers that's so happy and inspiring? A good Mother's Day present and happy gift delivery, this bright and cheery arrangement is country inspired and delivered in a glass vase. Large sunflowers and rich color create a presentation that mom will adore.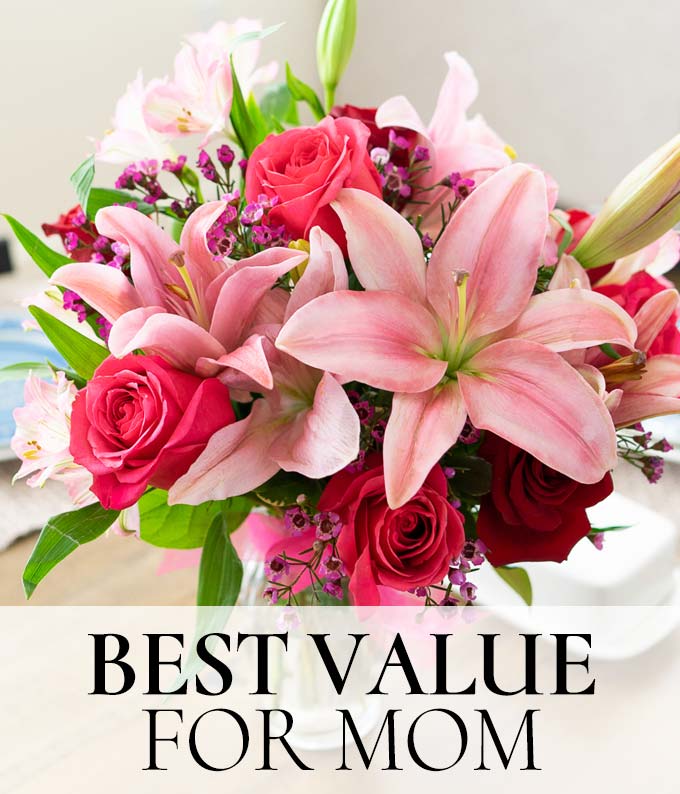 5. Mothers Day Florists Bouquet
When you feel like there are too many Mother's Day presents online to choose from, let someone with a trained eye do it for you. This is one of our cheapest Mother Day flower delivery options because it allows our local florist in her area to use the flowers they readily have on hand. You'll benefit from getting a cheap bouquet for mom while your mother still gets fresh cut and beautiful flowers. Perfect for everyone involved.
6. Mothers Bouquet With Balloon
It's a customer favorite every year, and we featured it earlier, but this version comes with a printed mylar balloon too. For mom's special day gift her a present made of freshly cut flowers in a cute glass vase alongside a floating mylar balloon. The text on the balloon will celebrate one of the best things we ever received in life, your momma'!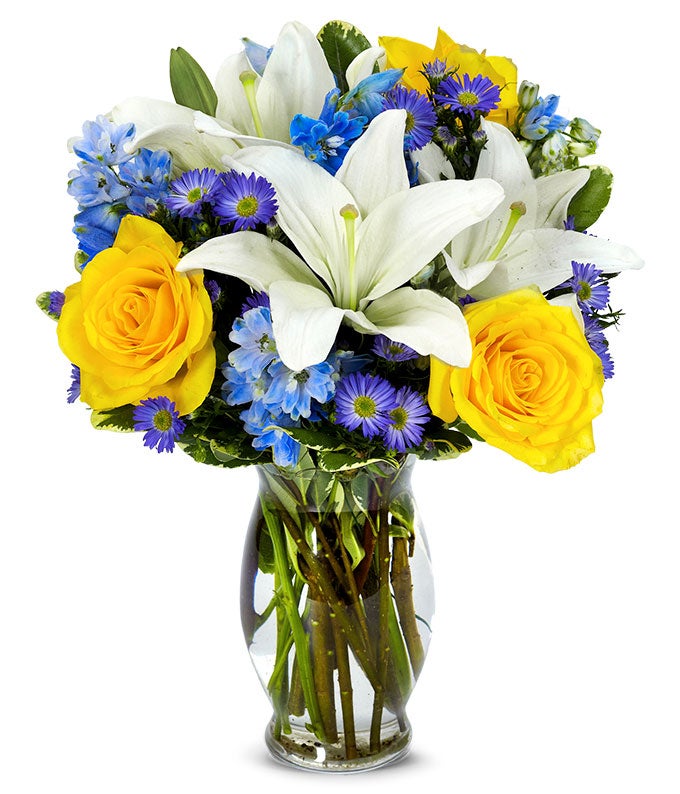 7. Blue Flower Bouquet
Everyone who enjoys flowers enjoys white lilies. They're a great standard for gorgeous flower deliveries. Adding beautiful blue flowers and some color blocked canary roses and then you'll have something amazing! Send blue flowers to mom for her Mother's Day present this year and she'll enjoy something new, different, and unexpected.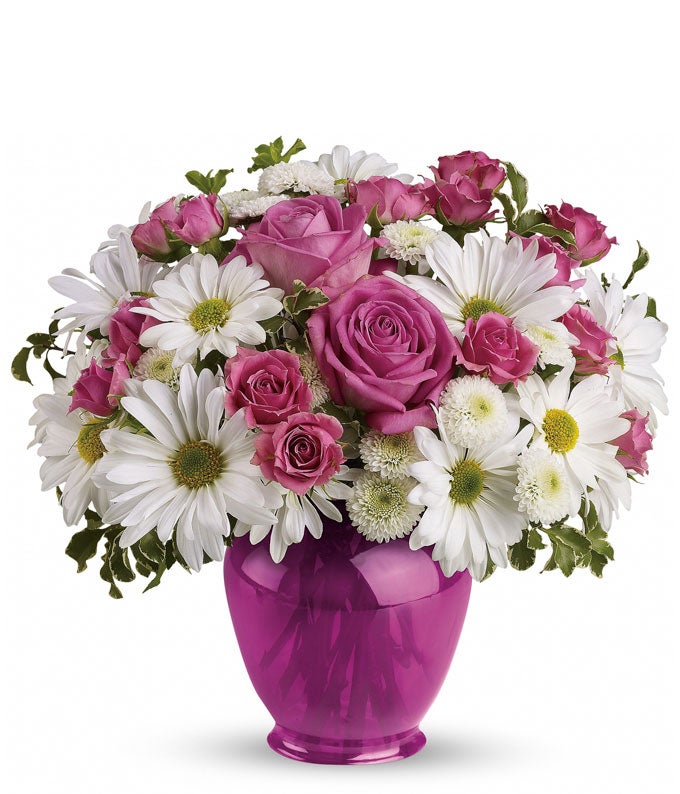 8. Purple Rose And Daisy Bouquet
This purple and white flower bouquet is both an lovely and inexpensive present for mom. This Mother's Day surprise mom with a floral gift that fits the season with beautiful purples and white blooming flowers. A cute colored jar and vase adds a special allure to this affordable bouquet avaialble for same day delivery.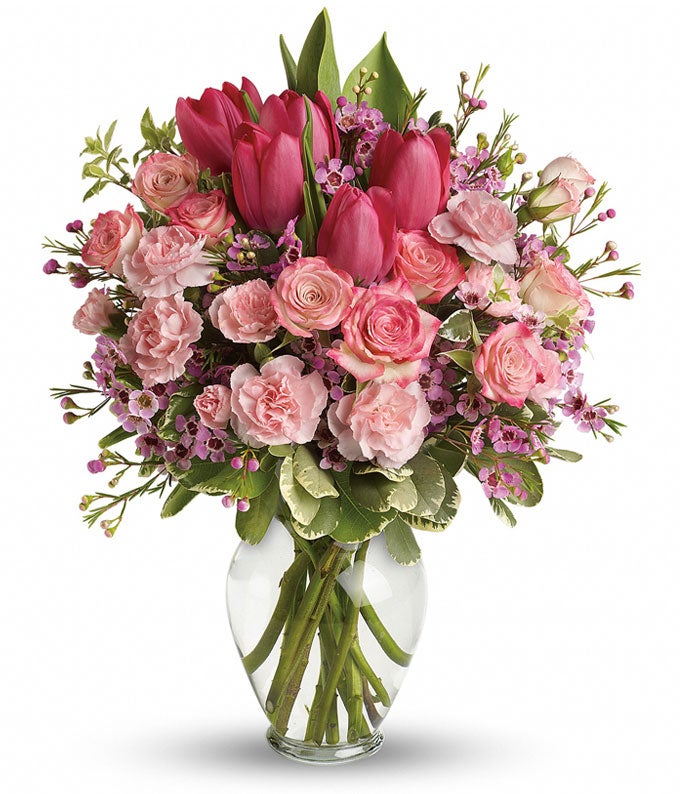 9. Pink Tulip Bouquet
One of the most popular mom deliveries, this pink tulip arrangement represents the colors of the holiday and will envelope mom with your love. This mixed bouquet sent directly to her front door at home or the office, is a great present to show her you care. Soft pink carnation and tulip flowers represent the calm and comfort that your wonderful mother inspires all around her.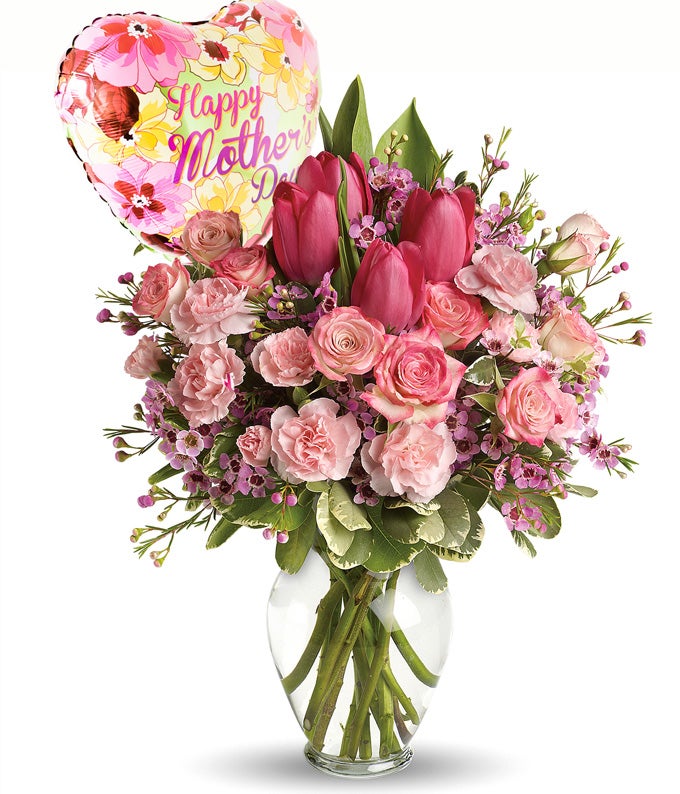 10. Pink Tulip Balloon Bouquet
The same Mother Day present but with an added touch of playfulness! This best-selling tulip bouquet and balloon present is perfect for Mother's Day gift delivery. Clearly express to mom your most sincere Mother's Day wishes with beautiful pink tulips, pale carnation flowers, and a fun floating balloon. She'll know she's loved, and this happy floral arrangement is the representation of that strong love.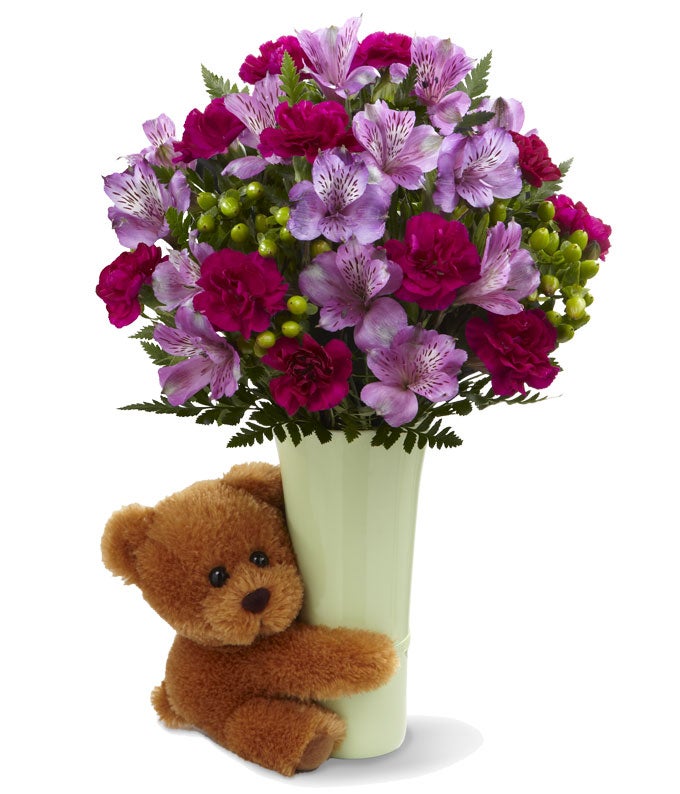 11. Teddy Bear Flower Bouquet
A teddy bear present is a wonderfully huggable gift that mom can cherish. Delivering a bear wrapped around a flower bouquet in beautiful purples is even better. This floral present with hand delivered with an adorable plush stuffed bear hugs mom on your behalf, no matter how far apart you may be.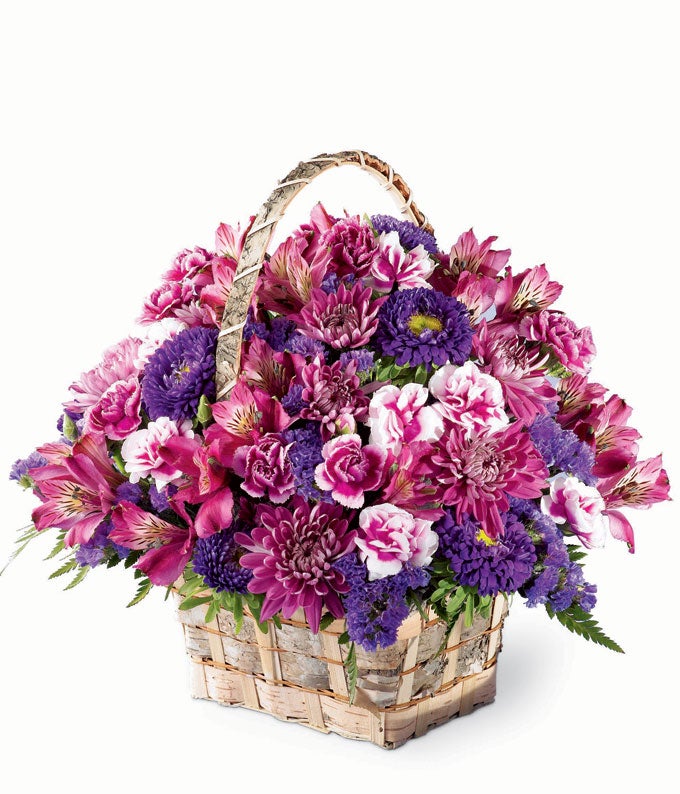 12. Purple Flower Basket
Pink flowers may be the favorite of the season, but purple flowers are right there too! With presents for mom delivered today, you can send this same day basket to her, surprising her with glorious blooming colors.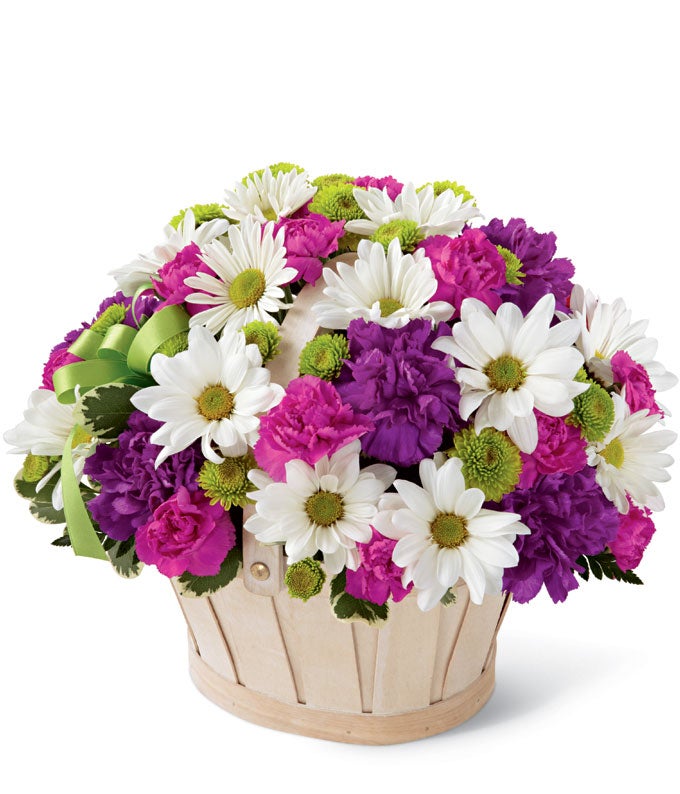 13. Mixed Daisy Bouquet
Also nicknamed the paint splatter bouquet, this mixed daisy arrangement is a great inexpensive present for mom this Mother's Day! Cheap to send, but packed full of fresh flowers in vivid colors, your mommy dearest is soon to fall in love with it. She'll be able to enjoy her present long after the flowers are gone with a cute basket to hold seasonal fresh fruits or fun household items.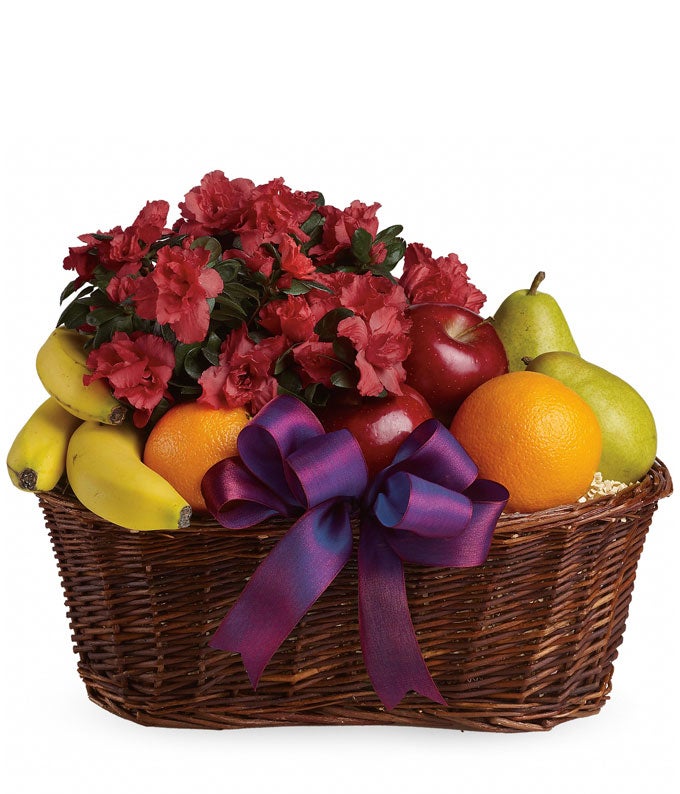 14. Azalea Plant Fruit Basket
We see no reason to pick between a fresh fruit delivery and flowers when you can simply send both as presents for mom on Mother's Day. This fruit basket comes with an azalea plant delivery just for her, giving her a scrumptious and flowering gift she won't soon forget. After all, she deserves it all.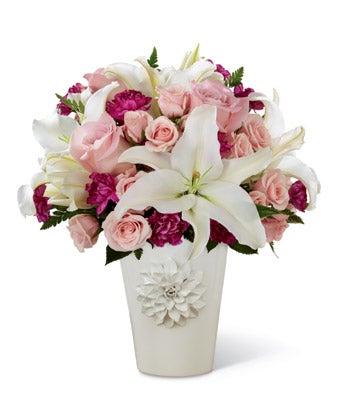 15. Elegant Lily Bouquet
this white lily present comes arranged in a beautiful white vase with pale pink roses and hot-pink pops of carnations. Surprise mom with a beautiful retro inspired flower bouquet full of clean white lilies.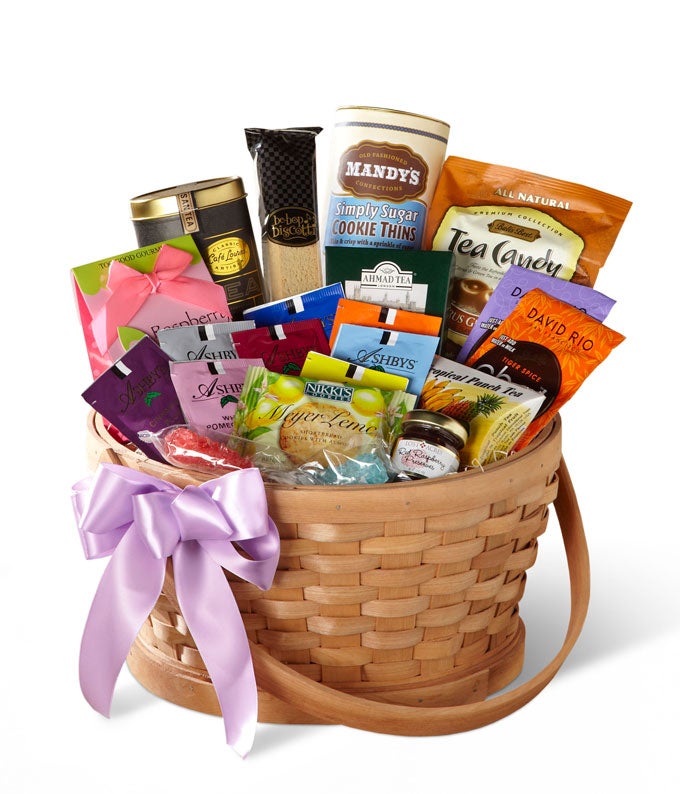 16. Tea Gift Basket
For the sweet mother who just needs a moment, give her a gift of relaxation with this basket full of presents like teas, cookies, chocolates and more. Moms present is hand-arranged and topped with a lilac bow for a beautiful presentation that will remind her of what sweet children she raised.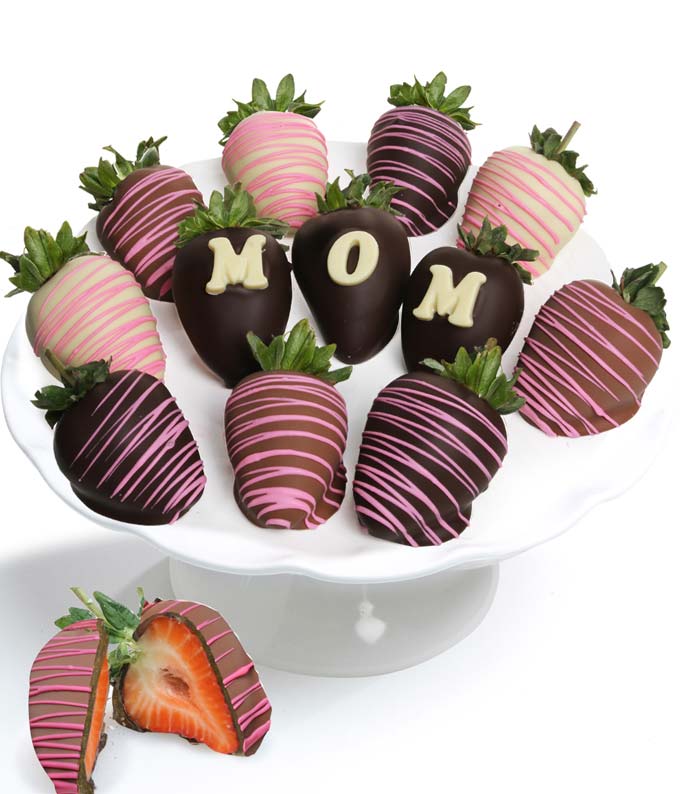 17. Love Mom Chocolate Dipped Strawberries
We're huge fans of chocolate covered fruit gifts. These Mother's Day-themed chocolate covered strawberries are even better. Sending Mom a chocolate fruit gift for Mother's Day has never been easier. Simply enter her zip, schedule your delivery date, and checkout. Your Mother's Day chocolate strawberries will be on their way in no time.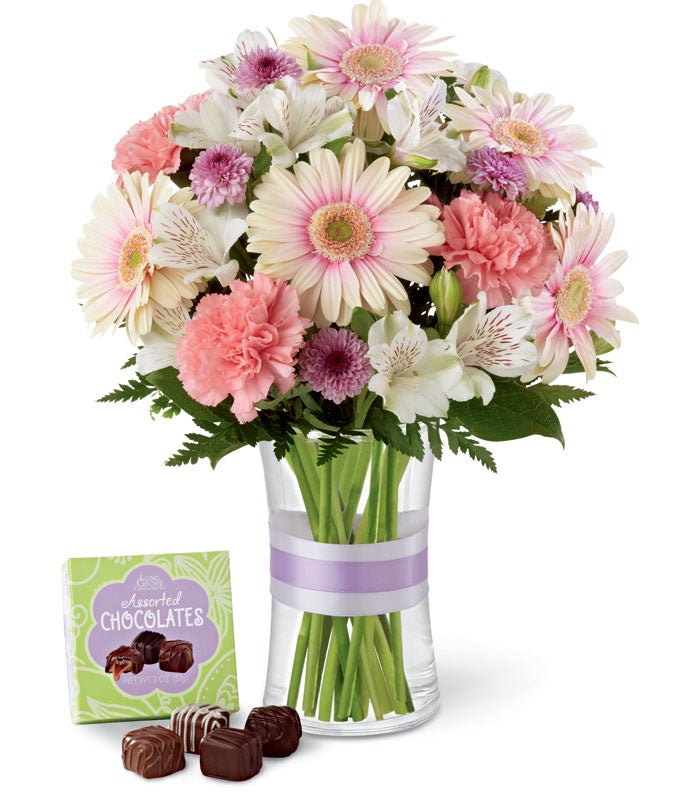 18. Chocolate And Flower Bouquet
Send a chocolate and flowers bouquet on Mother's Day and give mom a sweet and beautiful present. Mixed pastel flowers, sweet candies, and a personal message card make up this memorable and delicious present for mom's big day.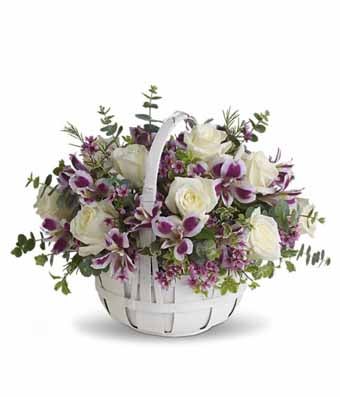 19. White Rose Basket Bouquet
This white rose present is as fragrant as it is beautiful. Fresh greenery, white roses, lavender waxflower, and purple alstroemeria are placed artfully into a white basket that's then hand-delivered to your mother this holiday.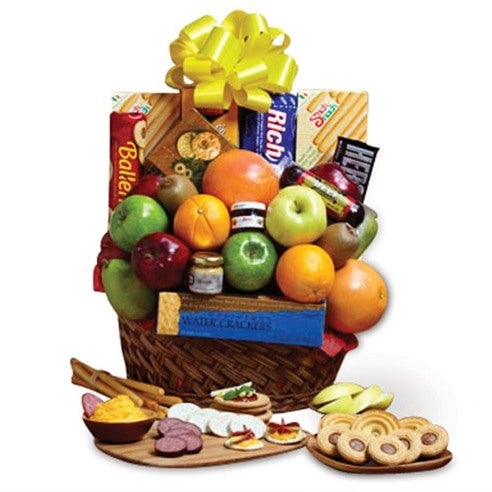 20. Snack Gift Basket
Every good mommy needs a break now and again. No matter how old you get, you'll always be her sweet child. Treat her to a Mother's Day present delivery of sweet chocolate and cookies, savory nuts and snacks, and even some fresh fruit. This Mother's Day she can prop up her feet and snack on some favorite treats while fondly thinking of you.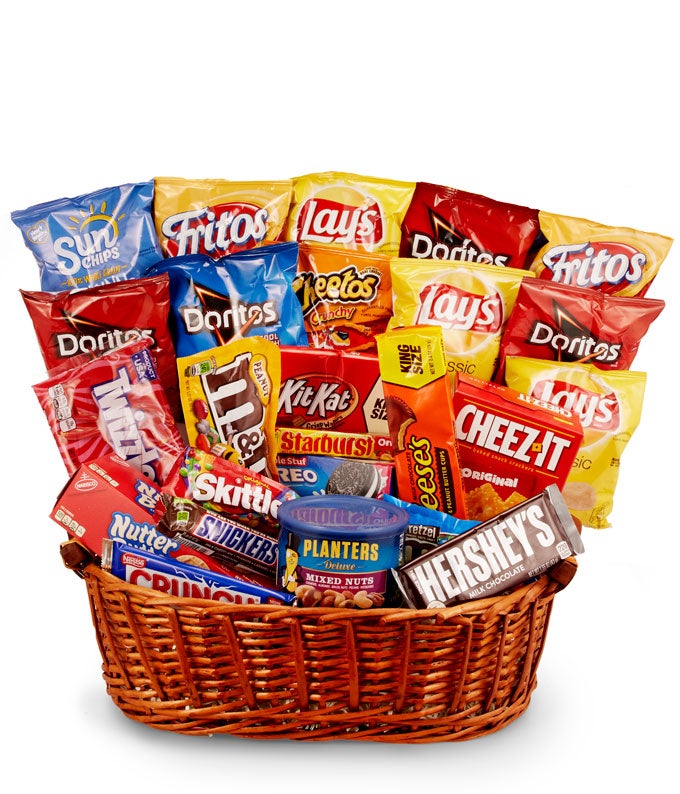 21. Big Candy Basket
For all the times she wanted to steal your candy for herself but didn't, pay mom back by sending Mother's Day candy gift baskets her way. This candy present made just for mom comes with standard delicious favorites and should last her awhile! your hand delivered present also comes with savory snacks, pretzels, cookies, crackers, chips and more! If you can think it, it's there! Your mother deserves it all.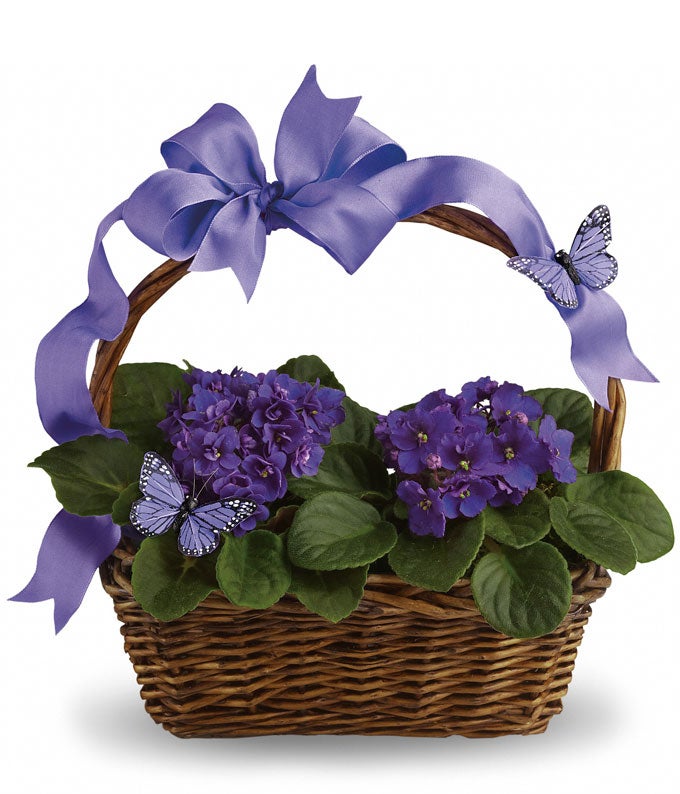 22. Violets And Butterflies
Give mom African violets with this long-lasting plant delivery she can enjoy for years and years. If your mother cares for it, this African violet plant will bring her repeated pleasure every day. Dark blooming violets amongst velvet greenery and topped with aa purple bow and butterfly make an adorable and touching gift for mom.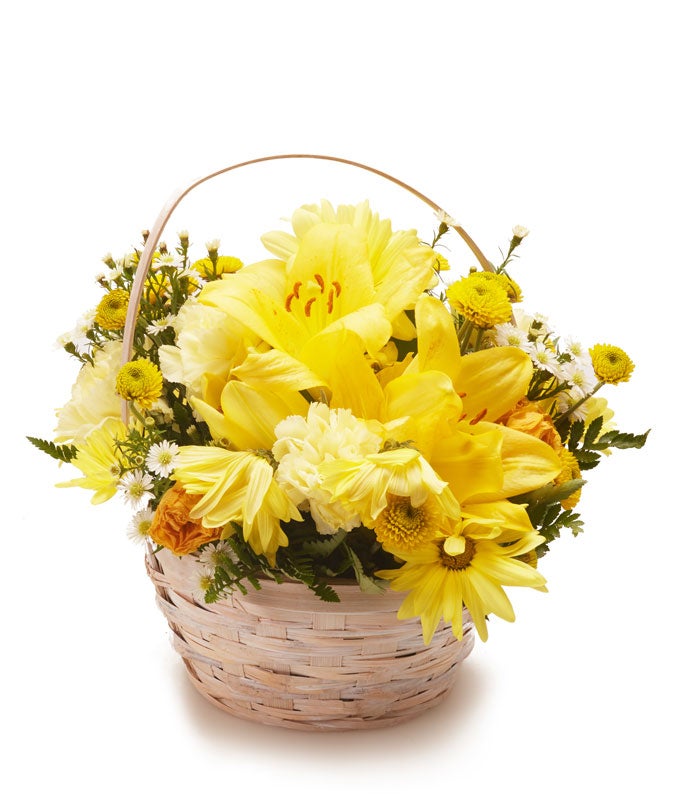 23. Yellow Flowers Basket
This yellow lily present comes hand arranged inside a cute, handled basket with mini canary colored roses, pale yellow carnations, and yellow traditional daisies. Cute, lush, and country quaint all at the same time, this mom's present is going to make her just beam.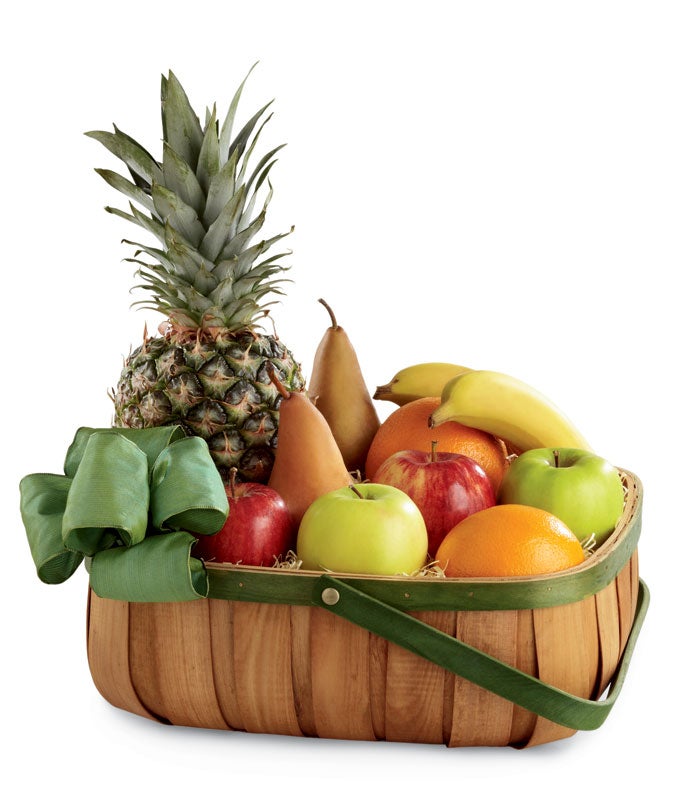 24. Assorted Fruit Basket
One of our most popular fruit baskets, this Mother's day present will provide mom with nourishing foods and a beautiful gift. Send mom a fruit basket and it'll come hand-delivered in a beautiful container with a big green bow, just for her. You can write your message card to tell her what's on your mind, or just to say, "thanks for being such a great mother".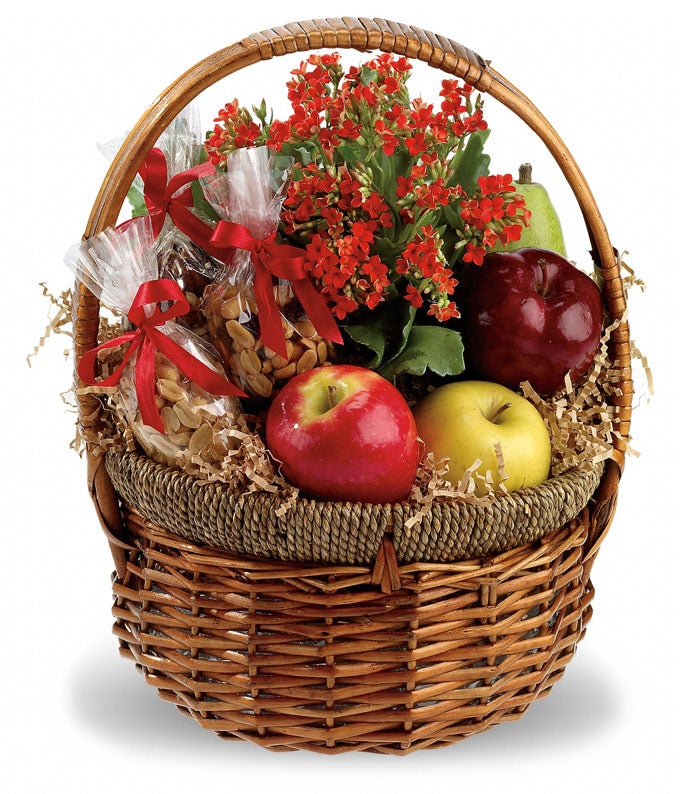 25. Fruit Nuts And Plant Basket
Give mom a fruit and nuts gift basket for a present she can savory with sweet and salty snacks. This Mother's Day fruit and nut gift basket also comes with a plant delivery. That way mom gets to enjoy some tasty snacks but also has two long lasting gifts with a wicker basket for home and a plant that she can keep inside or enjoy plant outside in yard if she wants.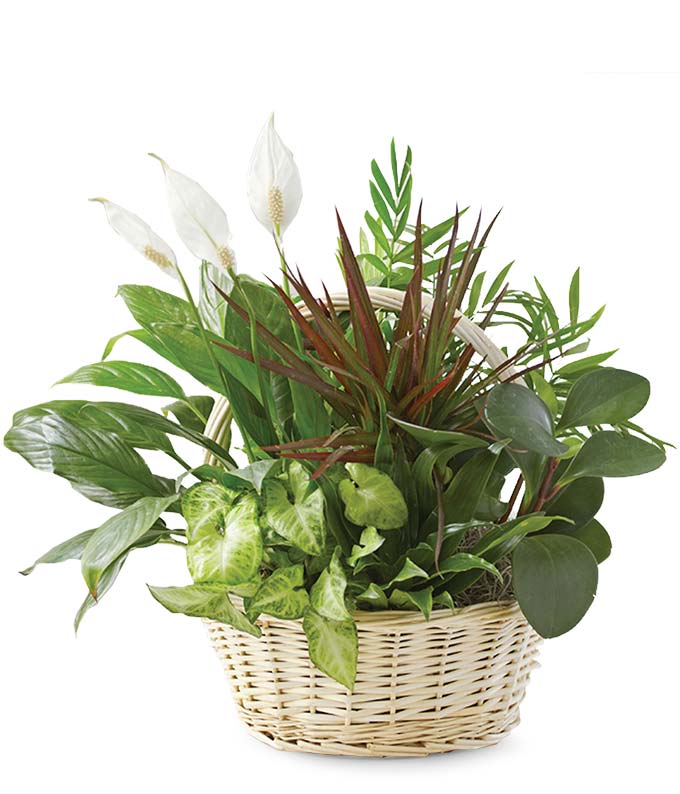 26. Classic Dish Garden
Many people love Mother Day flowers, but there are many people who prefer to send mom plants. This dish garden present comes hand delivered in a woven basket with a mixture of different plants for mom. Both a lovely and long-lasting gift, mothers present will continue to grow and will represent your love for years to come.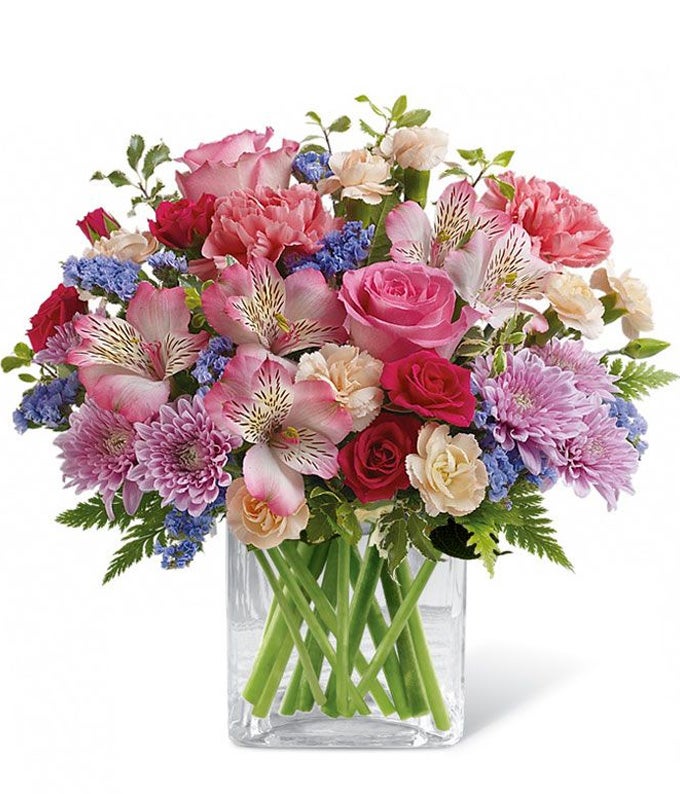 27. Happy Butterfly Bouquet
This butterfly inspired flower bouquet has all of the things. With pink roses, hot pink alstromerias, miniature red roses, lavender chrysanthemums and more flowers, mom's present this year will beauty the outdoor beauty indoors to her home. This same day delivery present for mom will show you care and bring the best best parts of spring to her favorite space to chill.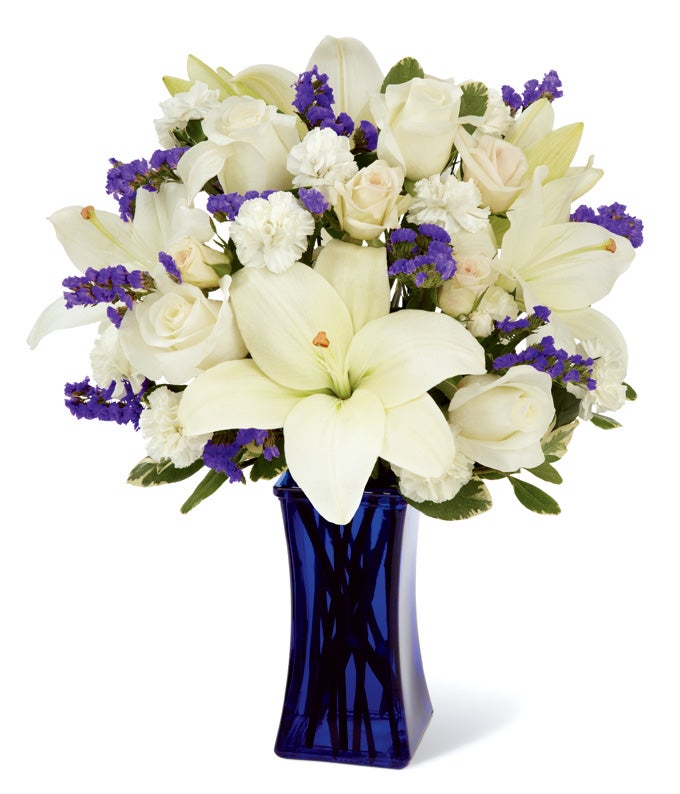 28. Blue And White Lily Bouquet
A white lily present with mixed roses is already gorgeous, but pop it into a dark blue glass vase, and it becomes stunning. With touches of dark purple and paired with your customized message card, this present to touch mom's heart is a sure win. You deserve it mom!
29. Modern Sunflower Bouquet
Give mother a sunflower present to brighten her whole week with this contemporary sunflower arrangement that's fun and modern. Jade carnations, large sunflowers, and white alstroemeria make a modern floral centerpiece mom will thoroughly enjoy.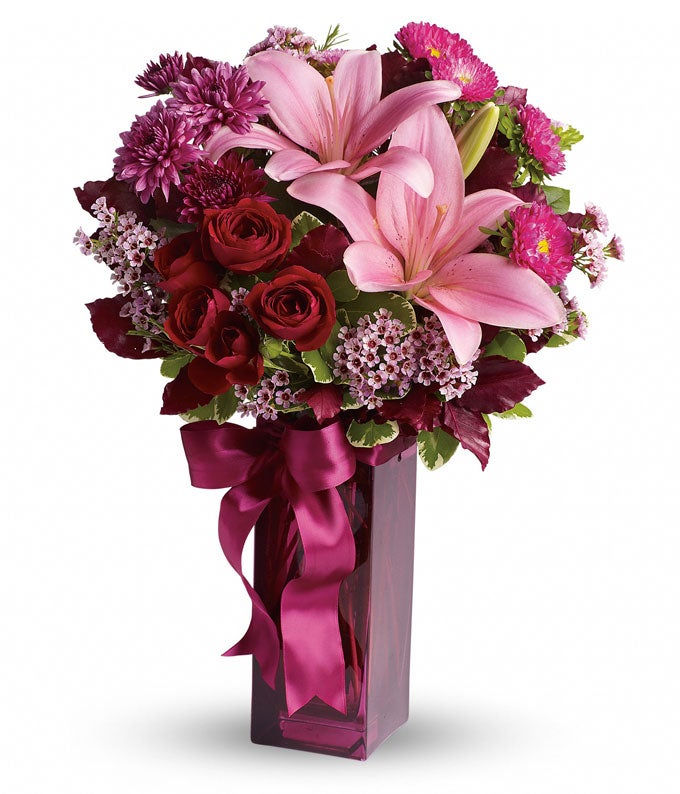 30. Pink Lily Bouquet
A lovely maroon and pink lily present hand-arranged into a dark colored vase will turn mom's head over and over again. A local florist will deliver presents straight to your mom's front door and with this gorgeous pink lily arrangement, you can even add on chocolates, bears, or a balloon bouquet.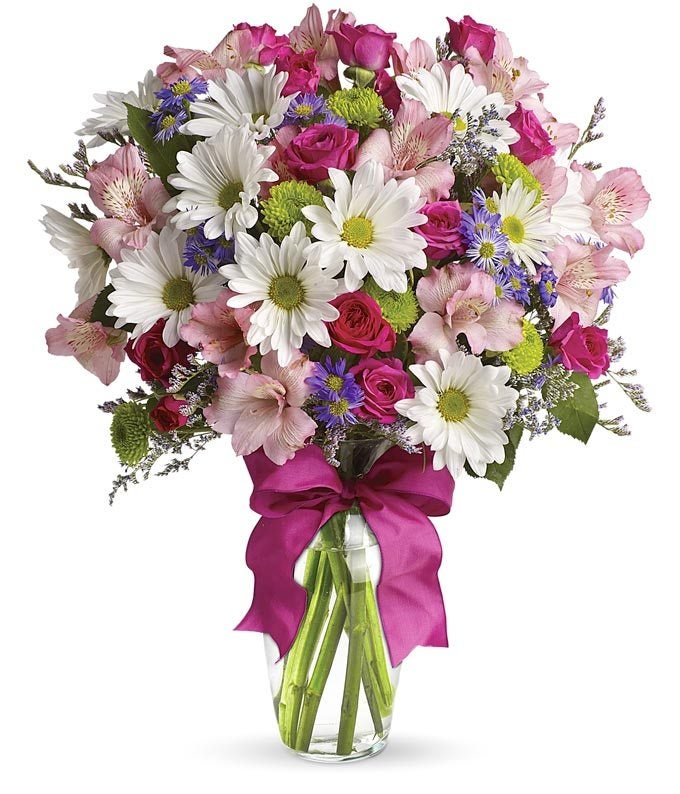 31. Pretty Please Daisy Bouquet
A floral present of white traditional daisy, miniature rose buds, and pale pink alstroemeria are hand-arranged into a cheap but high-quality arrangement to appease mama'. Send a present for mother that's affordable and still every bit as cute as she is!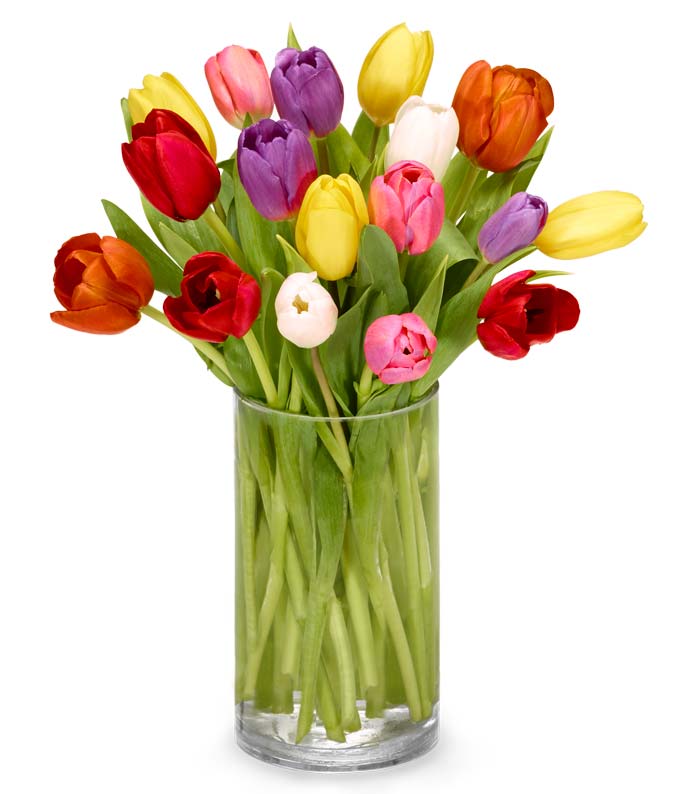 32. Rainbow Tulips Bouquet
Mom's present this year could consist of gorgeous mixed tulips to bring color and life to her favorite spot. This warm, love-filled flower arrangement is uplifting wherever it's placed. When sending presents for mom, consider this rainbow tulip bouquet which will envelope her symbolically with your love and affection.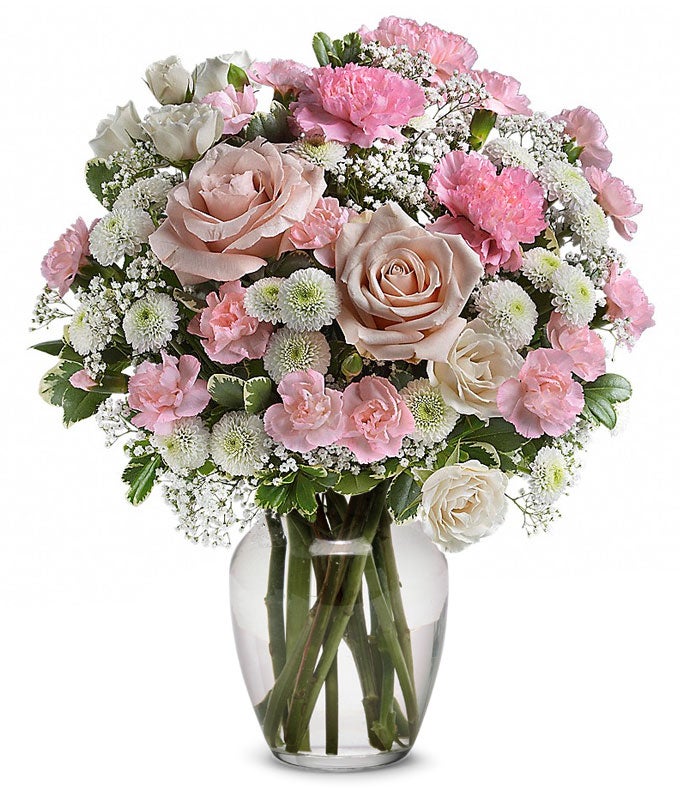 33. Pale Pink Rose Bouquet
It never fails when Mother's Day rolls around, women and men of all ages flock to pink rose bouquets. This one in particular is breathtaking with very pale pink roses in full and miniature sizes. Finished with soft touches of baby's breath and housed in a light pink vase, mom will love this Mother Day present hand made just for her.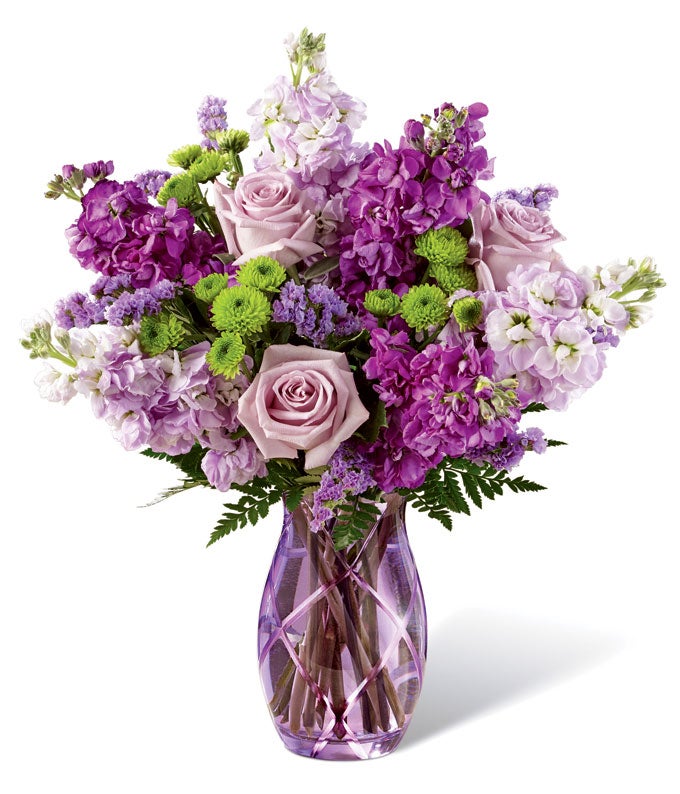 34. Lavender Rose Bouquet
Lavender roses continue to be very popular and this gorgeous and affordable purple rose bouquet is a longtime customer favorite. This lavender present is home to fresh-cut lavender roses, lilac and violet flowers for a beautiful but cheap Mother's Day present that won't break the bank. It's de-lovely!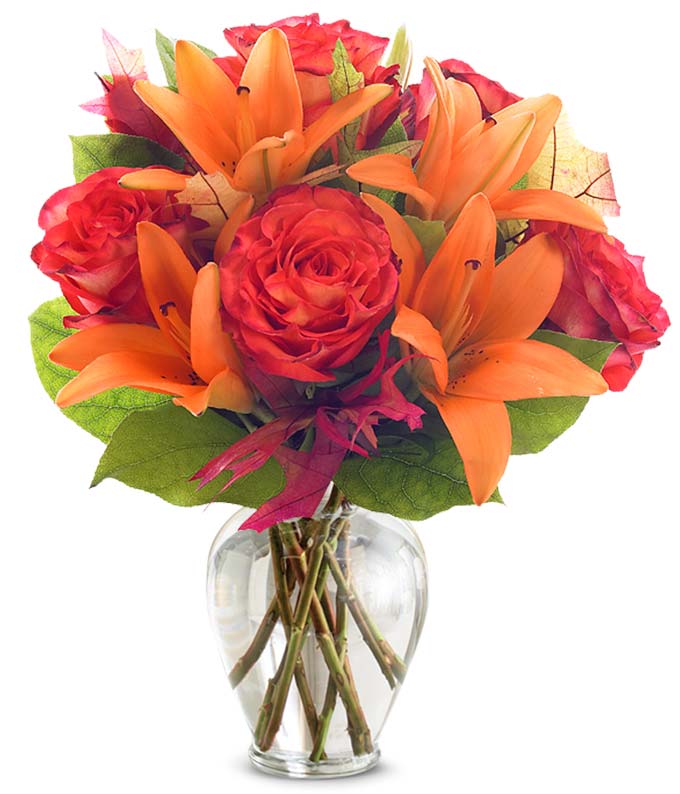 35. Orange Rose Bouquet
This orange rose present is so fun, vivid, and full of life, it's hard not to smile when you're looking at it. Orange roses and lilies mix together in this playful Mother's Day flower delivery to create a gift mom can gush over. Send orange roses to mom and surprise her with a color she won't be anticipating!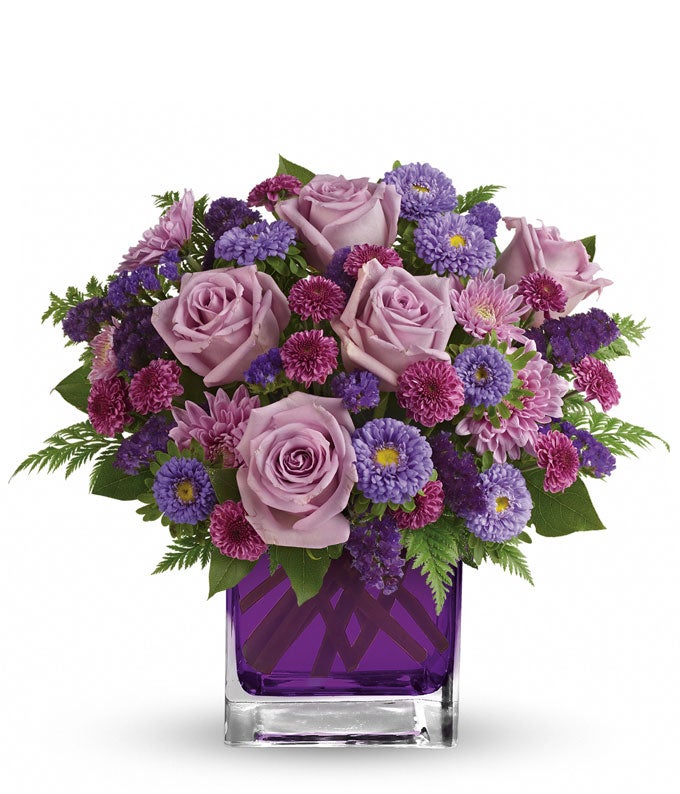 36. Field Of Purple Roses Bouquet
one of our customers favorite purples rose bouquets, this gift for mom is sure to touch her heart and make her smile. Send purple roses to mom with a sweet, personalized card. Mom will love the present you sent her, and she can enjoy not only having a fresh flower delivery, but also having a unique color scheme.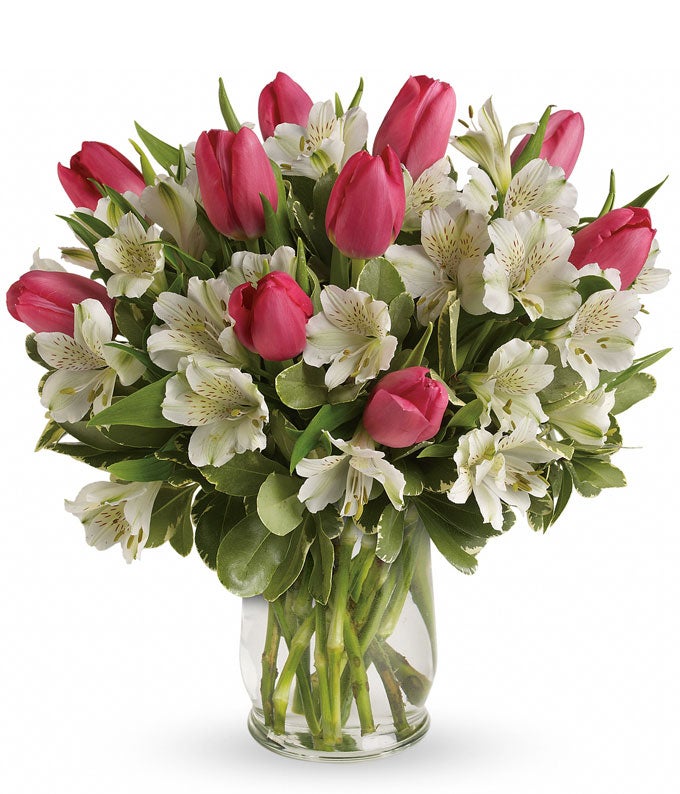 37. Bouquet Of Pink Tulips
How about sending a pink tulip present to decorate mom's dining table or office space? This order of pink tulips for Mother's Day comes with touches of cream alstroemeria and variegated pittosporum for a stunning gift. Send mom tulips in pink to represent this day made especially for her.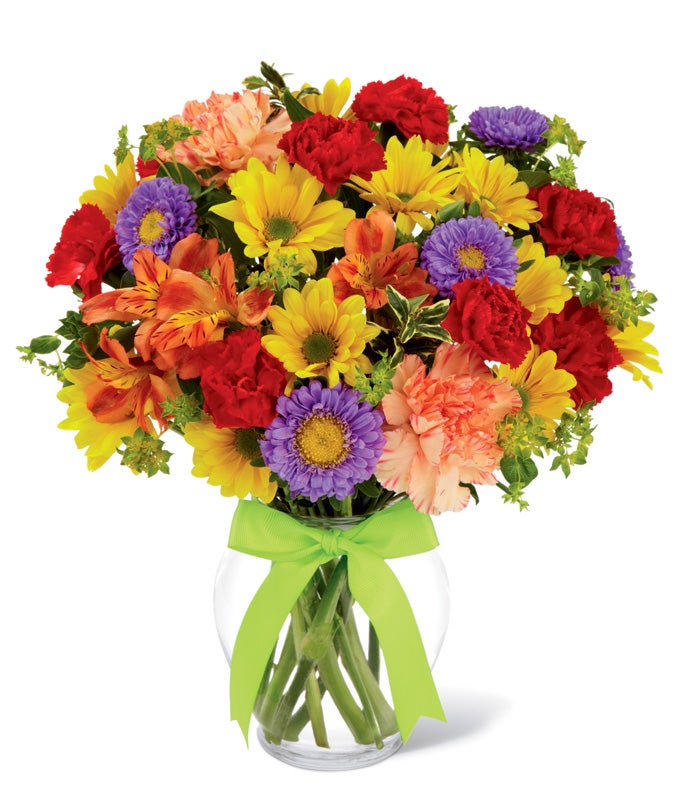 38. Tuscan Centerpiece
Just like a tuscan sunset, this beautiful present for mom includes all the best flower colors of the sun itself. From yellow, peachy, red, purple, and orange, this colorful flower bouquet is a great Mother's Day present that will mother gasp in awe.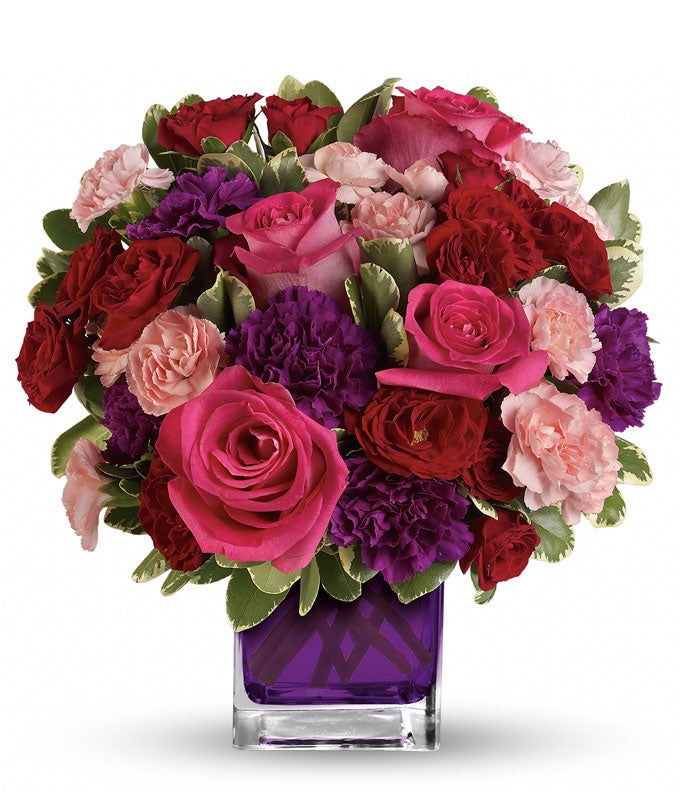 39. Dark Purple Flower Bouquet
This dark purple bouquet in filled to the brim with hot-pink roses, red roses, pale pink and purple carnations and greenery for a lovely floral arrangement to surprise your mom. Finished with a dark violet flower vase, mom is sure to say thank you when she receives this present. It's one of our best-selling bouquets for Mother's Day!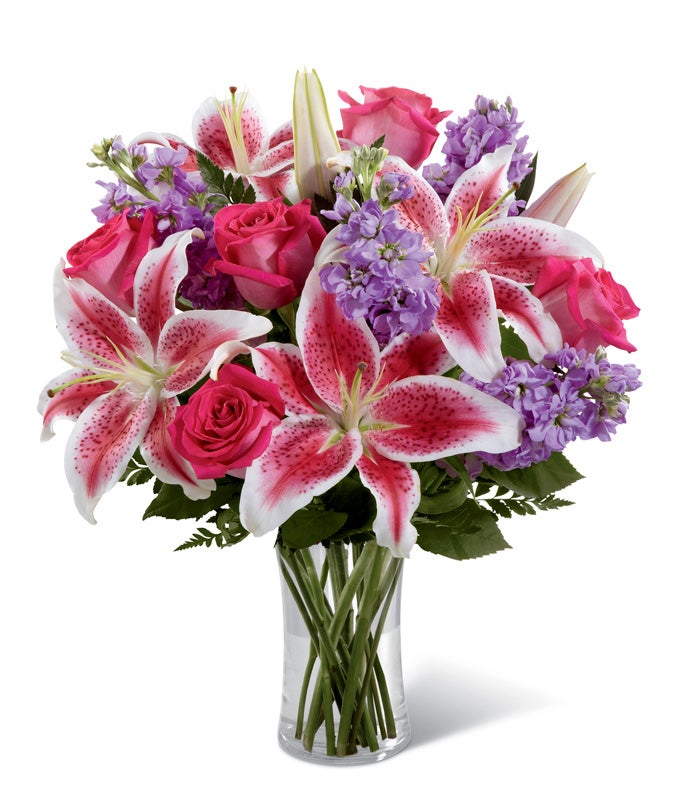 40. Stargazer Bouquet
Why not send a stargazer centerpiece as a present for mom on Mother's Day? This stargazer flower arrangement is delivered in a lovely purple vase with pink roses and purple stock for a lovely display she can enjoy in her favorite space. Add chocolate, bear, or balloon presents to your order if you want to add extra oomph for mommy dearest.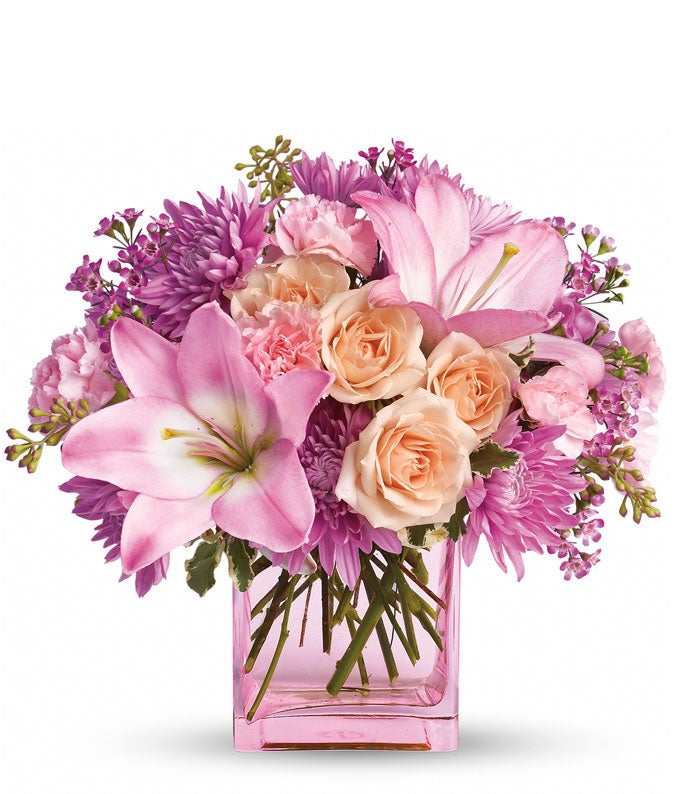 41. Pink Lilies Bouquet
Also referred to as the Audrey Think Pink Bouquet, this adorable pink lily arrangement is everything thematic that you associate with Mother's Day. This pink lily present for mom comes in a pale pink vase and embodies the spirit of spring with fresh cut gorgeous flowers.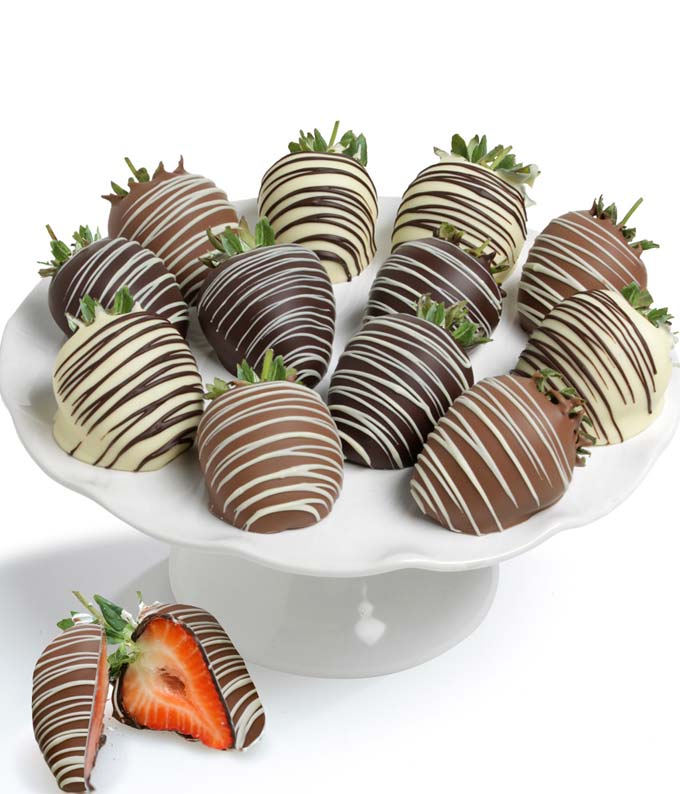 42. Dozen Chocolate Covered Strawberries
An online order for a dozen chocolate-dipped strawberries is adorably cute and equally delicious. This Mother's Day chocolate fruit delivery will treat her to a much-deserved moment of decadence. These 12 cute strawberries are hand-coated in high quality chocolate and presented in a beautiful way - delivered right to her awaiting hands.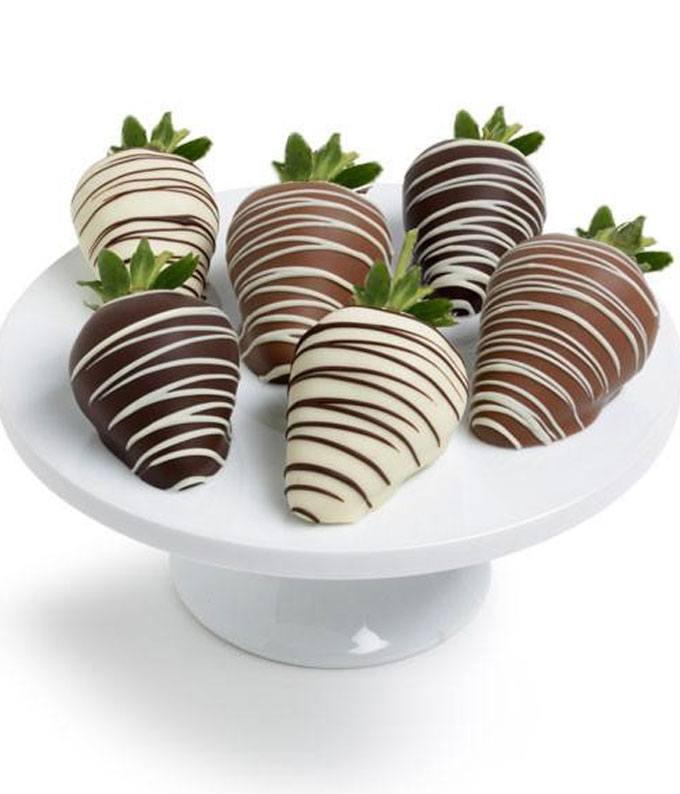 43. 6 Chocolate Dipped Strawberries
hey we always prefer a dozen chocolate-covered strawberries in our fruit deliveries, but not everyone wants the whole bundle. Maybe mom prefers the petite side of life with this dainty present? Whether you're watching your figure or watching your expenditure, this smaller inexpensive chocolate strawberry delivery will take care fo you both. Though there's six instead of twelve, the taste is just as sweet. Yum!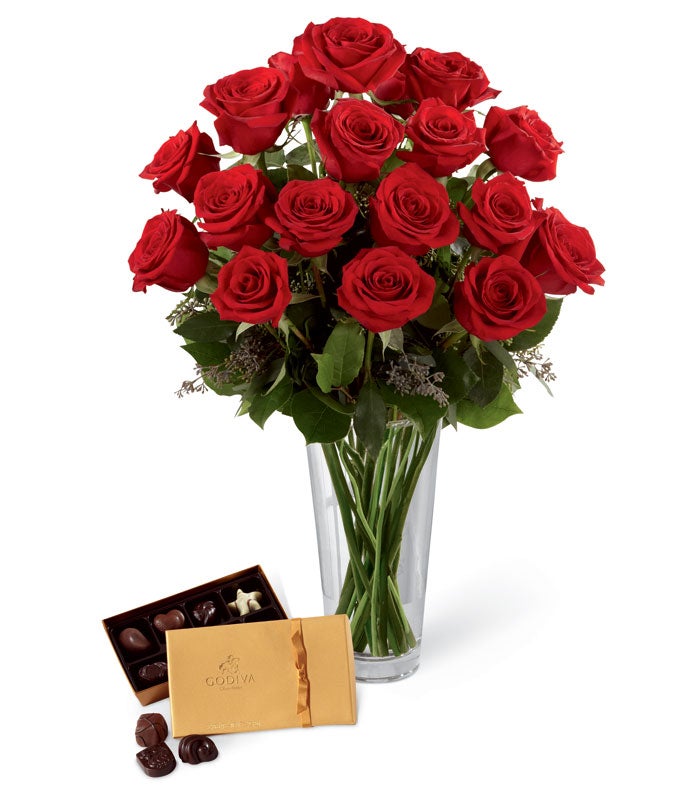 44. Roses And Chocolates
Isn't it romantic. That was us singing an old favorite at you from yesteryear. Send a long stem rose bouquet for Mother's Day with chocolate presents to show mom she's special. Pick from 12, 18 to 24 long stemmed roses and they'll come delivered with candy to satisfy her stomach and her need for beauty.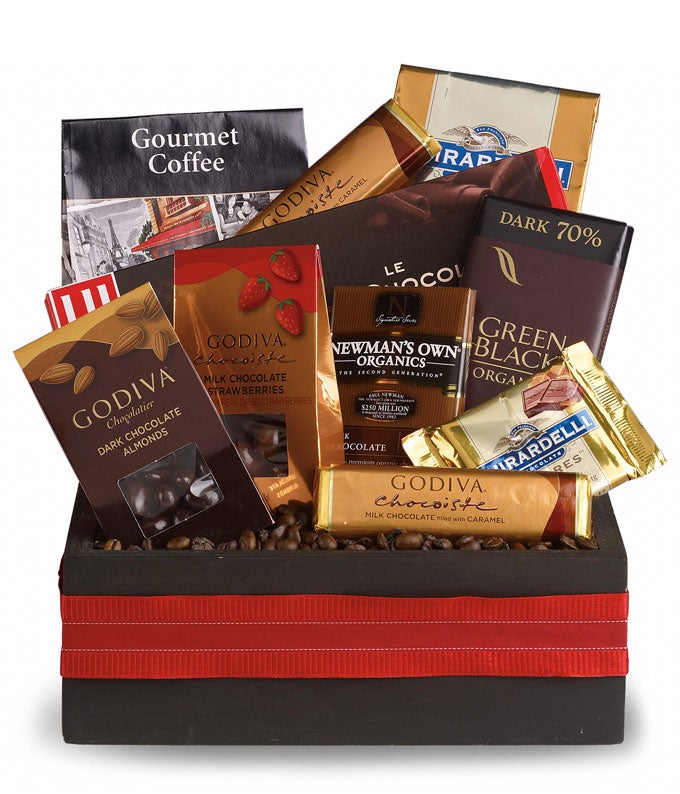 45. Premium Chocolate Basket
Sometimes sending chocolate on Mother's Day simply isn't enough. Some mamas need that next level of gourmet chocolate. What can we say? Mom is such a chocolate connoisseur. We simply must send the best chocolate gift basket we can.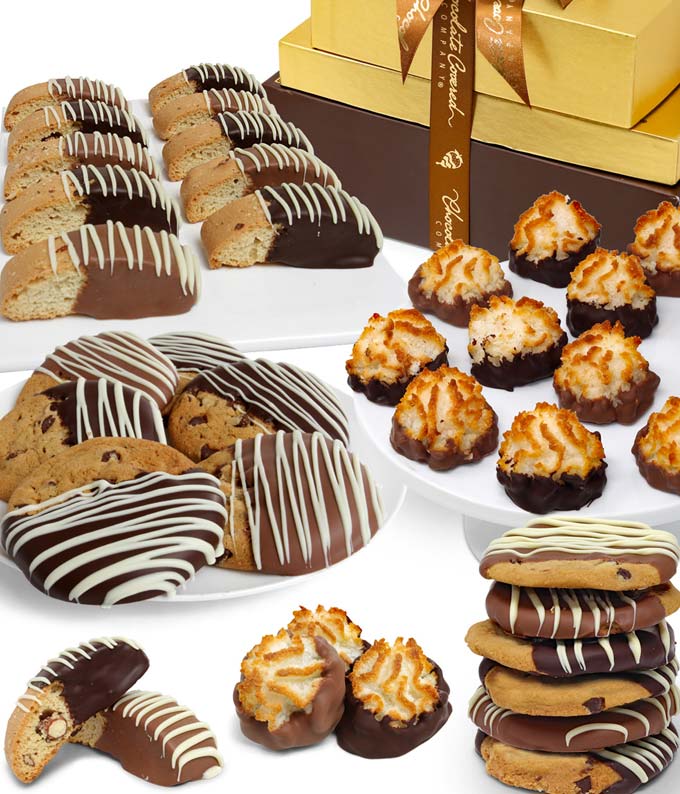 46. Chocolate Covered Cookies
As far as we're concerned cookies and chocolate are just a necessary part of a happy life. Putting them together? Well that just makes sense. These yummy gourmet cookie snacks are hand dipped into delicious chocolate and then put in a cute petite box for delivery straight to your mother's home or office.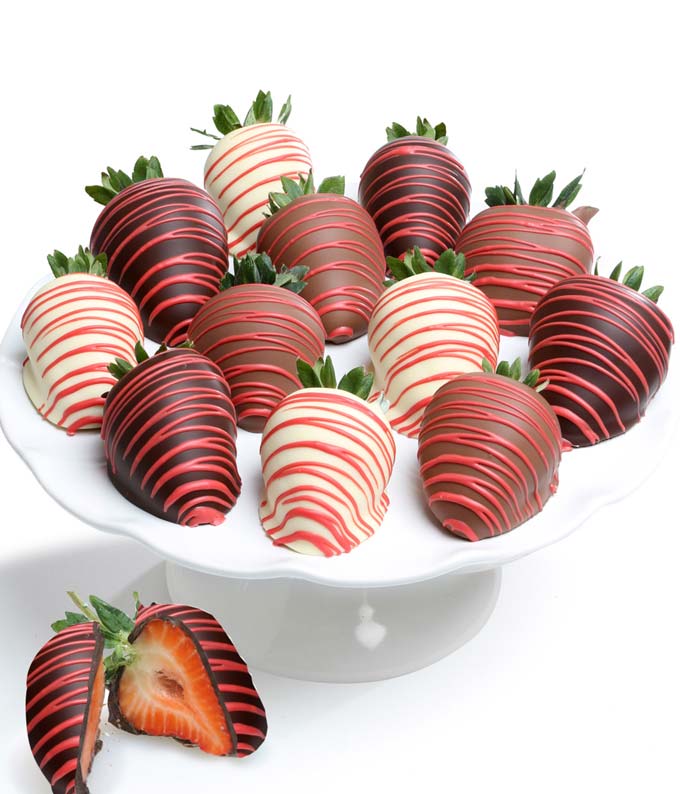 47. Chocolate Covered Strawberries Gift
What makes chocolate covered strawberries even better? Adding a delicious, drizzled coating in a fun flavor and bright color of course. This chocolate strawberry delivery is perfect for mom on Mother's Day not only because it's tasty, but also because it's perfect for posting pictures to her own Facebook. Mom is so savvy.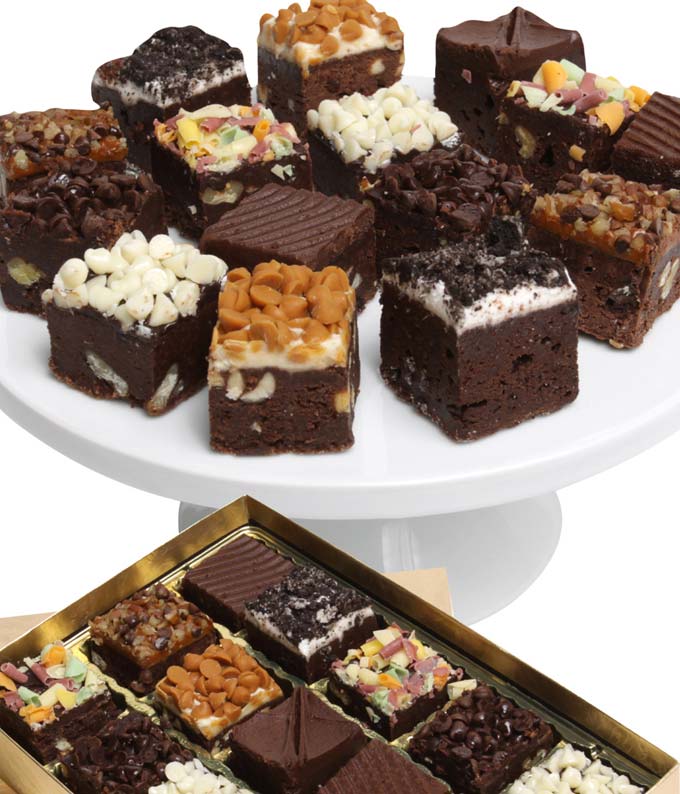 48. Chocolate Dipped Brownie Bites
Petite brownies aren't just adorable, they're also delicious! For a unique Mother's Day present she won't be expecting, send some dainty brownie bites mom's way and watch her mouth water. If you send her a present this sweet, she may even share.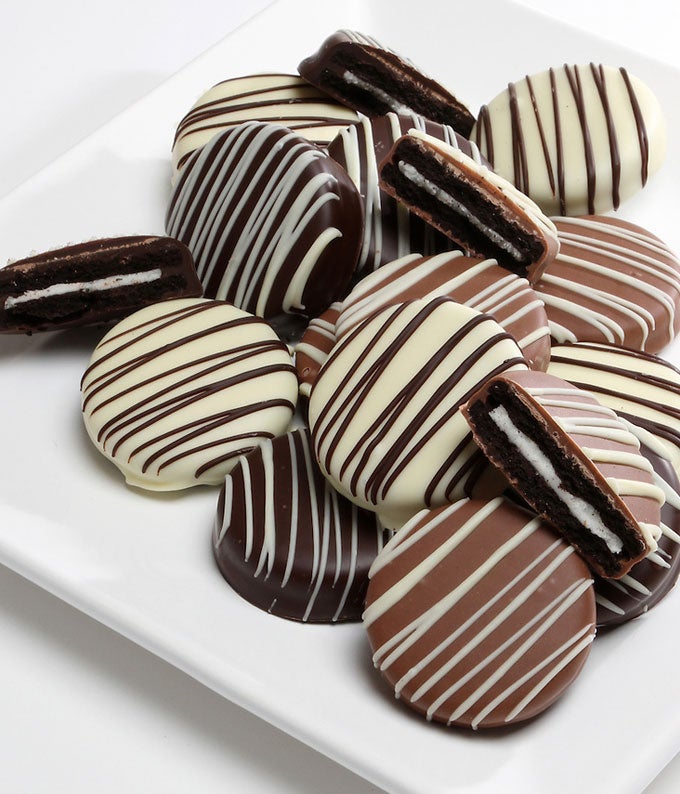 49. Belgian Chocolate Covered Oreos
If mom already loves Oreos then this chocolate dipped Oreos basket might be your ideal gift for her this year. Coated in high quality real Belgian chocolate, this hand delivered dessert is a bit of luxury at an affordable price. While your mother doesn't have to sit down and eat them all at once, if she does, we won't tell.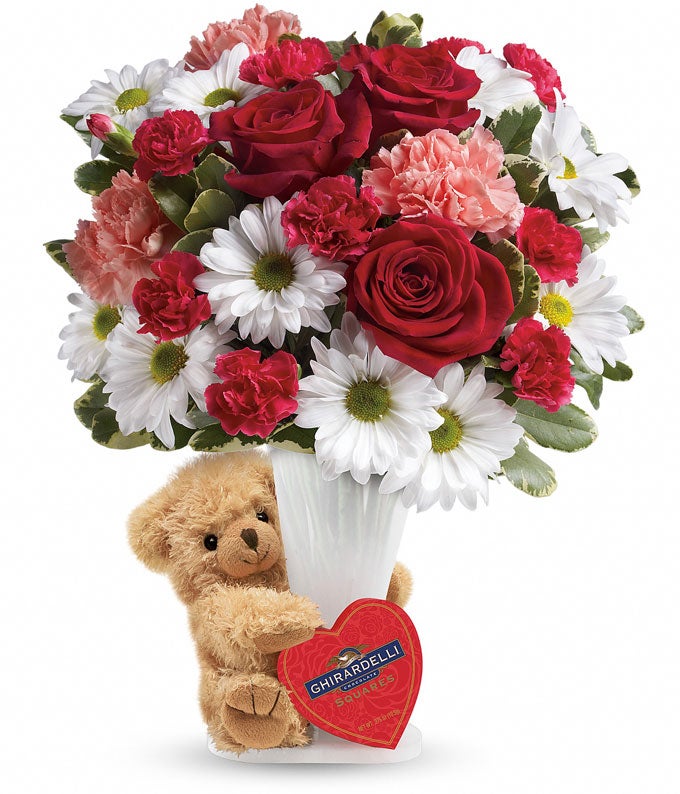 50. Teddy Bear Flower Arrangement
With a huggable bear delivery centered around beautiful red roses who wouldn't find this flower arrangement to be cute? The present is then finished with a cute side of chocolate candy to satisfy mom's sweet tooth too.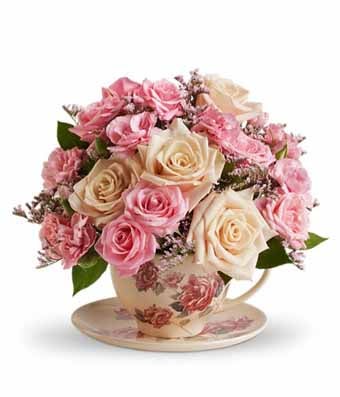 51. Flowers In A Teacup Arrangement
White and pink roses in a teacup will make mom's heart melt. Hand-delivered in an adorable display, mom will adore this mixed rose arrangement as a beautiful centerpiece for her favorite room. Same day rose delivery has never been so cute.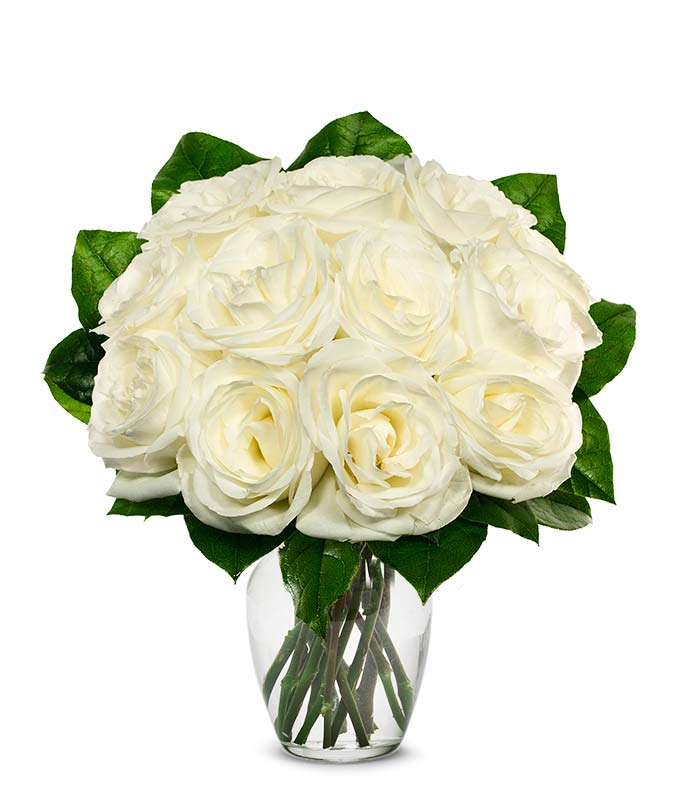 52. One Dozen White Roses in a Box
Though not a same day flower arrangement, this next day bouquet is simply gorgeous. These twelve white roses delivered in a box will utterly delight your mother. Pick between boxed white roses or sending mom flowers in a vase. It's your choice at the checkout. A boxed rose delivery is a luxury gift and an unforgettable experience that many love.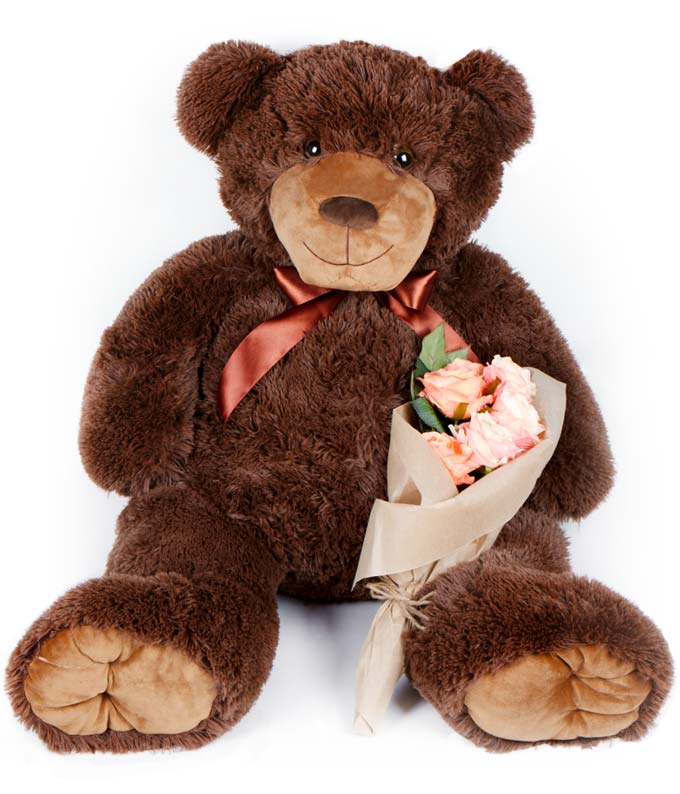 53. Giant Teddy Bear Gift
When you just want a unique present that mom won't be expecting, send mom a giant bear delivery! Every woman whose never experienced a stuffed animal delivery has always secretly wanted one. Whether young, a teenager or adult, even your mother would love to say she'd had this experience. Send Mother's Day teddy bear delivery to her for this special holiday and wait to see her react like a happy child.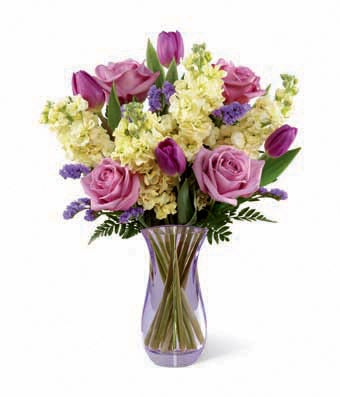 54. Lavender Rose Stock Bouquet
One of our best spring Mother's Day present ideas, this lavender rose and pale-yellow stock flower bouquet is breathtaking. Mixed pastel flowers will greet mom with a smile on her special day this year. One of our favorite Mediterranean blooms, stock flowers are a beautiful floral present for mom.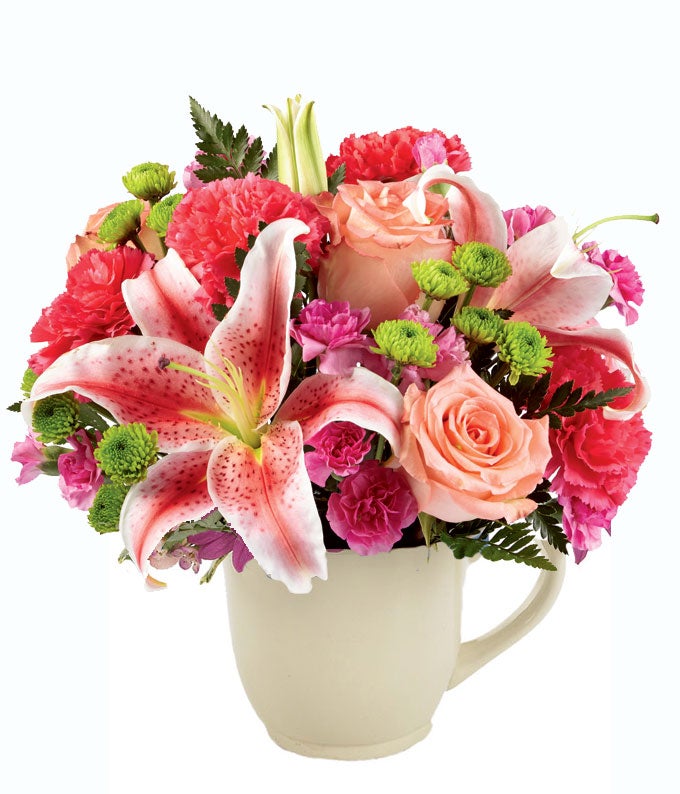 55. Flowers In A Cup Bouquet
Coral flowers are new and unexpected. Not only is this a unique flower arrangement, but this bouquet includes a coffee cup or teacup as a special present. This coffee cup present for mom includes fresh cut stargazer lilies mixed with coral roses. Once she's enjoyed the floral centerpiece, she'll think of you every time months or years from now when she uses her cute Bohemian mug.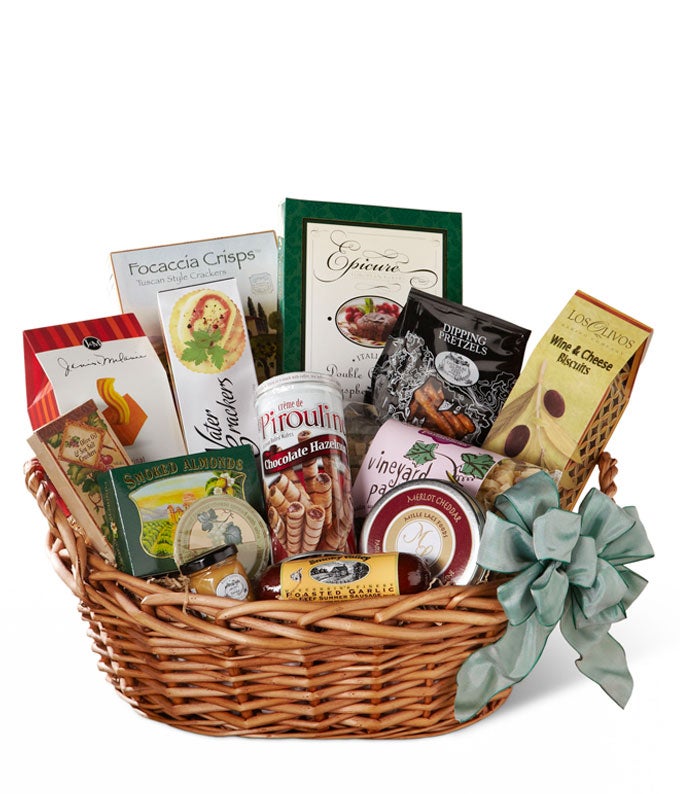 56. Sausage And Cheese Gift Basket
This sausage and cheese gift basket for mom is a great combination of salty and savory snacks. From satisfying gourmet sausage to delectable cheeses, mom can pair it with her favorite wine at home. This sausages cheese gift basket for Mother's Day is the perfect artisanal break for mommy dearest!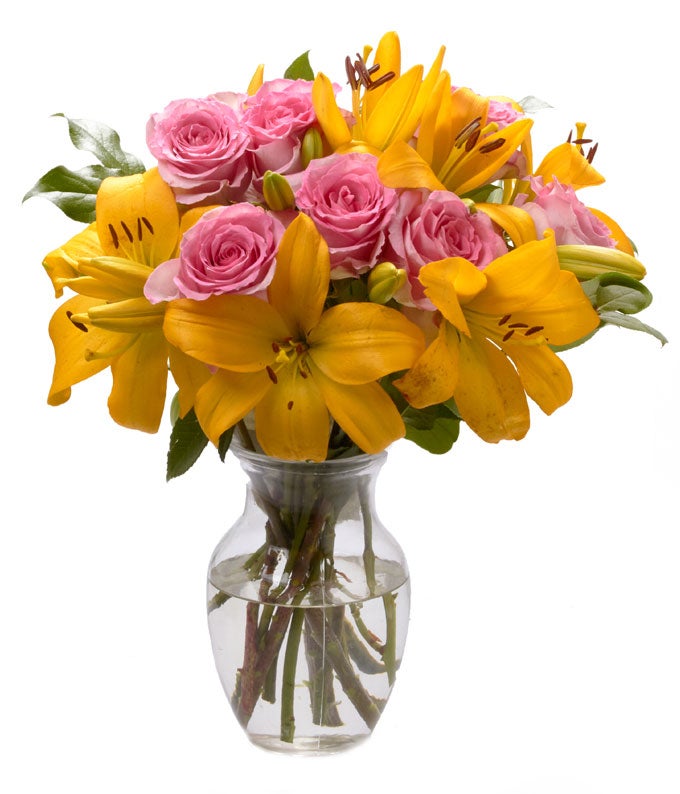 57. Yellow Lily Pink Rose Bouquet
One of our brand-new bouquets just added this year, send yellow lilies to mom this holiday! Beautiful fresh-cut yellow lily mixed with pink roses creates a gorgeous floral centerpiece just for her. It's like filling a room with spring when someone receives this beautiful present. Mom is sure to say thank you with this gift that's as bright as the sun!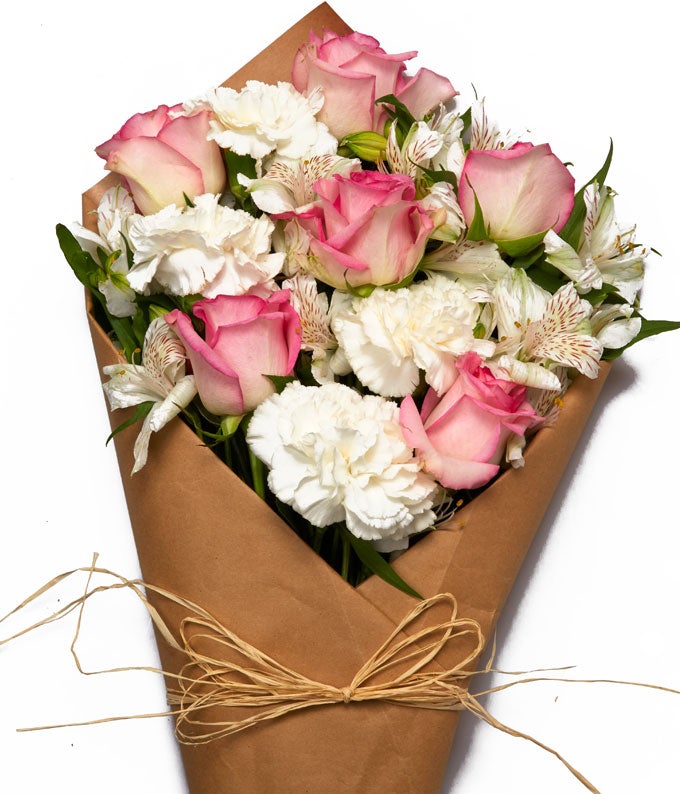 58. Wrapped Pink Rose Bouquet
Wrapped flowers are a new flower delivery that many are loving. This way when you send mom presents, she can use a keepsake vase she already has at home. You'll benefit from a larger bouquet without the cost of a vase, and mom will get a full arrangement without the guilt of tossing away a glass vase.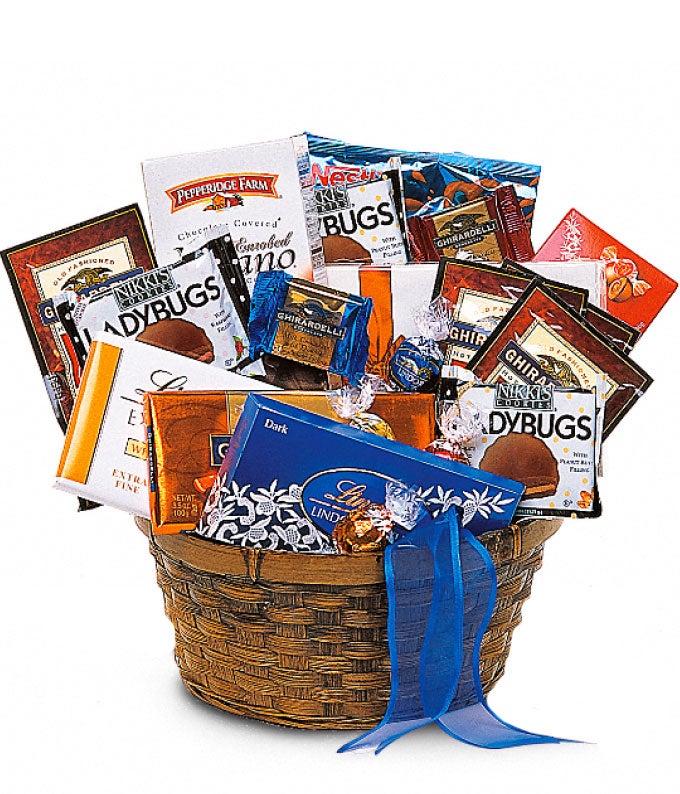 59. Gourmet Chocolate Gifts
There's chocolate for mom, and then there's epic chocolate gift basket delivery. Go ahead and up the ante this year with a luxury chocolate gift basket for mom with delicious sweets she'll crave.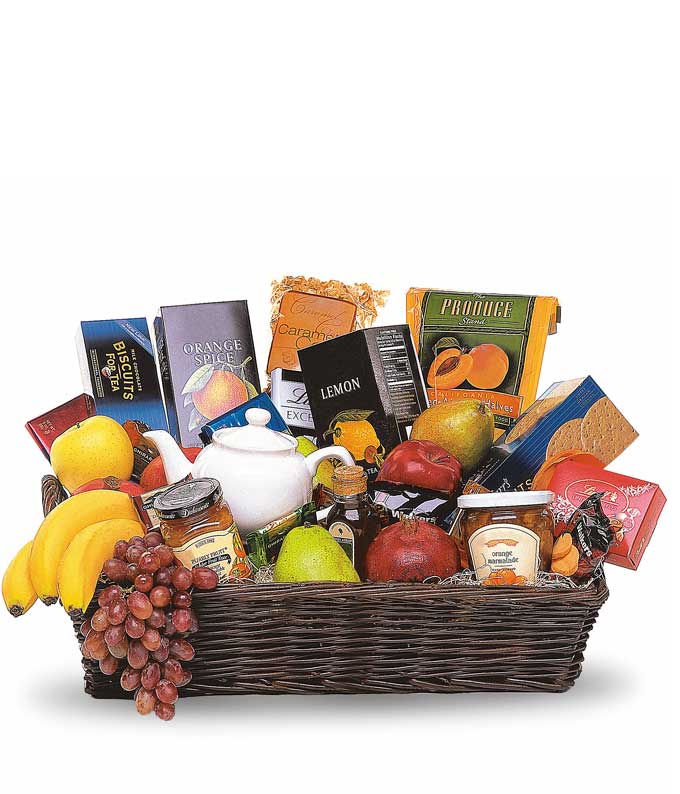 60. Luxury Tea Gift Basket
The chocolate, candy, jam, biscuits, fruit, and teas in this gift basket will ensure mom wants for nothing. This large gift delivery for Mother's Day has it all with sweet, savory, and salty snacks that she will enjoy. With different teas included she can treat herself to a little snack with a warm hot beverage on cold mornings. She'll no doubt think of you lovingly while enjoying her start to the day.
Similar Articles: